Yogyakarta has either two and half, or three and a half golf courses, depending on who you ask.
The half course is at the Hyatt Regency Hotel, with the two full courses that are definitely Yogyakartan are Merapi Golf and Padang Golf Adisutjipto.
The dispute arises as to whether you'd class Borobudur International Golf and Country Club as actually being a part of the city's golfing scene. Since it's easily accessible from the city, at around 40km away, it's definitely worth considering to pack up your clubs and go to play a round.
Golf in Yogyakarta is definitely a scene dominated by Indonesians, with very few international players spotted on the courses, and even fewer Europeans. The courses are of a good standard, well maintained, and well designed with facilities to match.
Hyatt Regency Golf
The hotel course has nine holes, but you can do the course a second time with different starting points, allowing for a full round to be played. For a half round of nine holes, the course is par 30 and a smidge over 1,900 metres in length.
It's great for actually getting the good walk that golf is idiomatically associated with; there aren't any golf buggies to take you around. They do however, have caddies with great course knowledge to help you find your way through.
Designed by Fisette Golf Design and landscaped by Tong, Clark and McCelvey, both based in Hawaii, this course is of international standard. The course is covered in Bermuda turf, so it's resilient to the hot climate and can endure the dry season well.
Guests of the hotel get a 25 percent discount on green fees and all the equipment that you need is available for hire, so if you fancy a round and didn't pack your clubs you're covered – even for shoes!
W: www.hyatt.com/en-US/hotel/indonesia/hyatt-regency-yogyakarta/yogya
FB: HyattRegencyYogyakarta
IG: hyattregencyyogya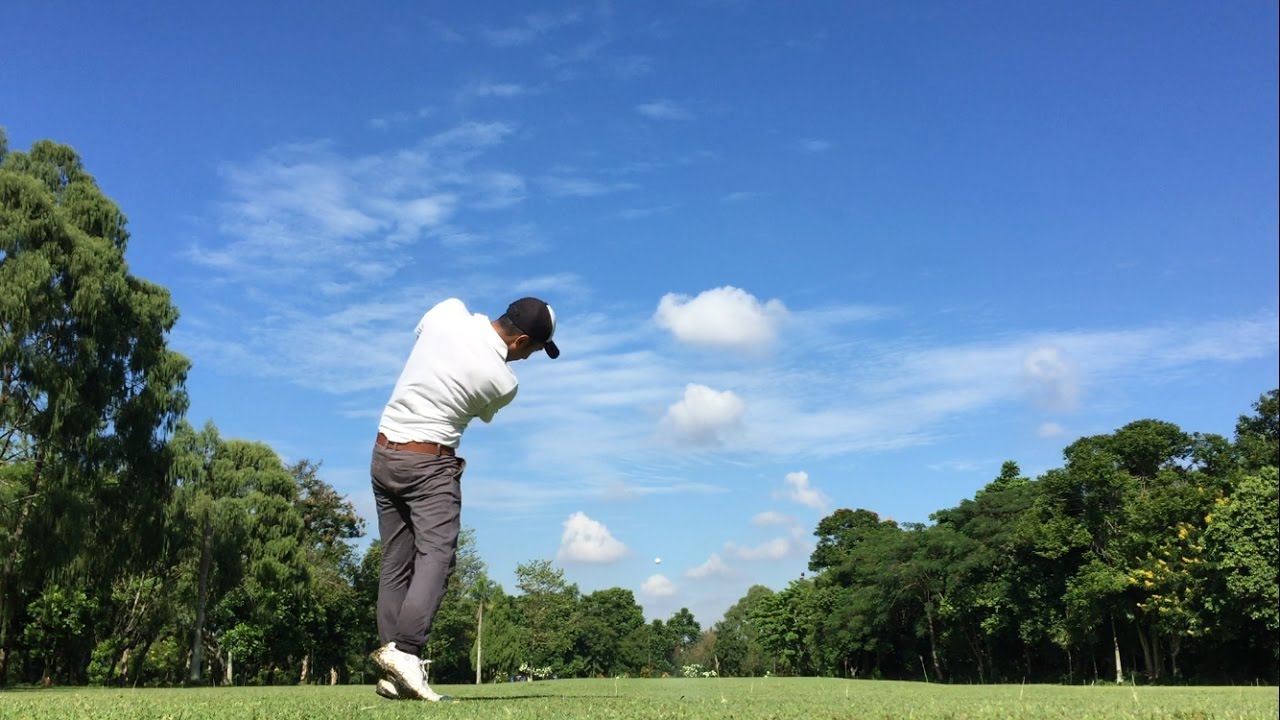 Padang Golf Adistjipto
This is the only golf course in the city of Yogyakarta that has a driving range, so you can get your swing warmed up or get some practice in on a quiet evening. The location is out by the airport and is frequented by many Air Force officers, as well as local business people, and more than a few kids taking private lessons.
The skilled and helpful caddies are mandatory, as is the cart, but you're welcome to walk alongside if you want to keep yourself limber for the next shot. Walking the course will take around four hours, and you'll cover just shy of 6km with the 18 holes coming in at par 72.
Tournaments are held at the course throughout the year, details of which are available on the social media accounts, listed below. In the most recent tournament, the prize for a hole in one was a new car with a total pot of Rp65 million for the winners; not too bad for a members' entrance fee of Rp900,000.
With the course being next to the airport, you'll have planes coming in to land as you pump out some swings at the driving range. It's an ideal course for golfers with a passion for aviation on the side. It's really accessible from the city, at around 10km from Malioboro. Although finding your way to the actual entrance can be confusing on your first visit, so leave yourself a few extra minutes to arrive before your tee time.
FB/ IG: padanggolfadisutjipto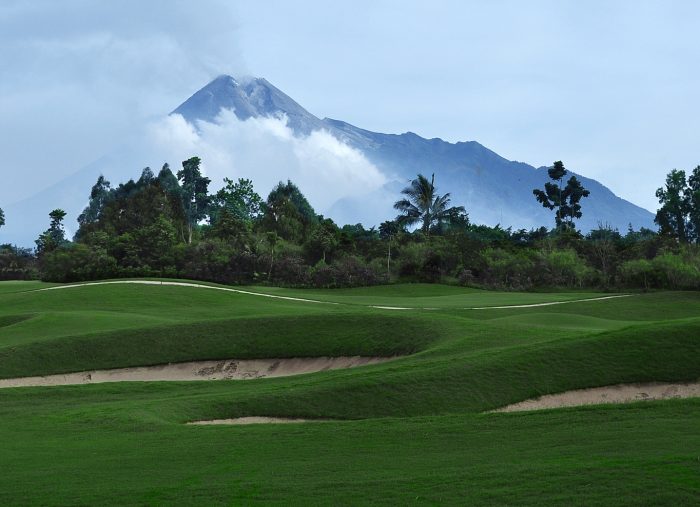 Merapi Golf
The name belies the most impressive feature of this course – the stunning backdrop presented by Yogya's active volcano, Gunung Merapi. Being slightly elevated, at 800m above sea level, makes the course slightly cooler than those on the lowlands, too.
The course is laid out over 6,370 metres and is par 72. Carts and caddies are obligatory to take on your round but there are not issues with you still walking the course if that's your preference. The design comes from the prestigious Australian company, Tomson, Wolveridge and Perrett, whose course credits span the Asia Pacific region. Being at the foot of the volcano makes for a challenging course, with interesting breaks and elevations to keep you on your toes. The caddies are great at what they do and will help new golfers to the course to navigate with aplomb.
Tournaments with big cash prizes are reasonably regular, as are special deals so keep your eye on their social media. A hotel and restaurant are also attached to the course, making it an ideal escape whether you live in Yogyakarta or are coming from further afield.
W: www.merapigolf.co.id
IG: merapigolf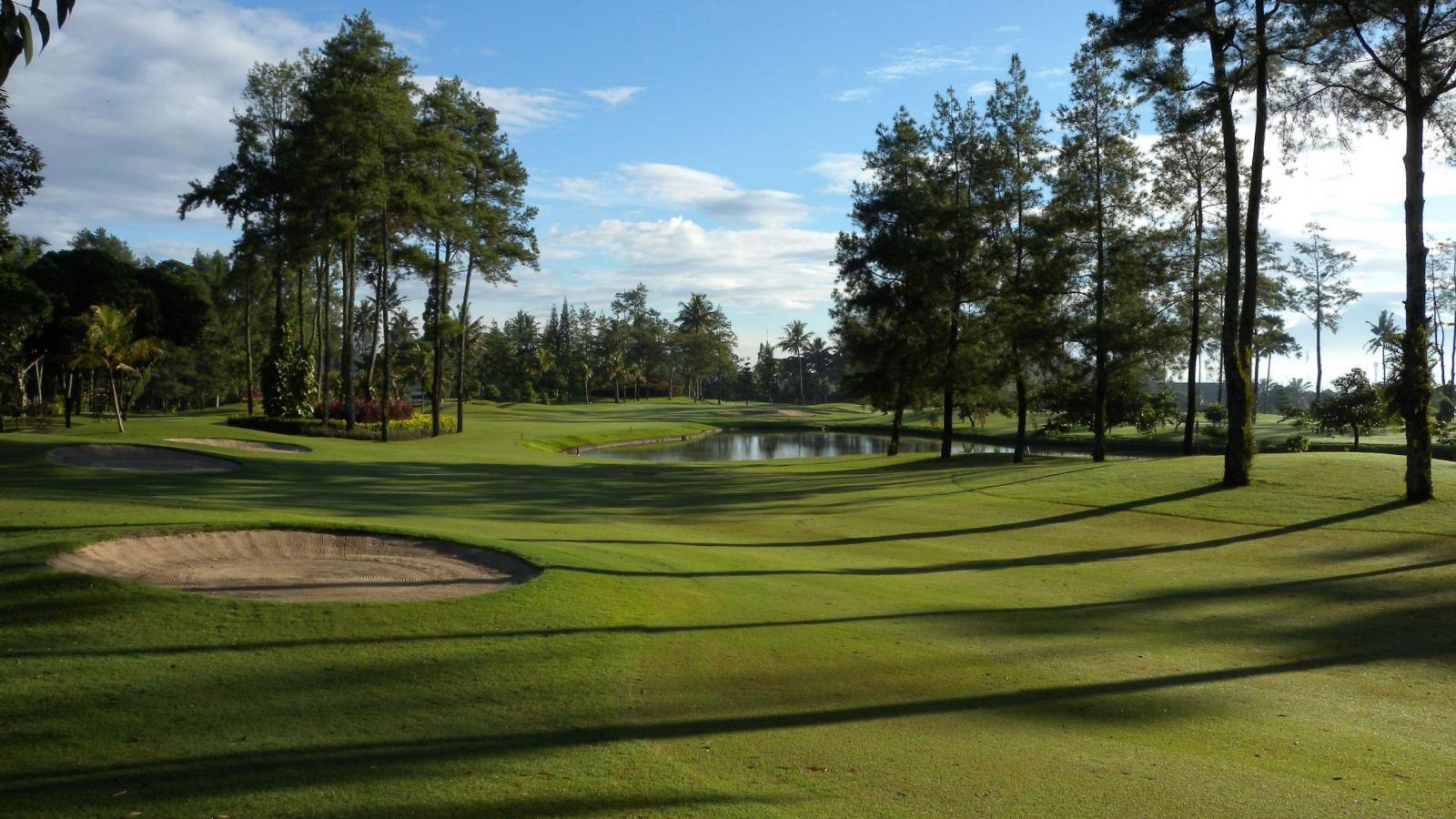 Borobudur International Golf and Country Club
Take a drive out to the town of Magelang, around 40km out of Yogyakarta city, to partake in some club swinging at this course. The landscape is stunning, with a volcanic backdrop and a quiet town rather than bustling city all around.
The course comes in at 5,148 metres long and is a par 72. It was first designed as a nine-hole jaunt back in 1987 and when it came under new management, the pro golfer Douglas Duncanson was bought in to redesign it and the course was expanded to the full suite of tees that are there now.
A driving range is also on site, so you can get some swing practice in before you hit the green proper. Tournaments are available to take part in; social media rather than the website is the place to look for details.
If you're looking to combine some culture along with your golfing trip, Borobudur is a mere 30 minutes away from the course.
W: www.borobudur-golf.com
FB/ IG: borobudurgolf
Although the golf scene may not be as active in Yogyakarta as you would find around Jakarta or Bali, the courses that are here are well designed and maintained with great facilities. Impromptu trips are catered for with equipment hire available at all of the sites, as well as caddie and cart options, with the exception of Hyatt which is walking only.