Bali is one of Asia's best island destinations for golfing and offers a good combination of challenging greens and well-maintained fairways that are seamlessly landscaped into some of the islands most stunning locations.
You can be sure of a stimulating round of golf, while enjoying modern and first-rate leisure facilities. Our choice of Bali's toughest golf courses offers a mix of difficulty, atmosphere, and tradition on the Island of the Gods, while panoramic scenery serves as a backdrop to your swing.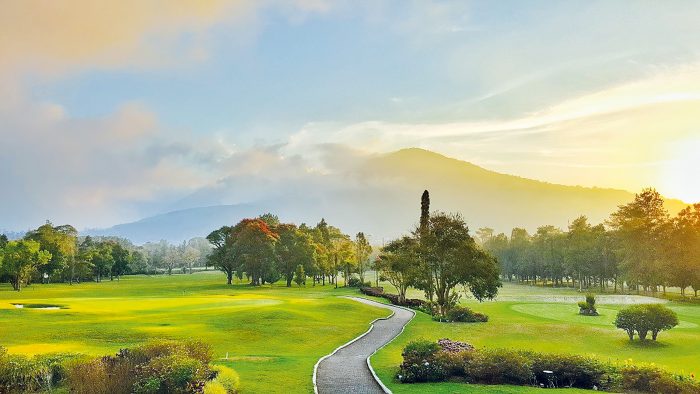 Handara Golf & Resort Bali (Pancasari, Singaraja)
Considered one of the toughest golf courses in Asia, Handara Golf & Resort Bali is located in the central highlands of the island and is nestled down inside the crater of a dormant volcano at an altitude of almost 1,200 metres above sea level. The resort is surrounded by lush, green mountains, crater lakes, and an equatorial rain forest that creates dramatic backdrops for approach shots into the well-maintained, creeping, bent grass greens.
Ranked by Golf Magazine as one of the "Top 50 Golf Courses in the World," this beautiful golf course is one of the oldest clubs in Bali and it's seen many distinguished patrons. It offers a pleasant opportunity to play golf in a cooler climate of the verdant hills of Bedugul, nestled 4km away from the hustle and bustle of the south, ensuring you a worry-free and a crowd-free session.
The Peter Thompson and Graham Wolveridge-designed, par-72, championship layout offers a good challenge for all levels of golfers, with a slope rating of 128-139, "standard to difficult." This course has been compared to some of the best in Asia with the 18th hole offering a rewarding and challenging par-five that is framed by steep cliffs on one side and the rest of the course on the other. As you approach the tee, you will see the clubhouse and Katmandalu Restaurant in the distance, ready to offer hot coffee or cold beer.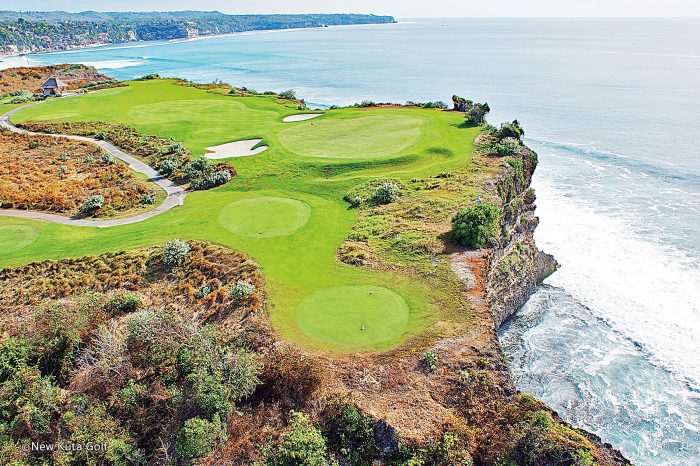 New Kuta Golf (Jalan Raya Uluwatu, Pecatu)
The first golf course in Indonesia with a links-style layout – along a coastline and with dunes and a few trees – New Kuta Golf is an international standard, 18-hole championship course. The Golf Academy Bali (GCB) was opened here in January 2013 under the direction of British PGA professional Neil Douglas, offering a covered grass driving range, expansive short-game area, and 9000-square-foot putting green with numerous danger zones throughout.
Carved out of harsh limestone and set on top of white cliffs that overlook the Indian Ocean, this championship golf course ranks among Asia's best and most challenging. The signature hole 15 is nicknamed "The Cliff Hanger" and has 240-degree ocean views overlooking two famous beaches on Bali's southern coast; Balangan and Dreamland. The magnificent Club House boasts a restaurant, bar, spa, and function room with panoramic views of the lush rolling fairways. It is wonderfully designed and the original contours of the land are still preserved.
With a "standard" difficulty level (slope rating: 124-144) this course can throw challenges at you. The par-three is very challenging even for experienced golfers because strong winds can move the ball around on the green. The elegant par-five 18th finishes just a few yards from a shaded patio serving New Kuta's magnificent clubhouse, where the formidable Links Restaurant & Bar, along with the club's dedicated spa, make it an ideal place to relax after a round.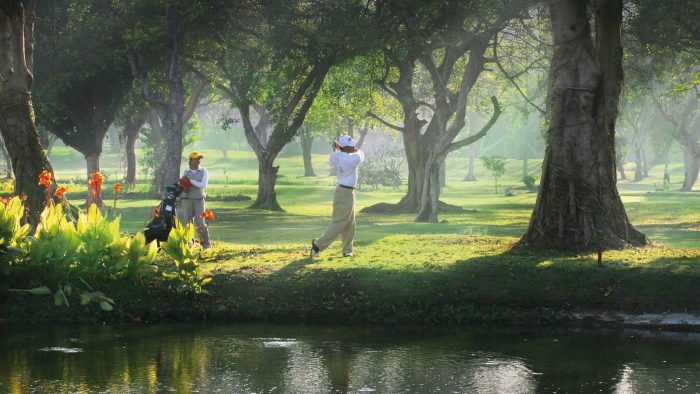 Bali Beach Golf Course (Grand Bali Beach Hotel, Sanur)
Set on the doorstep of the Inna Grand Bali Beach Hotel, Bali Beach Golf Course in Sanur is one of Bali's smallest golf courses – offering a more private, country club atmosphere with onsite facilities that include the Sector Bar & Club where you can enjoy a convenient break for a light meal.
With 18 holes and a course length of 3.25km, it boasts a slope rating of 120-135, or in other words, a difficulty of "easy to standard." The golf course offers its own set of challenges due to the small acreage and greens surrounded by a series of water ponds, crisscrossing garden bridges, fountains, shrubbery, and pine trees. New features are added to the course from time to time with additions such as bunkers, lakes, and mounds. The greens are designed to provide a putting surface, without severe undulations.
Subtle breaks on the greens will always keep the golfer guessing and the course's layout provides a good variety. The greens are well bunkered, with little room for errant shots. The wind is a factor and comes into play on a few holes, especially on hole two, which is a par-three. The most difficult hole on the course is hole four/13 as it bends right. Overall the course provides golfers with enough variety and challenges to enjoy a good game of golf. You can even head down after hours to knock a few balls at their floodlit driving range.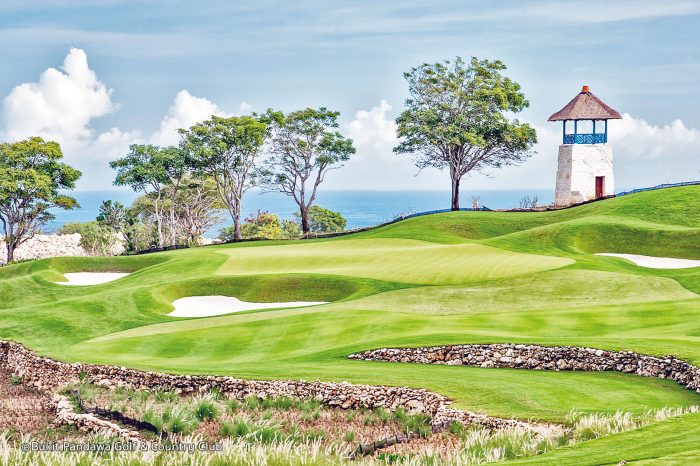 Bukit Pandawa Golf & Country Club (Pandawa, Kuta Selatan)
Opened in October 2016, Bukit Pandawa Golf Club is the latest addition to Bali's growing collection of world-class golf courses. Located on a limestone cliff-top overlooking the world-famous surf breaks of Bukit Peninsula, the singular venue offers 18 championship-calibre, par-three golf holes, many of which are back-dropped by rustic architectural relics and spectacular views of the Indian Ocean, with a clubhouse inspired by the many grand temples of the island.
The rural countryside feeling around the course creates a great ambiance. This par-54, the 18-hole golf course is well designed and quite challenging. Although only two years old, the course has matured, the greens are good and overall are well maintained. Some holes are quite difficult if you play from the backmarkers. The course presents a challenge but also allows players to attack the flags without being too punishing if they miss the green.
A surprisingly testing championship course for an all par-three golf course offering so much variety such as blinded holes surrounded by water. This course requires clubs off the tee from a wedge to a 3 wood!  A must play while in Bali.