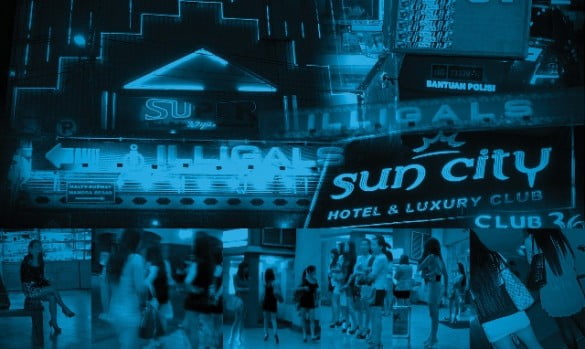 As the Year of the Rabbit nears an end, hundreds of expatriates in Jakarta's Chinatown are preparing to return home for a month-long holiday. Most are young women from rural towns in southern China, many of them making a living in Indonesia as high-class escorts. Not all are sex workers. There are also singers, beauticians, qualified masseuses (whose services are strictly non-sexual), hairdressers, health practitioners, cooks, garment traders and small business owners.
Indonesia's annual pulang kampung (going home) ritual for the post-Ramadhan holiday of Lebaran involves about 30 million people. That's peanuts compared to the exodus from Chinese cities and abroad ahead of Lunar New Year, with over 230 million people travelling to their hometowns. It is the world's largest human migration and involves about 3.2 billion passenger trips, as people generally have to travel by train, bus and/or boat to get home.
Mei Zhen (not her real name), a 29-year-old Chinese woman living in Jakarta's main Chinatown district of Glodok, will not be going home for the holidays. She works as a singer and hostess at an upscale karaoke bar, and plans to travel back to China in March when her current visa expires and airfares are lower.
The daughter of farmers from Hunan province, Mei completed high school but could not afford higher education. Her first full-time job was in a food processing factory, working 12-hour shifts plus compulsory overtime for only 500 yuan renminbi (US$80) per month. She married when young and divorced after eight years, saying her husband was "abusive and irresponsible". She has a 7-year-old son, who was born deaf and thus requires specialised speech therapy. Mei sends him to a special school, which charges monthly tuition of ¥2,000 ($320). That's nearly double Hunan's minimum monthly wage of about ¥1,020 ($165). The government provided some assistance for the first two years of her son's education but then terminated the support, leaving Mei in a quandary. Her solution was to move to Jakarta, where she now earns at least $1,110 per month, doing a 35-hour week. Her work generally involves singing love ballads to ethnic Chinese Indonesian businessmen and pouring them whisky and cognac. After covering rent, food and other expenses, she is able to send home about $700 a month.
Mei enters Indonesia on a six-month socio-cultural visa arranged by her employer, who keeps her passport for the duration of her 'contract' to ensure she does not leave the country prematurely or work for someone else. If she wants to get her passport back before the six months are up, she must pay her boss a fine of Rp.1.5 million for each remaining day of her contract period. As many expats know, if stopped by police late at night and unable to produce a passport or residency permit card, a bribe is usually required to quell spurious threats of legal action. When Mei gets caught at a random police check, she can negotiate a bribe on the spot – anywhere from Rp.100,000 to Rp.1 million, which is better than being hauled down to Jakarta Police Headquarters, where her employer will be summoned and asked to bring her passport. Then, depending on the offense determined by police, there will be a fine of anywhere from Rp.3 million and Rp.10 million, and at worst, deportation for violating the terms of her visa (under which she should not be working).
Mei's inability to speak Indonesian or English makes her – and hundreds of other Chinese working women – vulnerable to crooked immigration officials, who can demand up to $100 for allowing entry and exit. Mainland Chinese tend not to complain about this routine victimisation, although an exception occurred in May 2011, when a Chinese man filed a complaint with airport police after immigration officers assaulted him in a back room when he refused to pay a HK$100 bribe.
Apart from the occasional raids to satisfy the media's craving for images of frightened females, police and immigration officials tend to turn a blind eye to the Chinese women working illegally in Jakarta. A self-professed "big boss" in the sex trade said this is because police, immigration and municipal authorities are all paid to leave certain venues alone. Seated in a bar alongside a bevy of leggy Chinese women in high heels and revealing outfits, he claimed he is always alerted in advance of any raids. But with hundreds of cashed up Chinese women now preparing to go home, a few police are keen to get their hands on some of that money. In the second week of January, police began visiting some of the residential buildings occupied by Chinese women, accepting bribes from Rp.400,000 and upward from those unable to produce their passports.
Mei is fairly happy with her life in Jakarta, earning good money and living among friends, but there are cases of sex trafficking and slavery involving Chinese women. Some are sold by debt-ridden or unscrupulous relatives to syndicates that put them to work in Jakarta's most opulent brothels, which are thinly disguised as hotels specialising in sauna, spa, karaoke and massage services. A few of these hotels also offer gambling and drugs. They do provide the women with routine health checks and have a policy of mandatory condom use, although some men pay extra for unprotected sex.
Chinese sex workers, known locally as cungkok, can be indentured to the tune of $3,000 or more when they arrive, being overcharged for airfares, visas, sexy clothing and initial accommodation. That means they have to work for nearly three months or more before they can start earning for themselves. Even then, they still have to pay above average rent, ostensibly to ensure their residences are immune to raids by authorities seeking illegal foreign workers.
Jakarta's high-class brothels, many located in or near Glodok, charge up to Rp.2 million for an hour of 'massage-plus' with a Chinese woman. Of that amount, the woman gets only Rp.400,000. Still, it's more than Indonesian prostitutes are making in similar upmarket establishments, where the rate for an hour of sex is about Rp.300,000, of which the woman receives only Rp.100,000. Mainland Chinese prostitutes are considered "more desirable" than local sex workers because of their lighter skin and taller stature. But underneath the alluring outfits and the makeup, the young women are hardly sophisticated creatures. On arrival, many have no idea how to use a modern shower, an elevator or even a rice cooker. They are real village girls, brought to Jakarta because of their height and good looks. When clients ply them with spirits, they totter about in their high heels and some fall down by the time they get home at 5 am. They sleep during the day and emerge in the evenings, transported to work in minivans, SUVs or cabs provided by their employers. Those who are not indentured are looking forward to going home for Chinese New Year.
Mei will be celebrating in Glodok with friends from Hunan by having a huge feast on the eve of the holiday, which is traditionally the occasion for a family reunion banquet. It's also one of the biggest drinking nights of the year, with people sculling glasses of beer and spirits in celebratory toasts. Food served depends on the diners' regional background, but mostly involves fish, dumplings, pork and chicken. Oranges are also popular because they represent prosperity.
Everything required for the celebrations can be obtained in Glodok, but Chinese expats shopping there sometimes have communication problems with Chinese Indonesian traders. That's thanks to former dictator Suharto's policy of banning the Chinese language, alphabet and culture for over 30 years. The ban on Chinese characters was lifted in 2000 by former president Gus Dur, but many Indonesian Chinese have grown up unable to speak their ancestral language. Gus Dur also declared Chinese New Year an optional public holiday and his successor Megawati Sukarnoputri made it a national holiday in 2003. In addition to the feasting and boozing, colourful decorations, dragon dances and fireworks are let off throughout the night. Children are given ang pao – red envelopes containing cash.
 Although Glodok now seems harmonious and festive, it has a long history of violence. In October 1740, the Dutch colonial government sponsored a three-day massacre of anywhere from 5,000 to 10,000 Chinese in and around the old city of Batavia, purportedly to quell riots and rebellion over unemployment. After the massacre, the surviving Chinese were forced to relocate outside the city walls to Glodok. In May 1998, Chinese were targeted in the deadly mass riots that hastened Suharto's downfall. At least 168 ethnic Chinese women and girls were victims of organised mass rapes, while hundreds of Chinese houses and shops were looted and burnt. In the case of the 1740 massacre, the Dutch Governor General Adriaan Valckenier was recalled, arrested and eventually died in jail in Batavia in 1751 awaiting trial. There was no such justice after the 1998 riots, with successive governments being too spineless to punish the masterminds of the carnage because of alleged military involvement. Today's young mainland Chinese women in Glodok know little of this history. They only hope the Year of the Dragon will bring them good fortune.