A deadly and unexpected tsunami thrashed some of the most touristy beaches and nearby villages in Banten's coastal areas in December 2018.
A volcano-triggered tsunami was the last thing many locals would even consider preparing for; especially in a country ravaged by quakes and tsunamis.
Though quakes in the Sunda Strait have not been uncommon in the past years, Banten's coastal areas; the beaches in Anyer, Carita, and Tanjung Lesung had almost always survived unscathed. Unfortunately, it was their turn to face nature's onslaught this time. New Year parties got washed away, and, sadly, even some celebrities perished in a nocturnal tidal ambush by the waves.
For some weeks, or probably for some months, the beaches along Java's westernmost tip were scattered with debris and countless kilos of plastic detritus. The road, being just a few metres away from the beachline, was also littered with branches of trees and other rubbish.
Small shops, restaurants, and hotels suffered major losses and had to be closed down for a considerable period of time. The weekend beach destinations for many Jakartans was a no-go, with the furious weather continuing in the forms of incessant rains and thunderstorms for the next few months.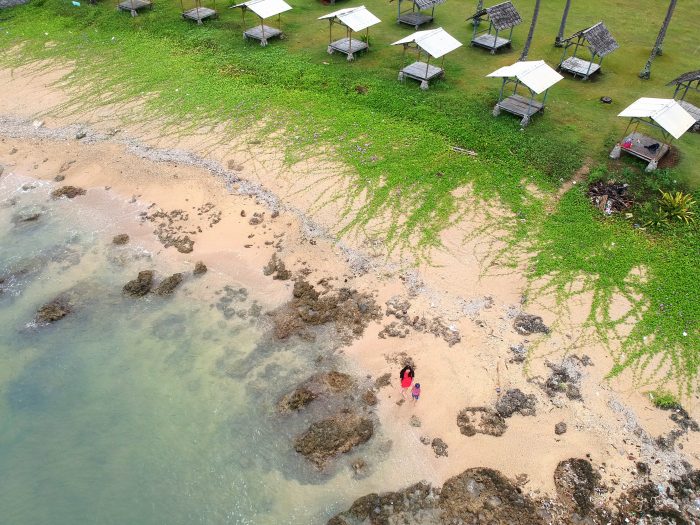 It was in March this year that I found time to drive along the coast for first time after the December tsunami. Getting all the way to the tip of western Java was, as always, a pleasant experience. Some parts of the road between Carita and Tanjung Lesung were still under renovation. Barring that, it was a smooth ride.
I decided to start from Tanjung Lesung where a couple of resorts had bore the brunt of the waves. The place is posh, with resorts like Tanjung Lesung Resort, Kaalicaa Village, and a handful of hotels offering luxury stays to people seeking escape from smoggy cities.
It looked like a ghost town as I drove into the compound of the Tanjung Lesung Resort and past the security station. The guard recommended Pasir Putih beach as one of the finest in the area. The beach is located a kilometre away from the security station. It was as deserted as the path I had taken to get there.
But before me lay a beautiful stretch of azure sea, surrounded on two sides by tips of land filled with greenery. A few boats were anchored at a dilapidated jetty with the crew members lying down on the deck, watching soap operas on their smartphones. Apparently, they were short of work and were eagerly waiting for customers. They were fishermen, but also depended on giving tourists rides when they were not fishing.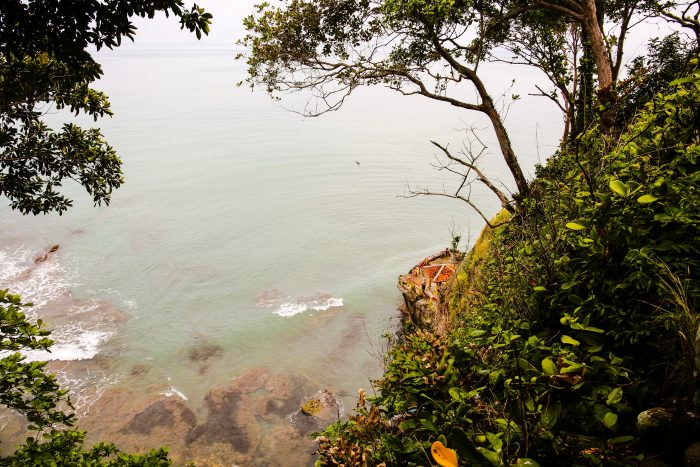 Though I had been to this part before, getting into the resort's compound was a first for me. The Pasir Putih beach looked like a no man's land where time had stood still. It was blazing hot, but the emptiness was inviting. Years ago, I had taken a nearby route to get to the Ujung Kulon National Park for a trekking expedition. I was wondering if anyone still dared doing that now, since the trekking path demands wading in seawater close to the wilderness of the jungle. The fishermen told me they don't see many visitors at the resort these days.
On my way back, I stopped by a hotel in Anyer to have lunch by the seaside. According to the receptionist, tourist numbers dropped a lot after the tsunami. Even weekends see only a handful of people, though the situation is getting better month by month. A drop in prices is the best choice many of these resorts have to welcome the crowds again. Sitting at a dining table next to a pool overlooking the Indian Ocean, I enjoyed my peaceful lunch.
Anyer has plenty of beaches all along the coast. Many of those are accessed by payment ranging from Rp20,000 to Rp50,000. The Karang Bolong beach has a clifftop next to it. From the top, there are great views of the ocean and the beach itself. I came here on a Saturday to find out the weekend situation.
There were some visitors trying out water sports like banana boating and simple boat rides. Some climbed up the cliff using the steps just like I did. The beach was a bit crowded, but not as much as it was three years ago. There was definitely a lull in the noise. Still, it was good to see people returning to the place, slowly.
Apart from Karang Bolong, most other beaches are pretty standard, with gazebos and warungs lining up next to the sand. Some beaches had empty gazebos, while others hosted handfuls of local tourists.
Banten's coastal areas may not be a great substitute for Bali or Lombok, but the beaches here are some of the best for relaxation if you can't be straying too far from home in Jakarta. With the roads well-constructed and devoid of any zig-zags, reaching here is a breeze. Maybe it's time to pack a weekend bag and rediscover the area now that infrastructure and businesses are working their way to recovery.