On August 9th Bali saw 32 of the biggest names in surfing gather in the Bukit for the Rip Curl Cup invitational surfing contest held at the legendary wave, Padang Padang. The annual Rip Curl Cup is in its 9th year as the longest running Indonesian surfing event and is a favourite for many reasons. For starters Padang Padang (or Padang for short) is highly regarded as the best wave on Bali and is also rated by international surfing magazines as one of the world's most coveted surfing spots. Padang is also the most crowded wave on Bali with up to 50 frothing surfers out on any given good day of waves with locals always going first, so to be invited to surf it in prime conditions with only three others out is an opportunity nobody passes up.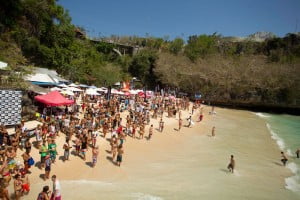 Padang is also one of Bali's few gorgeous white sand beaches that has become a favourite hangout for tourists and residents alike. As the saying goes, Padang Padang is so beautiful they named it twice.
What makes Padang so desirable to surfers is that the wave breaks with a wide-open barrel, or round hollow space under the curl, where the surfer can ride completely covered up and still make it out dry and standing. This is called getting barrelled, or riding the tube, and Padang can dish up perfectly shaped barrels on waves up to 15 foot (5 metres) that are comparable to a smaller version of Hawaii's notorious Pipeline surf spot. For surfers with skill and no fear catching a good wave here can equal the ride of a lifetime. Many Padang-addicted surfers' schedules revolve around riding this wave that only breaks properly a handful of times each year.
Padang is also known as one of the most fickle waves in the world that requires just the right combo of Indonesian dry season wind, big surf and certain lunar tides to work. This wave is so rare that two years ago in peak high surf season the Rip Curl Cup was cancelled for the first time due to small sub-par conditions. The Rip Curl Cup policy is "One day, One Swell" and they will wait six weeks to run in a single day of the biggest most perfect Padang on hand or not at all, a risk that international competitors gladly take flying here to wait for the perfect day.
The real danger at Padang is the razor sharp reef sitting just beneath the water surface. On lower tides the reef will even stick out of the water in the wave and in front of the wave while one is surfing, creating a sketchy dry-reef obstacle course. One of the worst places on Bali you can possibly be is getting caught on the inside reef shelf at low tide as a set of three or four 12-15 foot waves unloads on top of you. This can feel like being in a car crash with similar chances of smashing yourself on the reef or getting washed into the jagged limestone cliff fronting the break. Padang is without doubt for highly experienced surfers only.
This year saw Bethany Hamilton from Hawaii join as the first female surfer to ever compete in a pro event with the guys. Also in the event were Indonesian surfing icon Rizal Tanjung, 2x Rip Curl Cup champ Made Adi Putra from Bali, 2009 Rip Curl Cup Champ Jamie O'Brien from Hawaii, 2011 Rip Curl Cup winner Lee Wilson, and superstars Ry Craike and Ozzie Wright from Australia. Half the surfers were Indonesian and the other half were pro surfers from Tahiti, Wales, Morocco, Australia, New Zealand and America.
Each surfer brought a different repertoire to Padang, approaching the wave from different angles and styles with a single intent: getting barrelled as deeply as possible on the best wave and making it out. Only two of each surfer's top wave scores count towards their total in each round. Falling on even the biggest waves only gets a low score of one to two points out of a possible 10. With surfers pushing each other's limits further and further on the next wave there were some incredible tube rides and also a lot of errors and surprise losses on the way to the Final. Making it out of a Padang tube would net scores in the 6.5 up to 10 point range and was the only way to win.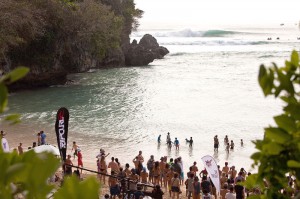 Eventually it was Chris Ward from California, USA who would catch the event's longest backhand (back to the wave and more difficult) barrel ride in the very last minute of the Final for a perfect 10 point score and the win. During this ride the whole cliff and beach held their breath watching Ward disappear for what seemed an eternity only to see him almost come out before disappearing again deeper into the Padang tube until the very end of the wave where he came flying out, arms raised in victory to the frenzied crowd hooting their approval.
Mega Semadhi from Bali was a favourite to win with the contest's first perfect 10 in the Final, but his second scoring wave fell just short of Ward's leaving him in a very respectable 2nd place. West Java's Dede Suryana and Ry Craike from Australia barrel battled for third with Dede taking the honours in a close exchange.
After accepting his US$6,000 winner's cheque on the award podium, Ward was all smiles and after thanking everyone he wowed the packed Padang beach once more by proposing to his girlfriend, which she accepted with a big kiss to heavy applause and cheer from the crowd.
As the sunset turned the sky orange and the cold San Miguels flowed, the last puzzle pieces fell into place making August 9th an epic beach day for all at Padang Padang.
2012 Rip Curl Cup Padang Padang Invitational Results:
Championship Final
1st Chris Ward (USA) 17.50
2nd Mega Semadhi (Bali) 15.60
3rd  Dede Suryana (Java)9.25
4th  Ry Craike (Aus) 9.20