Travelling to an Indonesian island that is not in the guide books and barely mentioned on Wikipedia in search of waves is always an adventure. Earlier this year a friend and I had a couple of hot tips from a few trusted friends and the luxury of a week to visit an island off an island, off an island in search of the perfect surf at our disposal. It was a full word-of-mouth, roll-the-dice kind of trip, but with the swell forecast looking promising we knew waves were coming, so the first piece of the puzzle was set in place. Passing a smoking volcano crater on Sumatra on our tiny prop plane flight to the island as the sun rose was a sign that we were definitely going into the wild.
Upon arrival the first thing was to sort out accommodation and then transport. There were many losmen (budget accommodation) and newly built air-conditioned bungalows available, so that part was easy. All sorts of motorbikes were available to rent, but we waited to seek out the one local on the island who had made a motorbike with surfboard racks on it. These were not the professionally finished racks you see in Bali; these were a rough form of rack made by a backyard welder with barely enough space for your feet when a board was carried and there was no bungee cord to hold the board in the rack, or foam to keep the sides from damaging. The racks were strictly surfboard on metal, but after a few strategically placed towels and a little screwdriver adjustment for foot space, we were mobile and off, headed to the beach with the pedal to the metal.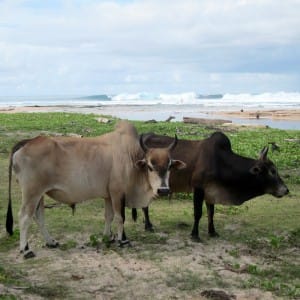 Being a freshly developed island, the roads were potholed and we even went to dirt at times. Bridges had sketchy platforms to cross over that one wrong swerve meant going overboard. Farm animals roamed freely and on the drive to the beach we spotted a black monkey, countless deer, cows and buffalo, which, although very natural, made you proceed with caution in case you hit one by accident. They say over 200 people die a year by coconuts falling on their heads and on this island there was no shortage of doubt that this could be true with the amount of heavily fruiting coconut trees that sprung up everywhere like weeds amongst a dense green background. This was tropical paradise at its rawest, and the air was about as fresh as you can imagine.
The one lane coastal highway ran parallel to the beach and there were signs of waves everywhere. Not every wave looked amazing, but there were some definite breaks that were working with not a soul in the area. When we got to the beach we were looking for, there were already surfers out. News does travel in this small world and the wave had been found for some years, but obviously the cat was not totally out of the bag with only about six out enjoying overhead to double overhead (6-10ft) waves breaking left and right off of a perfect peak in glassy smooth conditions. Everyone had big smiles on their faces, everyone sharing waves and happy for the other surfer's ride, totally opposite to the vibe on Bali or other crowded Indonesian waves.
The story goes that this wave was formed from the 2004 earthquake that pushed the coral reefs up close to two metres in some areas, creating this wave and also the deadly tsunami that wiped out parts of Sumatra, Thailand and more in the process. Legend has it that the villagers on this island were told by their ancestors that when there is a terrible earthquake and the reef dries up and the animals start going wild, run for high land because the big wave is coming. And that's what they did, and though the coastline was destroyed, nobody died because of the tsunami in 2004. Some good did come of it, with this wave being created, where it never existed when the reef was deeper, although the tens of thousands of lives lost elsewhere is nothing to be taken lightly.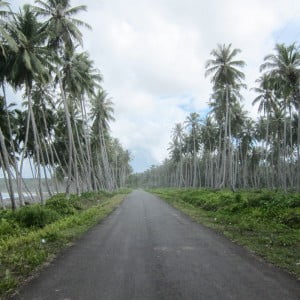 Day One was just about over and with the sun setting pushing pinks, oranges and yellows into the sky, the only thing missing was a cold Bintang. Yes, on these strict Muslim outer islands, beer and all alcohol is seriously illegal, and you can't just cruise down to Circle K and grab one because there are no Circle Ks or any mini marts, nor do any of the warung sell alcohol except for the kind you can't drink. The island was promoting healthy living.
Day Two saw more exploration. Waves to ourselves, waves with nobody, waves in the middle of nowhere; good waves at that, too. After basic pancakes and coffee in our air-conditioned bungalow (OK, we weren't roughing it that much) we would load the boards and take off. Past the buffalo, past the waving kids yelling "Hello Mister!" Groundhog Day never felt so good; days melted into days and no phone signal meant no contact and no emails, and neither of us felt the urge to switch to a local SIM card to communicate more. The only indication that time was moving was our growing sunburns and the calendar at the front desk where we luckily did ask what day it was. Finally it was time to go and we had to say goodbye. The locals don't have a surf shop on the island, so we gave what we could; boardshorts, t-shirts, hats, stickers. The surfboards we kept because they were magic, plus the one local surfer on the island already had a good board.
As soon as it started, the trip was finished; waves caught, mission completed, time to go home. You always say you will go back to a special place you visited and in my experience, it's always 50-50. That's why you have to live every moment to the fullest and take lots of pictures because you never know, it might not be the same the next time you visit.