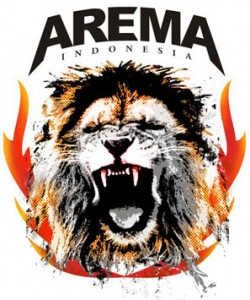 It's not just oil and gas, English teachers and missionary types who like to call Indonesia home. Despite all the problems that plague football in this country, until recently we have two national associations and  two national teams while now we have two league set ups and two bodies claiming to run the national team, there are several footballers who may have been attracted to the islands by the money but stay for the chaos!
Arema come from the East Javan town of Malang some two or three hours south of Surabaya. Their name comes from Arek Malang and they could justifiably claim to be the biggest club in the country. They have arguably the largest support in the country, season after season they boast the best average gate, and are one of the few clubs that seem to reach out beyond the ethnic or geographical toes that bind so many people to a football club.
And for this season they boast a strike force of foreigners who have a combined age of just less than 100 years.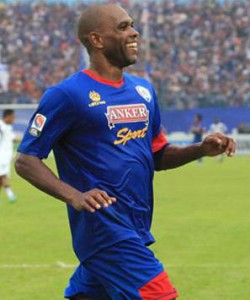 The granddaddy of them all is Keith Kayamba Gumbs who turned 40 years old last September. Kayamba hails from St Kitts and Nevis in the Caribbean and he has represented his country well over 100 times in a career that dates back to the late 1980s.
With more clubs on his playing profile than you find in an undoctored pack of cards Kayamba arrivied in Indonesia in 2007 when he signed for Sriwijaya Palembang. It was an auspicisious time to sign for the South Sumatra side as they were about to embark on a period of domination that continues to this day.
In that first season they won a Cup and League double, the first time in the professional era an Indonesian club has managed that and followed that up with back to back cup wins, the season opening Inter Island Cup and Community Shield before ending his time in Palembang with the league title last season, leading by example with fitness levels way beyond his younger team mates and a professionalism that should stand as an inspiration to team mate and opponent.
At the end of the season Sriwijaya released him and Arema swooped, reunited the genial striker with Rahmad Darmawan, the coach who started Sriwijaya's trophy laden years.
Now  in Malang Kayamba finds himself alongside two other strikers, vastly experienced and very prolific.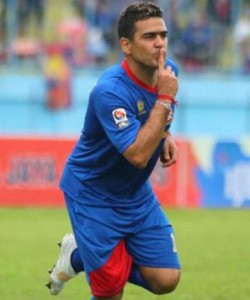 Christian Gonzales signed for the Singop Edan (Crazy Lions) ahead of the new season as did Kayamba and is another familiar face to football watchers here.
Gonzales turns 38 in August. He was born in Montevideo, Uruguay and arrived in Indonesia in 2003 beginning his new life in the tropes with PSM Makassar. The 27 goals he scored in 34 league games set the benchmark and in the 10 years since then he has averaged 25 goals a season in all competitions making him the most prolific striker in the history of professional football in this country.
Without doubt he was at his most lethal with Persik Kediri when he played alongside the likes of Ronald Fagundez and Danilo Fernandez. In three and a half seasons he managed a phenomenal 124 goals in 127 games.
A barrel chested striker, former England international and Indonesian national team coach Peter Withe described Gonzales as 'Mark Viduka (ex Leeds United & Australia) without the work rate'!
He is the archetypal predator. He is one of the strikers who does nothing all game, then finds half a yard in the penalty area and the ball is in the back of the net. Little wonder when Indonesia allowed naturalized players the opportunity of pulling on the red shirt of the national team Gonzales was the first to be called up and responded as only he knows how with four goals in his first three games. his 19 games have seen him score 11 goals though the current mess surrounding the national team has seen him not play since a World Cup Qualifier against Iran in 2011.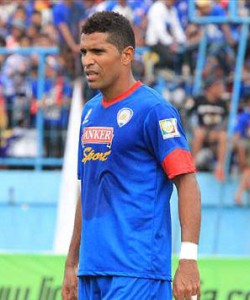 Compared to Kayamba and Gonzales, Alberto Goncalves is a positive young whippersnapper. Now aged 32 the Brazilian striker's first experience of life in Indonesia was with Persipura where he was a prolific striker at the heart of their successes towards the end of the first decade of this century.
After a shirt breather in Indian football he returned to Indonesia with unfancied Persijap Jepara before returning to Jayapura last season. At the beginning of this season though he joined Rahmad's revolution in East Java and has been prolific ever since, scoring 10 goals in Arema's first 13 games, a number matched by Gonzales.
So far this season Arema are proving nothing beats experience. They are hanging on the coat tails of leaders Persipura and their aging forward trimutive lead the way with 24 of their 29 goals so far.
Meanwhile the recently naturalized Greg Nwokolo has been limited to a mere four games and Malaysia's top striker, their Gary Lineker without the potato crisps, has returned to his homeland on loan, a victim of both his older team mates and the chaos that surrounds the game here.
The Indonesia Super League is not half way through the season but yet again it is the older players who are leading the way and in the cases of Kayamba, Gonzales and Goncalves it is an example they have been showing for several years. In the cesspool that Indonesian football often resembles  the achievements of these three year in, year out stand out as a shining example of how players can set a good example to all around them.
It could be argued these three strikers are keeping younger players out of the game but the numbers don't  lie; there is no denying the ability of players like Titus Bonai, Yongki Aribowo and Patrick Wanggai but it is up to them to prove they can displace the older players. They are the ones who need to step up to the plate week in, week out and make sure it is their names that are on the back pages and it is their goals the TV channels replay continuously.
Football clubs chasing success don't do sentimentality; they understand goals and success and in Kayamba, Gonzales and Gonzlves Arema boast three of the best.