The 3rd Annual Bali Women's Role Model Awards 2014
This year BaliWISE has given skills education to more than fifty women. All proceeds to the event go to support the works of BaliWISE by ROLE Foundation to support BaliWISE educational programs.
It was a truly inspiring evening, seeing so many strong women who have created positive change all gathered together at the Conrad Hotel in Nusa Dua. The evening commenced with a Moët & Chandon Champagne reception of cocktails and canapés in the floating garden, followed by portrait art and a display of recycled fashion. The BaliWISE student choir regaled guests as they made their way to the ballroom for a three-course French fusion meal. The awards ceremony commenced after dining and was followed by a live and silent auction. It was an event of fine dining finalized with classic entertainment, featuring Lisa Soul, who fought her way out of poverty, and through her talent and hard work, found success.
There were so many worthy finalists, among the expatriate finalists were Penny Ellis (founder of BISA), Pamela Bathgate (Yayasan Sehati Anak), Janet DeNeefe (founder of Ubud Readers and Writers Festival), Christina Iskander (creator of Diva Lunches), Mary Northmore (Senewati Gallery of Art by Women), Ibu Robin Lim (Bumi Sehat Foundation), Natalia Perry (Safe Childhoods Foundation), Sarah Chapman (outreach for Solemen), Emma Larssen (Surf Life Saving, Nipper Programs), and Darsih Gede (founder of Indonesia Organic).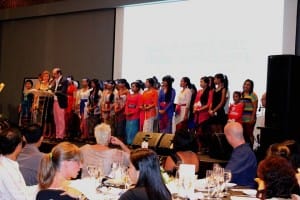 The winner for Cultural Role Model is Rucina Ballinger, who came to Bali in 1974 and has dedicated her efforts to help improve intercultural relations through her devotion to the people of Bali. She has been Director at Yayasan Kemanusiaan Ibu Pertiwi. Involved in community events and celebrations, she is known widely in Bali as an icon for caring and promoting cultural preservation. The Environmental Role Model is Paola Cannuciari. Having lived in Indonesia for over two decades, Paola has been a leading force in environmental and wildlife conservation and waste management. She now works with ecoBali to recycle waste from around the island, and teaching children about sustainability.
The winner of the Humanitarian Role Model is Asana Viebeke Lengkong, the founder of the non-profit foundation dedicated to empowering rural communities to improve their standard of living; I'm an Angel (IAA). Using her own funds for the first six years, she supplied communities with basic healthcare and dietary needs. IAA has assisted 86 villages throughout Bali. The Business Role Model award was awarded to Surya Paulina and Ratna Katarina. These young local designers started their popular fashion label Paulina Katarina three years ago. Their products are all made by women for women and promote female empowerment and local materials. The two sisters have developed a work system enabling women to work from home so they may take care of their families and earn a fair wage.
The College Role Model is Kadek Ridoi Rahayu. A member of Children Protection Institution of Bali Province, Kadek is a strong advocate for children's rights and has been recognized as an Indonesian Young Leader by UNICEF. The High School Role Model award went to sisters Isabel and Melati Wijsen who are students at the Green School. They started a petition to urge the government to create a law forbidding the use, sale, and production of plastic bags on Bali. The girls have a team of 25 children working with them from schools throughout Bali. If they get a million signatures before January 2015, they can get the leverage they need to get the Governor to change the law.
And finally, the Bali Wise Graduate Role Model winner is Ni Wayan Rasmini. She was a seaweed farmer who was left without work due to environmental degradation. In 2009, at the age of 28, Ni Wayan came to BaliWISE to develop skills that could bring in another form of income. After graduating with high marks she established her own Warung Oka with forty seats at Pandawa Beach, now a prominent Warung. Wayan also dedicates time introducing new types of seaweed to the area, hoping to aid the ecosystem and provide new resources for seaweed farmers struggling as she was.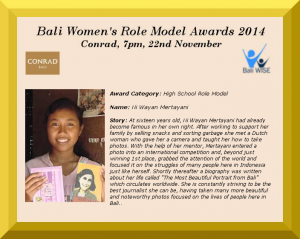 This event was a time of celebration as women role models were recognized and awarded for their dedication to make the world a better place for everyone. This event brought together prominent achievers with challenged women and girls empowered by the hope of using their minds to be educated to survive and flourish; to learn to hope for a better way in a better world. It is estimated that over two hundred thousand women in Bali are illiterate, and close to five hundred thousand women lack the necessary vocational training required to secure a job in the current market. Many villages have not reaped the rewards of the tourism dollars, which has seen the rest of Bali flourish. On this island of great, growing wealth, crippling poverty exists.
BaliWISE is providing skills education for women from some of the most deprived areas of Indonesia. The program aims to improve the education of women's empowerment, increase the skills within the community and help to reduce overall poverty.
Since 2007, the ROLE Foundation and BaliWISE have successfully improved the lives of over 650 women, giving back to this beautiful island in a sustainable and meaningful way through the education of women and girls.
To get involved contact BaliWISE at: [email protected]