Shangri-La's Property Manager Kathryn Urquhart discusses the strategies behind managing luxury residences in the capital city.
Hi Kathryn, thank you for taking your time to do this interview with us. Why don't we start with a brief introduction of yourself? How did you end up managing Shangri-La Hotels and Resorts?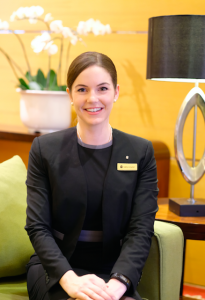 Growing up in a small country town in Australia, a sense of adventure along with helping people developed from a young age and I planned a career in paramedic rescue. Unfortunately, due to an injury as a teenager a change of plans was required so I moved my passion for helping people into a career in hospitality. First working in food and beverage, then completing a business degree and moving into hotels. I worked in a range of Australian hotels before finding Shangri-La. I was with Shangri-La Hotel the Marina Cairns for five years before being offered the opportunity to become Property Manager of Shangri-La Residences, Jakarta in 2015.
Can you describe the service and facilities that Shangri-La offers?
Shangri-La Residences Jakarta is a sanctuary in the city, offering extensive facilities to complement our 168 apartments. Facilities include a 32-metre swimming pool, a children's pool, sauna, steam rooms and a fully equipped gymnasium. The property provides inside and outside children's playgrounds, a barbecue area and a private restaurant. A function room is available for private events and meetings.
Shangri-La's well-known security system is enhanced further at the Residences with a biometric fingerprint access in the guest lifts which open directly to private lift lobby. Twenty-four hours in-room dining, reception services and housekeeping services are also available.Shangri-La Residences Jakarta tenants also have the privilege to use facilities and service available at Shangri-La Hotel Jakarta. We are very fortunate with the facilities available at Shangri-La and continually look for ways to improve and beautify these facilities following the progress of the times.
How do you find the progress of market for apartments and luxury residences in Jakarta in recent years? Do you face tough competition in this market?
The market has been challenging, with an increase in supply and at the same time a reduced number of expat arrivals. In a city like Jakarta convenience is essential, we face location-based competition continuously especially in relation to malls, schools and offices. We manage the competition by offering flexibility and adding value. By doing this we are able to accommodate the requirements of our tenants and ensure they get the greatest value.
Who are the main customers for apartments and luxury residences in Jakarta, based on Shangri-La's residents?
With our apartment sizes ranging from two-bedrooms to the four-bedroom penthouses, we easily accommodate single occupants through to large families. Privacy and convenience are the main elements for the Residences as 95 percent of our tenants are expatriates from all industries in senior positions.
What kind of strategies do you use to attract these customers?
Actions speak louder than words. What we promise is delivered. Shangri-La is an icon for luxury, the facilities and security provide exclusivity. For the service, tenants can be assured our core values of humility, sincerity, courtesy, respect and helpfulness will be experienced in every interaction.
Why do your residents prefer living in Shangri-La? What makes luxury residences an ideal housing option?
Guests prefer to live at Shangri-La Residence Jakarta due to the convenience, privacy, community and security, along with our fully fitted apartments in generous size; these features are what make luxury apartments the ideal housing option.
Convenience comes from having a round-the-clock service availability. In addition to the combination of access to all the private facilities of the Residences, Shangri-La Hotel, Jakarta complement the restaurant, spa and other hotel facilities and service to all tenants. The Hotel's expansive grounds offer the opportunity for inhaling a dynamic urban oasis in the middle of the capital city. Tenants may enjoy extensive service starting from drop off to place of interest, grocery assistance and many more.
What is the best thing about working in the hospitality industry? And what are the challenges?
The best thing about the hospitality industry is the people you meet. It can be the guests you are serving or your colleagues. I am very proud of the team we have at Shangri-La Residences Jakarta and the efforts they go to, to ensure our guests' expectations are exceeded.
In the Residences, all tenants are long-term and some are staying up to six years. It is our commitment to fulfilling their high expectations with consistent service and ensuring to deliver a more personalized service to make them feel like family.
In your opinion, what will the future of apartments and luxury residences look like in Jakarta?
The growth of apartment and luxury residences supply in Jakarta in recent years has been very impressive. International and local brands are strongly competing to give prospective guests even more choices for living.