The Indonesian government aims to bolster its slowing economy by encouraging domestic consumption, increasing government spending, and drumming up investment.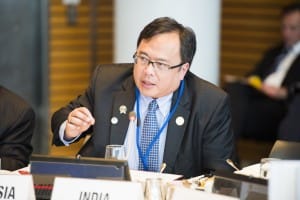 With a strong dependence on commodity exports, low Foreign Direct Investment (FDI) inflows, increased external debt, and a large foreign ownership of government bonds, Indonesia is casting the shadow of a vulnerable economy this year. Despite these elements, the nation's Finance Minister Bambang Brodjonegoro believes the local economy will get back on track in 2016.
The government is targeting a 5.3 percent economic growth this year. The projection is a slight increase from Indonesia's overall growth of 4.79 percent in 2015, according to a Central Bureau of Statistics (BPS) report, released on February 5.
"I predict Indonesia's economic growth will be at 5.2 percent this year, but the government's target is to gain 5.3 percent. That could happen, but with several conditions," says Eric Sugandi, a senior economist at the Kenta Institute, a Jakarta-based research company for politics, economics, and business issues.
To achieve the goal, Sugandi says the government needs to boost domestic consumption, increase government expenditures, and encourage investment from locals and foreigners alike.
"Indonesia's net exports declined following the weakening of commodity prices in the global market. However, if the government focuses on these three key things, the situation should get better," explains Sugandi. "It needs to accelerate infrastructure projects that create new jobs, attract more domestic and foreign direct investment by offering new policy packages, and maintain positive sentiment about consumption at a household level in Indonesia."
To ensure a favourable investment climate, the government is also easing licensing procedures and offering tax incentives. One such incentive is an amnesty bill that the Finance Minister hopes will run smoothly through the nation's House of Representatives. If successful, it would be passed into law sometime this year.
Tax amnesty, according to Brodjonegoro, would actually be an effective way of improving tax compliance and revenue in Indonesia. The policy would target wealthy individuals, who are less susceptible to economic swings than big companies are. People who bring their assets back to Indonesia from Singapore, for example, would be compensated in the forms of government securities, state-owned company securities, and one-month deposits in banks.
Brodjonegoro remains confident that the target of Rp.1.360 trillion (US$98.5 billion) in tax revenue will be achieved by the end of the fiscal year. The government will address several ways to achieve the target such as extensification (adding sources of government income), asset revaluation optimization (recalculating one's assets based on present value), and law enforcement on individuals who aren't paying their taxes.
In terms of investment realization, the government aims to increase domestic and foreign direct investment by 14.4 percent to Rp.594.8 trillion (US$41.65 billion), up from its previous target of Rp.519 trillion (US$ 37.6 billion). Franky Sibarani, head of Indonesia's Investment Coordinating Board (BKPM), recently said his organization would also focus on accelerating investor commitment to 100 construction projects this year.
"BKPM would make investment license procedures more efficient, carry out active marketing, guard investment realization, and spread investment to the wider society, especially labour-intensive manufacturing industries. It will also look to net more investment outside Java," said Sibarani recently at a press conference.
The BKPM says it will work to improve its three-hour procedure needed to obtain investment permits, and aims to expand its horizons to several foreign markets like India, Hong Kong, Thailand, Germany, Vietnam, the Netherlands, Canada, Italy, and Russia. It also hopes the archipelago can remain attractive to investors from the US, the UK, the Middle East, and Australia.
To make good on government expenditures, Indonesia has set aside Rp.310 trillion (US$22.46 billion) for infrastructure projects.
One such project is the US$5.5 billion high-speed railway from Jakarta to Bandung (co-funded by China), scheduled to be operational by 2019. Another is the construction of a rubber plant by PT Synthetic Rubber Indonesia worth Rp.5.6 trillion (US$435 million) in Cilegon, Banten. There is also the construction of a ferronickel smelter in North Maluku worth over Rp.1 trillion (US$72.46 million).
The government plans to allocate 6 – 7 percent of the total infrastructure budget to villages in 2016, up from last year's 3 percent. The nation's healthcare sector is slated to get 5 percent of the infrastructure budget.
Although the government's plan seems lofty, Indonesia does have a legitimate ray of hope. More than 50 percent of its 250 million population is under the age of 30, which means the majority will soon reach their prime spending years. The government aims to preserve domestic consumption levels in the face of the nation's burgeoning middle class and soon-to-come demographic dividend. Household consumption makes up roughly 55 percent of the country's gross domestic product.
Data from BPS shows household consumption suffered a setback last year, as it rose by 4.96 percent in 2015, down from 5.14 percent in 2014. One reason for this is the fact that Kalimantan was once listed as Indonesia's third-largest contributor to growth. After the collapse of coal and crude palm oil (CPO) prices last year, however, resource-rich Kalimantan fell below Sulawesi, Bali, Nusa Tenggara, Maluku, and Papua.
"To maintain domestic consumption, the government could intervene on grocery prices, reduce gas prices, and open up new infrastructure projects that create jobs," says Sugandi.
The government slashed the benchmark interest rate by 25 basis points to 7.25 percent at the beginning of this year. The reduction is expected to support previous economic policies and the lowering of primary rupiah reserves. In addition to the low public debt burden, the slash is also meant to help Indonesia weather periods of market turbulence.
US-based Fitch Ratings – one of three big credit rating agencies in the United States – says the cut would probably not boost bank lending significantly in the near-term. The agency recently downgraded the Indonesian banking sector's outlook to negative from stable, in line with an increasingly challenging operating environment. It adds that bank asset quality and profitability in Indonesia should remain under pressure with non-performing loans rising further to 3.5 percent by the end of 2016, with weakness concentrated in the mining sector.
Even with all the dicey variables and speculation, Sugandi remains confident that Indonesia is still one of the most promising economies in ASEAN.
"Indonesia is the biggest market in ASEAN and has the largest middle class that develops continuously," he adds. "Having these modalities, Indonesia should make several improvements toward its human resources in general, including the development of workers' soft skills and English language ability."
In the face of China's economic slowdown, Indonesia hopes to change its exports and FDI strategy from creating an economy based on investment, to one based on consumption.
The government is trying to make exports to China as close as possible to the category of final or consumer goods. It also wants to attract more fully committed foreign direct investors to Indonesia from China.