In this issue's Business Profile we meet Mark Magee, General Manager of IKEA Indonesia. IKEA opened their first Indonesian store in Alam Sutera, Jakarta in October 2014. IKEA has 364 stores in 46 countries.
Mark, firstly congratulations on the opening of Indonesia's first IKEA! How has the response been so far?
The response has been excellent! So many people have been waiting for so long for us to open, so all we have to do is open it and they have come in large numbers! So far, they've been very happy with the experience. We have around 18,000 visitors a day on the weekends, so somewhere around 35,000 on a weekend, and they come from far and wide, not just Jakarta. Our very first customer was from Bandung and she was screaming, she was so happy!
What attracted IKEA to open up shop in a satellite city outside of Jakarta?
The business principal for IKEA anywhere in the world is that to have low prices, we have to have low costs. Therefore, if we were to take a location right in the city centre, the cost would be astronomical. The IKEA business model is that we should be positioned in a satellite around the city, always on a toll road or highway, always on a junction that has enough capacity to allow 35,000 visitors to get to us on a weekend, and Alam Sutera ticks all the boxes. On top of that, this is one of the hottest residential areas in Jakarta, and therefore it is home to the growing middle classes of Indonesia; this is the future of Indonesia, and that's why IKEA is here. If you're going against the traffic on weekday mornings, it takes 30-40 minutes maximum from the city centre.
Have you noticed any trends from Indonesian shoppers at IKEA? What are some of the top sellers?
The surprising thing is that we're selling more of the middle market ranges, which I think is a reflection of the customer that we're serving here, who are coming from the A, B, C+ brackets. The Indonesian customers are very discerning. The top sellers so far are the MAMMUT children's chair, the BILLY bookcase, the design of which is 45 years old, the KLIPPAN sofa bed, the POÄNG chair and the IKEA red heart with arms, FAMNIG HJÄRTA.
You're originally from Newcastle, England. How did you end up managing IKEA Indonesia?
I joined IKEA ten years ago next summer. I worked with them in The Netherlands in a business development role, developing markets from Iceland to Australia, working with franchises around the world. Before that I was with MFI for twenty years, where I was Head of International Business.
It was a chance conversation in November of 2011 when it was clear that IKEA was going to open in Indonesia and they needed an experienced home furnishing retailer to take the brand into Indonesia, and they chose me. I arrived with a small office of a few people and we've taken it to almost 400 employees and one very big store.
Opening the IKEA Alam Sutera store was not something that happened overnight—the construction process alone took two years. What were the main challenges that had to be overcome and that you continue to face?
We're very thorough in our market analysis; the initial investigations were in 2010 with market feasibility studies. I would say that in terms of the first inception of the idea to opening the store, this is the quickest it's ever been done in any country in the world—a four-year development cycle.
Because of the economy and the fact that there are huge amounts of construction going on, the challenge is finding skilled labour, getting access to the number of welders, electricians, block workers, brick layers that you need on a given day to produce the building. There is great competition for the limited resources that we have. We also had some issues with too much rain in the dry season, which coincided with our foundation work. In reality, we set our target to open on 1 September and we had a six-week delay, which I'm told in the industry is considered an extremely good performance.
With any international company, importation and passage through the port has challenges at specific times of the year—Lebaran and Christmas—when the ports are congested. Infrastructure elements, roads, ports and airports, they are the challenges ongoing.
What does IKEA offer that other home furnishing companies in Indonesia don't?
First and foremost, everything we do is about creating a better everyday life for the many people, which is a Swedish translation for the mass market. We do that by offering a wide range of well-designed, functional home products with prices so low that as many people as possible will be able to afford them.
It's not only about low prices, it's about quality. Every product must live up to the five pillars of democratic design: form, function, quality, sustainability and price. In IKEA, a great product lives up 100% to these five points. Everything that's in the store is designed by IKEA Sweden by IKEA Sweden designers. IKEA invented flat pack furniture in 1956, meaning that you get roughly six times the number of products on one pallet, which immediately means your freight is 1/6 the cost of delivery. We are a very cost conscious company.
I flew from Auckland to Amsterdam in economy because nobody in IKEA flies business, because if we do so the products will cost more; it took me 36 hours on five planes. I said to the admin assistant, "Why couldn't we do it on four?" And she said to me, "You had to stop in Sydney, Mark because we saved 50 Euros."
What products on offer are produced locally?
Indonesia produces 550 articles that are made for IKEA; soft toys, rattan garden furniture, curtains and carpets and those products are not just sold here, they go to our 364 stores in 46 countries.
In May 2014 the government banned direct foreign investment in the retail sector as part of a growing trend of economic nationalism. You were already established by that point, but has this affected you in any way?
IKEA Indonesia is run by PT Hero Supermarket Tbk, so no impact for us. But we wanted to set the business up in that way; it wasn't a response to manoeuvring around regulations. We always felt it was better to work with a local company because they are an experienced retailer.
What have you learnt so far about doing business in Indonesia and do you have any insight for other companies looking to expand to Indonesian shores?
It's a fabulous country with world-class traffic! It's a great place to do business, there's no doubt about that, but it's not an easy place to do business. When you come, you have to understand that challenge. I think as long as you approach it with a positive mental attitude then all things can be overcome.
IKEA Indonesia provides a 100% return policy within 30 days of purchase, which is quite unique in Indonesia. How is it you are able to do so and do you expect other retail companies will follow in your footsteps?
I wouldn't call it a refund policy; I would call it a sales strategy. If you're a shopper in Indonesia and you want to purchase something with a significant ticket price, you want to make sure that that product will work and function in your home. If you know that there isn't a generous return policy and if you have any doubts whatsoever, the reality is that you don't buy it. Here we take a different view and 99% of customers buy it and don't bring it back. It's about making sure the customer is happy because if they're not happy, they will not consider you the next time they have a need for your services. In emerging markets the service levels in retail really need to step up. IKEA wouldn't do it if it wasn't a sound business practice.
You have an extensive CSR plan, including the Blue Bag Project and the Soft Toy Education Campaign. Why is it important for IKEA to give back to Indonesia and how will you continue to do so?
We didn't want CSR to be something we spoke about in an annual report, we want it to be a real and active part of everything we do. The Blue Bag was something we developed when we became aware of the conditions of the slums in North Jakarta. There, something like 2% of the population is connected to the sewage system and infant mortality is way higher than it should be because of lack of access to clean water. We sell the blue bags—we don't give away plastic bags—making us the first company to do so in Indonesia, and the response from shoppers has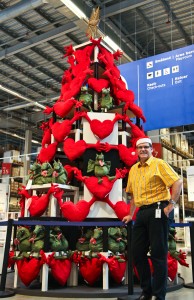 been so positive. We sell them for Rp.9,900 and 100% goes to Mercy Corps Indonesia's local sanitation and sewage project and we're looking to fund 100 septic tanks in the Penjaringan slums of North Jakarta. For every soft toy that IKEA sells anywhere in the world, IKEA donates €1 to Save the Children and UNICEF, and is spent on children's educational projects. In Bandung the IKEA foundation has been funding a charity project for three years, providing fully inclusive education to handicapped children through Save the Children.
Does IKEA Indonesia have any New Year's resolutions for 2015?
It's the same as it is today: to create a better everyday life for the many people of Indonesia. It really is a fabulous company to work for. Merry Christmas and a Happy New Year!
Thank you, Mark! To get in touch, please email: [email protected]