With the power of the Internet, these start-ups are looking to impact Indonesian academia and change the way people approach learning in the archipelago.
Indonesia's education industry is huge. According to former president Susilo Bambang Yudhoyono, there are about 50 million students, 3 million teachers, and 200,000 schools in the archipelago. Indonesia's population size of 250 million is a significant part of what makes it an attractive market for start-ups. It's also safe to say that the potential for innovative education technology products has not gone unnoticed in recent years.
With the power of the Internet, Indonesia's tech start-ups are looking to stir things up in the learning industry and change the status quo in the local education sector for the better. In no particular order, here are five tech start-ups that aim to solve problems in Indonesia's education industry.
HarukaEdu
HarukaEdu is an online education platform for tertiary education in Indonesia. The company lets Indonesians earn degrees online, and helps colleges and universities build online degree programs from scratch.
Recently, the start-up partnered with The London School of Public Relations and Wiraswasta Indonesia University in Jakarta to offer an online degree in Communication Studies and Management. The start-up also offers online technology entrepreneurship classes in Indonesia, and plans to incorporate several other web-based certification programs in the future.
Co-founded by Jakarta Founder Institute director Novistiar Rustandi in February 2013, HarukaEdu monetises through a revenue-sharing scheme with its university partners. In November, the start-up raised an undisclosed amount of series A funding from CyberAgent Ventures, a well-known Japanese tech investment firm with an office in Jakarta.
RuangGuru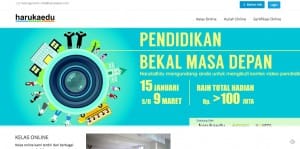 If you're looking for a private tutor who can help you learn Bahasa Indonesia at home, then RuangGuru might be a good place to start the hunt. Serving as a marketplace for tutors in Indonesia, users who are interested to become a tutor can place ads for their services on the site.
RuangGuru has already signed up more than 8,500 tutors, and it takes a 20 percent commission from each online transaction. To avoid disintermediation and backdoor transactions (i.e. teachers getting money directly from students without using the site's escrow service), RuangGuru offers a few added value services as incentives for users to keep using the site. One of them is providing substitute tutors for when a client's regular tutor is unavailable.
The start-up was founded in April 2013 by Belva Devara and Iman Usman, two Indonesians who were working on master's degrees in the US when they came up with the idea. In 2014, RuangGuru raised an undisclosed amount of seed funding from Singapore's East Ventures, a venture capital firm that also aggressively invests in Indonesian companies.
Zenius
This is the oldest start-up on this list. Established back in July 2007 by teachers Sabda P.S. and Medy Suharta, Zenius offers e-learning services in Indonesia in the form of educational videos, distributed online and offline. Offline, the videos are sold as CDs and DVDs. The company also runs an offline tuition centre in Jakarta.
Zenius claims to have more than 33,000 videos, which in total have garnered more than 30 million views. The company also has 1,500 exercise worksheets, which have aggregately been downloaded more than 2.7 million times. The company's CEO told local tech media Tech in Asia that Zenius generated US$446,000 in revenue between June 2013 and June 2014. Apart from monetising via CD and DVD sales, Zenius also sells vouchers and premium membership for video access. The company has yet to receive external investment.
Brainly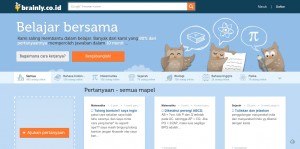 As a social learning network, Brainly lets users crowdsource answers to homework problems online. After logging in, users can also rack up points by answering questions posted by others. Honestly, it's a bit strange because the point system has no observable utility apart from just accruing social status and having fun on the platform.
Founded in September 2009 by a team of serial entrepreneurs named Michal Borkowski, Lukasz Haluch, and Tomasz Kraus, this Poland-based start-up claims to have 40 million unique users each month from all around the world. In Indonesia, Brainly claims to have more than 6 million users, with about 650,000 active on the site each month.
Brainly has yet to monetise from its platform. Impressively, the start-up has been able to raise US$9.5 million so far from a number of investors including US-based General Catalyst Partners and Germany's Point Nine Capital.
Quipper School
With Quipper School, teachers can create educational content and assign tasks to students in an online classroom. On the other hand, students can finish the assignments and go through the educational content with the start-up's gamification system. The site turns learning into a game by allowing students to earn points for each activity and then they can spend these points on things like digital background and interface themes.
Quipper School operates in multiple countries, one of which is Indonesia. The start-up has 50,000 registered teachers and 250,000 registered students from 10,000 schools across the nation. About 60 percent of Quipper School's users can be considered active each month. Its services are still free to use in Indonesia. In the future, the start-up plans to introduce premium paid content like online tutoring and national exam exercises.
This London-based education tech start-up was founded in December 2010 by entrepreneur Masa Watanabe. Prior to Quipper, Watanabe also founded the famous Japanese gaming firm DeNA, which today is a publicly traded company. Quipper has raised more than US$10 million from a group of investors which includes Japan's Globis Capital Partners and UK-based Atomico.