The Business Profile this issue is Vinod Kannan, General Manager of Singapore Airlines Indonesia. Mr. Kannan has been with the world-renowned airline since 2001 and is a passionate player in the aviation industry.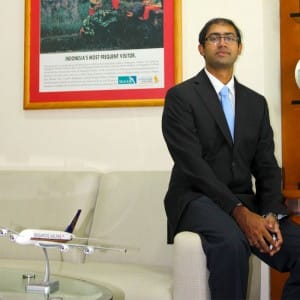 Singapore Airlines has been around for a long time and is still a favourite of many Asian travellers. Could you please give us a brief history of the airline?
Singapore Airlines' (SIA) history can be traced back to 1 May 1947, when a Malayan Airways (MAL) Airspeed Consul took off from Singapore Kallang Airport on the first of three scheduled weekly flights to Kuala Lumpur, Ipoh and Penang. The Airline also started services in 1947 to Jakarta, Palembang and Medan. SIA has come a long way since then, evolving from a regional airline to one of the most respected travel brands around the world. SIA flies one of the youngest aircraft fleets in the world to 62 destinations over six continents, with the Singapore Girl as its internationally-recognised icon providing the high standards of care and service that customers have come to expect. SIA has made a habit of leading the way, and along the way developed a reputation for being an industry trendsetter. The ever-growing list of industry-leading innovations includes the first to offer free headsets, a choice of meals and free drinks in Economy Class in the 1970s, and the first to fly the A380 from Singapore to Sydney on 25 October, 2007.
What is your story behind becoming General Manager of Singapore Airlines Indonesia?
I hail from Bangalore in India, but moved to my second home, Singapore, in 1996 to study. After my Bachelor's degree in Engineering in Singapore and a Masters in Computing from Singapore and Massachusetts Institute of Technology in Boston, I joined Singapore Airlines in 2001. After stints in marketing, route planning and sales, I moved to Kolkata, India as Manager of Eastern India. This was followed by stints in Saudi Arabia and Italy. I moved to Jakarta in Dec 2013 as General Manager Indonesia and am enjoying and learning new things with each passing day!
How many flights a day does Singapore Airlines have from Indonesia to Singapore?
SIA currently operates nine daily Jakarta flights, four daily Denpasar flights and since 26 July, SIA has taken over one of two daily Surabaya flights, which was operated by regional subsidiary SilkAir.
What new routes have you opened, and will you be opening, this year in and out of Indonesia?
Last year, in Indonesia, SIA introduced a ninth daily service to Jakarta, and simultaneously added its fourth daily service to Denpasar (Bali) while SilkAir (MI), a subsidiary of SIA, has commenced services to Semarang, Makassar and Jogjakarta extending the group's reach to 14 destinations in Indonesia. From the Northern Summer 2014 season, MI will operate to Kalibo in the Philippines, Mandalay in Myanmar and Hangzhou in China this year.
SIA will be making adjustments to selected markets across the network during the Northern Summer season. A third daily flight to Tokyo's Haneda Airport has been added, increasing the number of daily services to Tokyo to five. A380 aircraft will serve Mumbai and New Delhi daily from 30 May 2014, taking over from two daily flights that currently serve each city with smaller aircraft. A380 services to Shanghai will increase from five times weekly to daily, while frequency to Istanbul will increase by one flight per week to six times weekly. To cater for peak summer demand, SIA will resume Athens twice weekly between 9 June 2014 and 9 October 2014, while capacity in selected markets in Europe and Japan will be increased.
Is it difficult to find manpower to support your growing business in Indonesia?
Finding the right people is key to any organisation in any market. Singapore Airlines offers attractive remuneration to aspiring joiners and I am glad to say that we have a dedicated, talented and cohesive team here in Indonesia.
Why do you think that Singapore Airlines is the preferred airline for short-haul journeys, especially to Singapore, of many Indonesians and expatriates in Jakarta?
We believe that the overall travel experience is one of the key motivators for choosing Singapore Airlines. Since its establishment, Singapore Airlines has earned a reputation as an innovative market leader, combining quality products with excellent service. Excellence in customer service has been integral to Singapore Airlines' success. Superb in-flight service is the cornerstone of its reputation for customer service and hospitality.
With so many low-cost carriers in operation now, does this affect your business?
As the air transportation industry becomes challenging with airlines offering aggressive fares amidst increasing capacity, and fuel prices remaining high by historical standards, it will be natural that we face competition within the industry. While we will respond and adapt to the immediate and short-term challenges; we also plan well ahead and keep a keen eye on opportunities and challenges that may emerge in the long term.
Does SIA have a low-cost airline as well?
Yes, it is a wholly owned subsidiary of Singapore Airlines, called Scoot (www.FlyScoot.com). Scoot operates medium-to-long-haul, low-cost flights between Singapore and Australasia, China and others. Scoot is independently operated and has its own management team. Another subsidiary is Tigerair for the short-haul flights.
How is SIA working towards being the preferred airline in the region?
Singapore Airlines focuses on its premium positioning and on the fundamental values that drive our success. The key elements of safety, a zealous focus on our customers, product innovation and leadership, as well as network connectivity, form the foundation of our competitive offering and will continually be strengthened. Our products will continue to evolve, with attention to comfort, design and look and feel, the in-flight experience, the in-flight entertainment experience, and the servicing element, which wraps up the whole package.
How many passengers do you fly a year?
In the financial year that ended on 31 March 2014, SIA carried 18.6 million passengers, an increase of 2.3% over last year. Passenger carriage (in revenue passenger kilometres) rose 1.4% on the back of 1.9% growth in capacity (in available seat-kilometres).
How many aircrafts does Singapore Airlines own worldwide?
As of May 2014, SIA has 104 passenger aircraft in its fleet.
What was your annual turnover in 2013? What are your projections this year?
In the financial year 2013-14, SIA's operating performance improved $69 million (+36.9%) as a $93 million increase in revenue outpaced a $24 million increase in expenditure.
Since the tragic disappearance of the Malaysia Airlines MH370 flight, have you increased security measures for your airline?
Being in the airline industry, SIA will look at all the incidents relating to airline operations. SIA has a thorough review that would require us to work with various parties; aircraft manufacturers, the authorities, etc. Rest assured that such things are taken very seriously. We have dedicated resources to look at what we can learn, and we share those with our friends in other airlines.
And finally, what do you believe to be the key to success in your business life?
Based on my experience, the key to a team's performance is how well they can interact and gel together. People make any organisation or business successful, more than anything else. The secret is to ensure that the people in the business are motivated, committed and always performing to their potential. The other important aspect for personal success is family. In my case, my wife and three year old daughter are the support mechanism that keep me grounded when things get a little crazy!
Thank you, Vinod. If you would like to get in touch, please email [email protected].