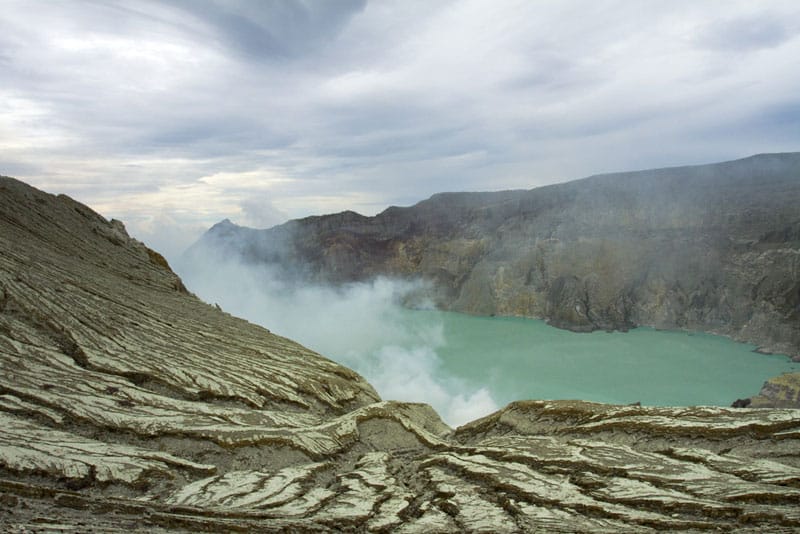 Mount Ijen is a volcano complex in East Java, with the most popular attraction being a one-kilometre-wide, turquoise blue, acid crater lake. Mount Merapi stratovolcano is the highest point of that complex. Here, there is an ongoing process of backbreaking sulphur mining, where the local men carry baskets weighing up to 100 kilos of sulphur 3km down to the weigh station twice a day.
Driving the road to Ijen, you will pass through lower mountain forest to upper mountain forest and arrive at the parking area in the Paltuding valley. Walking the same 3km path to the crater as the sulphur miners do can be a pleasant walk anyone can enjoy. Whether you're an experienced hiker or not, it is a simple route offering beautiful views of the surrounding mountains and forest. You can even see the massive crater of Mt. Raung further to the West; this is the commonly seen crater on flights from Java to Bali. Once at the top, one can marvel at the active volcanic crater-lake, were you will see firsthand the sulphur mining process. Although it is safer not to venture too close to the lake, as the volcanic gases can be toxic if breathed too heavily. The mountain air here is cold and fresh, a nice relief if you have spent any time in the bustling cities of Java.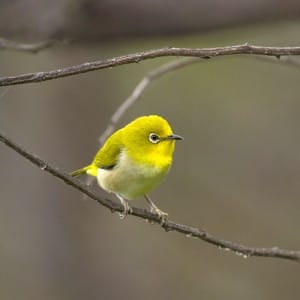 Ijen is not just about the beautiful crater-lake; it is surrounded by a lush belt of forest, which is a great place to observe flora and fauna. If you are lucky, you could spot some of the rare endemic birds of Java, such as the majestic Javan Hawk Eagle, which can be found nowhere else in the world. Catching a glimpse of this rare and endangered bird of prey is something special, as it is now rarely seen due to habitat loss. The Javan Hawk Eagle can be seen soaring low, just over the forest canopy where it hunts for its prey. Another spectacular bird is the Yellow-throated Hanging Parrot; this is the only parrot to be found in Java, and quite rare at that. Look for it high in the trees, possibly feeding on fruiting fig trees or other flowering trees. Flowering and fruiting trees are the best place to stop and wait; this is nature's buffet for birds and other animals.
Exploring early in the morning, you may hear the call of the White Faced Partridge, which is another endemic only found in the mountainous regions of East Java. Searching for this bird can be a bit tricky, as it tends to hide off the trails on the ground, but its call is unmistakable and can be incredibly close at times. All these birds I have mentioned so far can be spotted below 1,800 metres, with the Javan Hawk Eagle sometimes being higher. There are many other colourful forest birds you may encounter, such as, the Orange-breasted Trogon, White-flanked Sunbird, Malkohas and even Hornbills.
Apart from the wonderful array of avifauna, Ijen is home to other animals such as butterflies, frogs, toads, squirrels and primates, which you may spot while visiting this place. While exploring you may see the Javan Lutung, which is a beautiful and social Old World monkey. There are rumours of a Javan Leopard still roaming the lower forest track as well, but seeing this elusive cat is one-in-a-million. Sadly, though, you have no chance of seeing the now extinct Javan Tiger, which died out sometime in the 1970's due to poaching and habitat loss. This was one of three subspecies that existed in Indonesia, the only remaining is the Sumatran Tiger, whose future is uncertain. Habitat loss is at an all time high in Indonesia, and the only hope in saving these forests is through conservation, activism, research, and education. You can do your part by just creating awareness of how important these remaining zones are, by visiting them and interacting with the locals, guides, and school kids, advocating how important they are to their economy in so many ways. There are many ways to help, and this is just one, but the small things count, too.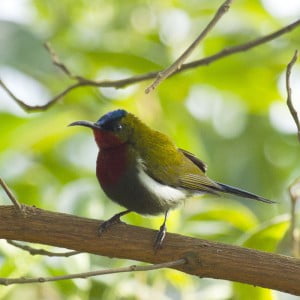 The easiest way to reach Ijen from Bali is via the Gilimanuk port in West Bali; here you can take a ferry 24-hours a day with either a car or motorbike. Once you have made the 30-or-so minute voyage from Bali to Java, exit left from the port towards Banyuwangi, where you can either make hotel or travel guide arrangements. Staying in Banyuwangi is inexpensive and here you can find nice street food around the market and buy fresh produce grown in the countryside. Alternatively, you can opt to stay a little closer to the forest at the Ijen Resto and Guesthouse, located on Jalan Kawah Ijen Tamansari. Here the climate is much cooler than the city below, and it is pleasantly located at the edge of the plantations, where you can see the endemic Javan Kingfisher, a beautiful and noisy bird.
Ijen Resto and Guesthouse offers all the amenities, even hot water, plus a nice restaurant with a tranquil garden view. Having a guide is not compulsory for Ijen, although if you're not familiar with the forest of Indonesia, it may be a good idea to have a guide to help spot wildlife and find some of the unmarked trails. To hire a guide, just inquire about finding one from your hotel – they will be able to make all arrangements for you, especially if you stay at Ijen Resto and Guesthouse.
Ijen is a truly beautiful place, still wild and, for the most part, untouched by today's standards. With its beautiful lower to upper mountain forest to alpine forest and gorgeous mountain views, you will surely not be disappointed with a journey to Ijen, Java. Being located so close to Bali, it's a great idea for a weekend escape and a portal to the rest of East Java's mountains and national parks.