Surabaya may be hot and sweaty, but it's easy to get out and explore some of the cooler countryside no more than an hour or two away.
Drive down to the south end of the jalan tol freeway, the only stretch of road in East Java where you'll be able to put your foot down and get into top gear, and you're halfway there. The built-up areas of Surabaya give way quickly to rice and cornfields, and you get the sense of leaving the heat and hustle behind. Another Java is ahead of you.
At the end of the toll we take the road to Malang, but turning off at Pandaan towards Prigen (formerly Tretes) we begin the ascent off the flat plain of Surabaya. The temperature quickly falls as we broach the slopes of the 3,000-meter Mount Welirang, which dominates the scenery here. Since colonial Dutch times, anywhere remotely cooler than Surabaya has been exploited for respite from the heat. As the car climbs, we notice an ever-increasing number of signs for lodges and hotels beckoning to us to stay awhile and take advantage of the air quality.
On our right, just by the roadside, looms Candi Jawi, a 14th-century Hindu temple; a reminder of this area's ancient past and the synthesis of religions here. A Buddhist stupa crowns its top.
At the crest of the main road, we turn left and follow a narrow, winding road to Prigen, East Java's most famous mountain resort and a hill station from the colonial days. Land is at a premium here, and no bit is left bare on this stretch of road with Dutch villas of the 1930s. These are modest stone places with shuttered windows, sitting rather uncomfortably aside flashy modern villas built as weekend escapes by the well-to-do of Surabaya. Further up, two huge resort hotels tower over the road, offering all manner of luxury.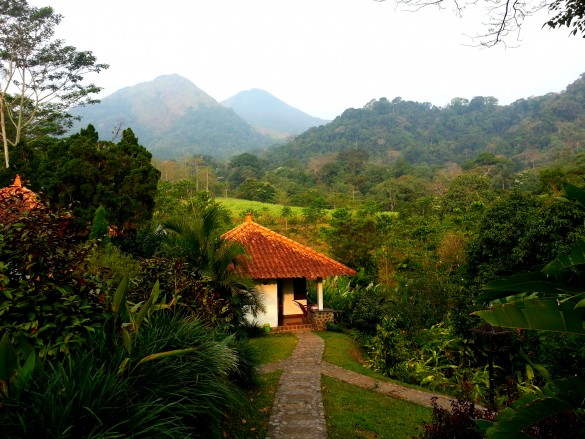 We get out of the car here, and the brisk air surprises us, given that only an hour ago we were in a sweat. Walking along the roadside, we are jostled by street sellers offering sate kelinci (grilled rabbit on bamboo skewers) and roasted corn on the cob, smothered in butter. Smiling touts approach in the hope that we're looking for accommodation and of course they know a good, clean place "and very cheap". Most of the villas seem for rent and the place is filling up fast, as a cavalcade of cars from Surabaya pours in at dusk. Below us are the lights of Surabaya – distant and a world away.
As morning dawns and a good night's sleep is behind us, it's time to leave. The road that was so full of nightlife seems quiet by day with most visitors still in bed looking forward to a day of leisure before them or recovering from any excesses of the night before. Gone are the street sellers and the hotel touts.
On our way down, we turn up sharply to a drive leading to Kakek Bodo waterfall, one of three in the immediate vicinity but this is the most accessible. Parking the car, we wander along well-laid-out paths, which require only a little effort to climb. The sound of gushing water grows louder as we pass by a stunning variety of plants and tall, magnificent old trees. Suddenly around a turn, a dazzling thunder of water seems to cascade out of the mountainside. A fine mist of water brings relief to our brows made hot by the steep walk. Young locals shower under the fall and others bathe their feet in the fast running stream. All around us is green and we seem a million miles from Surabaya.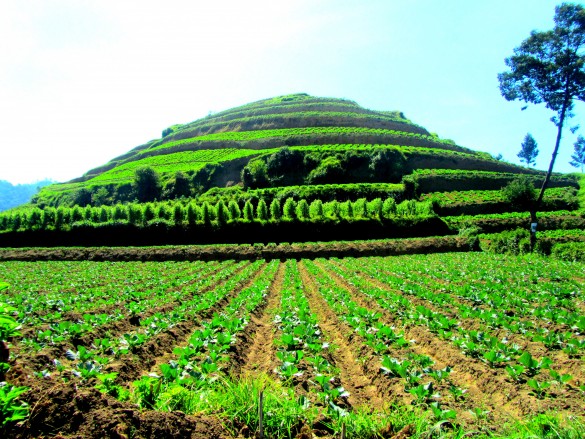 We descend further down the Prigen road and at the junction turn left towards Trawas. Still in resort country, simple roadside restaurants vie with fruit sellers offering the produce of this cool terrain – bananas of many varieties, green apples and avocados by the kilo.  The road winds up and down through heavily built up, but low-rise dwellings, giving way at times to splendid vistas of cultivated ground. As we ascend again, we can take a side-glance towards the peaks of Mounts Penanggungan and Welirang. These lucky locals have the best of the scenery and climate, the land here is rich and fertile and there is an air of prosperity about even the smallest house. A visit to the foothills of Mount Penanggungan is a worthwhile side trip. A Hindu Baths is nestled in the side of the mountain and dates back to AD 997.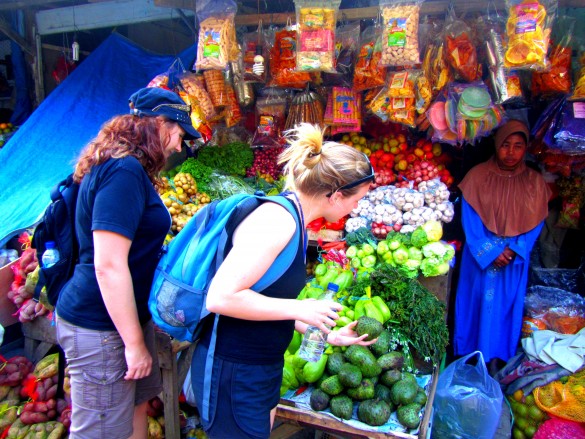 Onwards to Pacet village the scenery changes now and we enter rainforest, everything wet with dew. Pacet is a more modest resort than Prigen. The main street of shops caters to local needs and there is an absence of touts. Small inns offer modest accommodation, but its attraction lies with its natural facilities. A very steep tarmac road takes us up to Coban Canggu waterfall and onwards to the Pemandian Air Panas, hot springs. The waterfall lies along a pretty walk boarded by tiered irrigation reminiscent of Bali, and its tumultuous flow feeds down onto the rice paddies below. This is a lovely spot to rest awhile.
We drive on up to the hot springs, which are famous in the region.
Dozens of locals and those from further afield, gather here at any time of day or night, to imbibe the steamy hot sulphurous waters for relaxation or for a cure for skin ailments. There is a holiday atmosphere to the whole place, locals, with their boyfriends and girlfriends, or families, snack on roasted corn or eat bakso (meatball soup).  Colourfully dressed countrywomen sell their produce, spread out on lengths of matting – young tender carrots, sweet potatoes and singkong (cassava).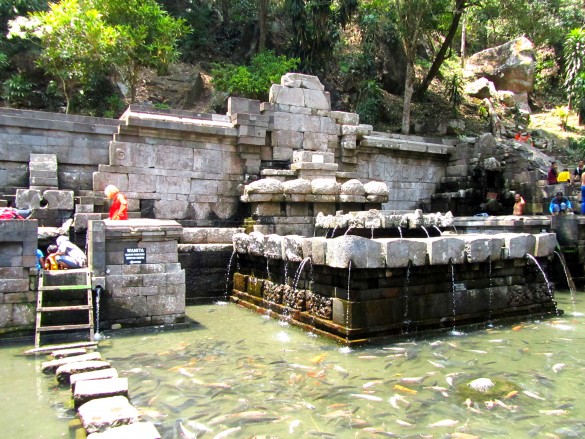 At 900 meters, the air is fantastic and at this altitude it is no wonder that a forest of pine trees surrounds us, giving the place an Alpine feel. There are walks galore here and it is only with reluctance that we think about returning to Surabaya – less than two hours away.