Linda's story is somewhat of a reflection of Aceh itself, sad but uplifting. Her life was changed forever a little less than ten years ago, when on December 26th 2004 a series of three massive waves swept through her hometown of Banda Aceh, taking with it her mother and almost her entire family. "The night before the tsunami I was at my mother's house intending to stay the night but my youngest son was very upset and kept insisting that he wanted to sleep in his own bed at home a few kilometres from my mother's house. I relented and we left at midnight, and that saved my life," Linda recounted with great sadness.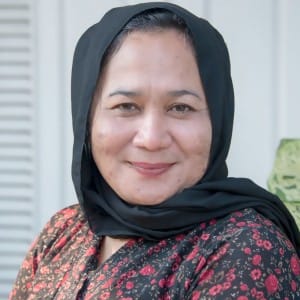 "I lost around 100 members of my family that day and there are times I wished I was one of them, especially as I miss my mother so much." Linda recounted this very unhappy but not unusual Aceh story in the comfort of her home, which she turned into a homestay.
Linda's Homestay was established five years ago as there was a shortage of   accommodation and with the influx of people in town helping with the cleanup and reconstruction of the city, there was a critical demand for housing and accommodation.  Linda loves to welcome guests and treats them like family. She is very proud of her town and is a source of knowledge about Aceh history and culture.
"We have had enough suffering and pain in Aceh. For 400 years we have been fighting and people have become tired of the conflict. We were ready for peace and now we want to get on with our lives with a positive outlook for the future."
Linda is a devout Muslim and received solace from her troubled past through prayer. She sees a bright future for her two sons, aged 17 and 19, and whatever money she is able to make from her business goes back into supporting their education.
Aceh is a very beautiful place with magnificent beaches, green lush rice fields, tropical islands such as Weh Island – a diving paradise just 30 minutes from Banda Aceh – a deep and fascinating history, but its real beauty lies in its people.
"We feel very grateful for all the foreign help we received after the Tsunami. Now we want to repay that gratitude and respect by showing them the positive things about our beautiful country. This year is the ten year anniversary of that dreadful morning, so we hope many people will come and see the wonderful progress that has been made and what a huge success story it has been."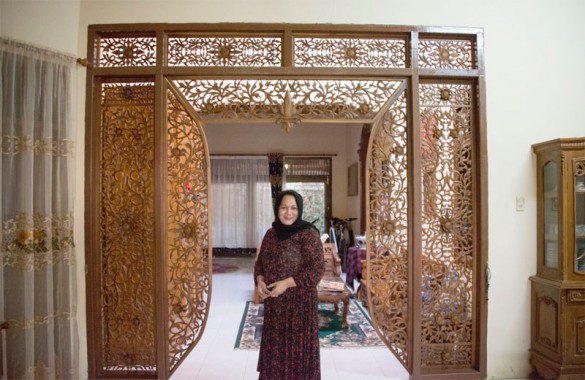 Linda is confident more tourists will come to Banda Aceh and discover the beauty of the area and the richness of Aceh culture, however she is also aware of the negative image Aceh has in the media and feels that the only way is to greet people with love and respect and treat them like family.
She loves to cook traditional Acehnese food and is very happy to be a city tour guide and take people to the many sights in this attractive, clean, reconstructed city.
Staying at Linda's Homestay for me was a wonderful insight into the Aceh of today and with her love and positive outlook for the future, Aceh is in very safe hands.
Linda's Homestay
[email protected]
+62 811 680 305/ 082 364 364 130