If you have ever been curious about Indonesia's Majapahit Kingdom, you might like to see a performance of Gambuh – a ritual theatre which potrays classic Hindu-Javanese court culture during the Golden Age of the Majapahit era (1292-1527). The costumes are elaborate and majestic and the main characters speak and sing in Kawi which was an ancient literary language. After the rise of Islam, Gambuh was transported to Bali, where it has survived for over 500 years, completely unchanged. Now Bali's oldest performance tradition is close to becoming extinct.
Why? I decided to watch a performance at the village of Batuan, outside of Ubud and I felt as if I had stumbled into another realm; the female performers hypnotically danced as their eyes stared far into the distance. The musicians played meditatively on long, low-pitched flutes, which are unique to the Gambuh gamelan ensemble. And the male performers charged energetically across the stage before halting and posing with their legs outstretched, like birds. Yet despite feeling enchanted by the magic of the performance, something didn't feel right. Although the two-hour performance had been condensed, the spectators had slowly disappeared. Hardly anyone watched the show to the end.
A complete Gambuh performance lasts for six hours and its story is part of a romantic poem, the Malat, wherein the fictional Prince Panji is separated from his fiancée Candra and searches for her over many years. Concerned about the endangered art, the Italian dance performer, Cristina Wistari Formaggia established the Gambuh Pura Desa Ensemble in the Balinese village of Batuan in 1993. "We wanted to create a space where everybody could come and learn Gambuh. In Batuan, like in many other villages, rivalries are the threat of Balinese society and therefore I didn't want to ask the help of any pre-existing group, but instead create an endeavour where all the people could learn both the music and the dance," Cristina explained in an interview with Odin Teatret.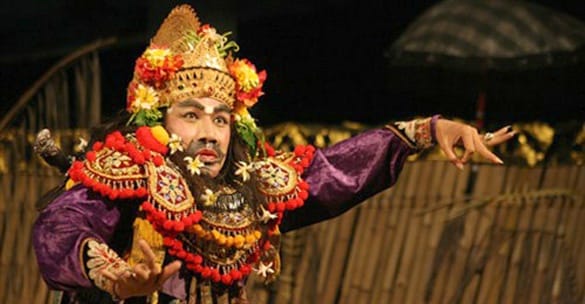 After Cristina passed away in 2008, the performer I Wayan Bawa helped to steer the group. Bawa met Cristina in 1985 and they both studied under I Made Djimat, one of Bali's greatest dance masters. I was privileged to meet Bawa at his artist studio in Batuan. As the sunlight filtered through the window, hitting his dream-like, swirling paintings, I sat down and was treated to a cup of Balinese coffee. I could not guess Bawa's age – his eyes were bright and his long grey hair shimmered freely down his back. He was incredibly charismatic and when he read passages of ancient Kawi, I felt as if I could remember an old part of the soul which had been locked away.
"We have had a school for Gambuh for children since 1997. Now only three districts are performing Gambuh, in Batuan, Gianyar and Denpasar," said Bawa. He also has concerns about its survival. "Gambuh is a technically and musically difficult performance which demands a lot of learning and originally it was only performed twice per year during the big ceremonies because it is a sacred dance, not commercial. Because of this, the chance to learn Gambuh is limited because we practice and perform only twice per year. Cristina helped us practice and perform more often to preserve the dance and reintroduce it to the people. In June this year, I will be performing with the children in an art event in Denmark – the Mask of the Future." Later in the evening, he showed us a gamelan practice for the boys and explained that since they are not ready to understand meditation, easier songs are played at first to hold their interest.
I learnt more about Gambuh in the home of Milvia Terenzi – a homeopathy practitioner – who was also a good friend of Cristina. After Cristina passed away, Milvia helped to manage the school for two years and organised venues and translations. "Cristina was the only European allowed to dance in the temples because this was a temple dance. This is why she became Balinese Hindu. Dance was her life, she gave everything she had to her dance," said Milvia. "Cristina travelled almost every night from Ubud down to Batuan to practice. Now her masks are in a museum in Sicily, after she passed away we sent everything to the family. She had so many beautiful masks."
I wanted to find out more about Gambuh's demise. "It's too difficult to perform. Firstly because of the language which is Kawi, many people are required for the performance and the instruments are also ancient, so it's out of fashion. It's too expensive. Everybody forgets about it. It's a long show – now everybody wants to see the shorter dances," said Milvia. With these thoughts in mind, we seated ourselves down to watch a recorded Ur Hamlet performance.

Although based on an old European play dated 1200 AD, the post-modern Ur Hamlet play incorporated Gambuh theatre along with many classical Balinese and Japanese performances. Balinese and Indian songs were combined with very modern-day settings such as mothers pushing prams, carrying plastic shopping bags and men wearing office attire running around the stage mid-performance. The result was spell-binding, perhaps one of the most profound theatrical performances I have ever seen.
Gambuh had been brought back to life. Cristina had helped this ancient art form to evolve for a modern-day audience. Ur Hamlet was produced by award-winning theatre director Eugenio Barba who founded Odin Theatre in Denmark, and Eugenio and Cristina had collaborated closely on the project. Cristina played the character of Orvendil (ruler of Jutland and Hamlet's father) and I Wayan Bawa played the character of Fengi (Orvendil's brother and Hamlet's uncle). "We performed at Kronborg Castle in Elsinore, Denmark, which was the original castle of Hamlet. For Ur Hamlet we had to learn to keep the rhythm of Gambuh inside even if the music changed," Bawa explained.
For over 500 years Gambuh has remained unchanged, but perhaps this will lead to its demise. That is why explorative perfomances such as Ur Hamlet are so important. "I don't think that the collaboration with many styles will contaminate or deteriorate the art (of Gambuh). On the opposite, I think that it will stimulate them to understand different ways of performing and make them more solid in what they already know. I think that this multi-cultural project consolidates the group, also economically and gives them the chance to keep nursing the group and stimulating. To somehow give a sense of identity to the group," explained Cristina. But my thoughts returned to the lonely performance I had seen in Batuan – if they are not able to see their audience, how will they survive?
Further information
M.C. Formaggia, Gambuh,(2000) The Lontar Foundation
Odin Teatret: http://odinteatret.dk/