While the cost of sending remittances can be high in certain corridors, particularly for small-value transactions, international efforts are focused on reducing these costs to enhance financial inclusion.
Fortunately, for all Indonesians and expats living in Indonesia, Topremit comes as the best way to send money overseas for those who want an easier, cheaper and faster remittance service. As the very first remittance in Indonesia, Topremit helps you swiftly transfer your money through their iOS and Android-ready application, all without leaving the comforts of your own home.
Diverging from conventional remittance providers that often prove to be either exorbitant or ineffective, Topremit provides an array of exclusive advantages that can help ease all your money transfer needs:
Worldwide reach
Topremit's extensive range of services empowers you to effortlessly transfer funds to over 70 countries spanning five continents, boasting an impeccable combination of transparency, affordability, and swiftness in its worldwide remittance solutions.
This unparalleled capability affords you the freedom to support your loved ones back home by promptly paying bills, facilitating seamless business transactions, and extending financial aid to your children pursuing their education in esteemed international destinations such as Australia, the United States, the United Kingdom, Japan, China, and numerous other countries.
Low transfer fees
With flat transfer fees starting from just Rp45,000, Topremit enables users to save more on each transaction, making sure that no matter how much you spend, the fee charged will remain the same. Also, having successfully facilitated transfers totalling over Rp8.7 trillion globally, our fully-online service ensures easy and accessible money transfers anytime, anywhere.
Money arrives in minutes
No need to wait for days with Topremit! Sending money abroad is a breeze, taking just a few minutes up to a day at most. We make sure your funds reach their destination fast and hassle-free, making your life easier and your transactions smoother.
All you need is a smartphone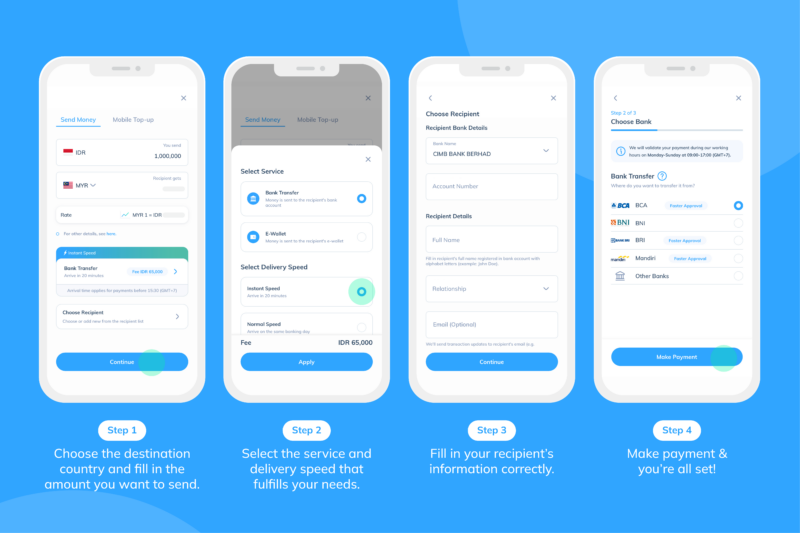 Sending money overseas has been made easy. Topremit is an innovation in the remittance business in Indonesia. Once you have created an account and completed the verification process using an e-KTP or passport, simply follow these four steps to create a transaction:
Select your destination country and fill in the amount you want to send. Transfer fees, delivery speed and other details will be transparently visible at the start.

Then choose the service and delivery speed that fulfils your needs the best, whether you want speedier money transfers or more low-cost options.

Don't forget to fill in your recipient's information correctly. These details will be saved and can be automatically used in the next transaction.

Finally, make a payment to one of Topremit's bank accounts and you're all set!
Safe and trustworthy
Be assured that your funds are well protected under the vigilant guardianship of Topremit. Since 2009, Topremit has been granted an esteemed license and subjected to rigorous monitoring by Bank Indonesia, ensuring the utmost security for your hard-earned money and fostering the trust of our esteemed clientele. 
Furthermore, in the unlikely event of any technical discrepancies leading to a transaction hiccup, rest assured that Topremit promptly offers a refund. So, with Topremit, you can have complete peace of mind, knowing that your financial interests are in the safest hands.
Also, are you new to using an online remittance service? No worries! Topremit's customer support team is here to help you with all the necessary steps to ensure your first transaction goes smoothly. If you encounter any issues, just send them a message and they'll be there to assist you.
Download the Topremit application on your phone and share it with your family and friends who might need it too. Additionally, make sure that you register with the referral code "INDONESIAEXPAT" to get a 50 percent transfer fee discount when sending money to any one of our available destination countries. The voucher will be valid until the 31st of December 2023, so don't miss out. 
Come experience a more convenient and seamless way of sending money abroad by using Topremit now!