Standing stately at 3,726 metres above sea level, Rinjani crowns the skies of Lombok with vast plains of sun-kissed savannahs, pine forests, and volcanic alpine landscapes. Its iconic Lake Segara Anak used to be a place of physical and spiritual meditation for sages looking to build supernatural powers and step closer to heaven. The sunsets and sunrises are breathtaking from every angle. In recent years, tourism at Rinjani has been emerging as a prime livelihood for locals in Sembalun and Senaru.
"Rinjani is our field of gold," says Royal Di Sembahulun, founder of the Sembalun Community Development Centre (SCDC) who has taken part in pioneering Rinjani tourism since 2007. "We cannot stop tourism, and would be wrong to do so. In fact, embracing tourism is an opportunity for us – locals of Sembalun – to exercise our guardianship over our mountain."
Thanks to tourism, many non-land-owning families can afford education for their children and some comforts of an Indonesian middle-class lifestyle. "Socio-economically, we turned out well. Unfortunately, we remain lagging in terms of environmental sustainability," says Royal.
The current state of environmental management and sanitation at Rinjani is lamentable. Garbage accumulates in rest areas, campsites and even potable water sources.
"Two factors are at play here: the hikers' commitment to take care of the environment, and the National Park's management," explains Royal. "Weekly clean-ups, which SCDC members have performed as volunteers, have not been a sustainable solution to the problem." Royal says he does not buy into the notion that it is hard to make hikers follow rules, because "when the rules are properly enforced, people will follow."
Since its establishment in 1997, locals have hoped that Mount Rinjani National Park (TNGR) would deal with grassroots problems around Rinjani, including professional management of the mountain. This includes enforcing regulations that keep the mountain clean and prevent it from being infested with garbage in the first place.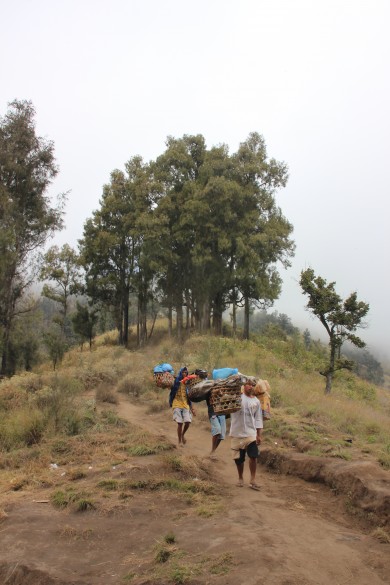 As a tour operator, Royal says he enforces a strict policy among his guides and porters to take home their garbage, and makes known the financial and professional penalties for those who fail to do so. Royal adds that the policy is designed to educate guides and porters to guard the mountain that is their livelihood, and empower them to establish guests' respect for the mountain. But hikers still come every day and leave their garbage behind, and one tour operator cannot control what others do.
TNGR claims to have spent Rp.518 million (US$40,000) on 13 monthly clean-ups in 2015. But having closely worked with the national park, Royal says he believes the actual number is more like Rp.200 million (US$15,300) on six clean-ups. He adds that when this was addressed, TNGR staff challenged him to send in an independent auditor, but were otherwise defensive about transparency. Moreover, the definition of 'clean-up' here is not actually removing the garbage from the mountain, but burying it somewhere out of sight, he explains.
"If Rp.518 million was indeed spent on clean-ups, that should take care of the problem. But [at SCDC] we believe there is a better way," says Royal. In June of 2016, 35 SCDC members volunteered at the Sembalun entrance of the National Park to physically check and record hikers' luggage for plastic-packaged, canned and bottled goods, and inspected the exits to match the numbers and types of garbage brought back. However, due to the initiative being unreciprocated in Senaru, and the National Park's resistance to openly cooperate, SCDC withdrew its volunteers, it says.
When I ascended in September of 2016, I simply filled a check-in form and "guessed" what kinds of garbage-generating groceries I had. This is why SCDC and tour operators adamantly resist the PP No.12/2014 government regulation which sets the daily ticket price for entering Indonesian national parks at Rp.250,000 (US$19) per day for international visitors. "It makes our tour packages expensive at the guests' end, but they get a hike on a garbage-infested mountain and eat lunch with flies buzzing around," says Royal. "We are not afraid of paying a high price if we get from the National Park what we paid for: a mountain that is well taken care of and has adequate sanitation facilities, and regulations to make it sustainable."
When asked whether he would support policies that would apply a 'destination carrying capacity' quota on Rinjani, Royal says, "That's a tough one. From a business perspective, as a tour operator I would rather not have policies setting a limit on how many guests I can take to the mountain on any given day. But from an environmental perspective, and as a local whose livelihood depends on Rinjani's sustainability, it is also in my interest to make sure that Rinjani's environment remains clean and healthy. I think it is the National Park's responsibility to conduct research that makes such calculations, and design policies accordingly."
A senior porter named Bapak Titi who assisted my Rinjani ascent says that porters and guides have much respect for the measures SCDC takes to push for policies in the interest of a more sustainable Rinjani. "Royal has fought for fair pay for porters, and thanks to him, we now earn more than twice as much as we used to. SCDC sent me for culinary training in Mataram, and trusted me to teach other porters how to cook. I learned basic English from working with international visitors," says Bapak Titi when asked whether he thinks SCDC's policies have been fair.
As we took a rest at Pos 2 during the descent, we join some of his porter friends who voluntarily take time to collect plastic garbage. "We can't eliminate it all, but we do what we can to reduce it," says one of the friends.
If there's one thing to be grateful for from Rinjani tourism development in Sembalun, Royal says it's that the locals of Sembalun caught on early, and are participating front and centre. In 2007, there were five locals of Sembalun origin as porters, and most guides and tour operators were either from Senggigi, Bali, or elsewhere. Today, in addition to 727 porters, many guides, tour operators and related business owners are Sembalun locals.
"We need to have a long-term vision for Rinjani tourism. The children of today's local porters will not be porters again – their parents send them to school so they can be guides and business owners. Those who want to be key players in tourism not only need to learn English, but also a range of management and practical skills to excel in the business. We need to make such trainings and work opportunities accessible and affordable to all locals," says Royal.
Fast Facts
Country:                                  Indonesia
Province:                                Nusa Tenggara Barat (NTB)
Land area:                               41,330 hectares (Taman Nasional Gunung Rinjani)
Largest city:                           Mataram
Population:                           19,051 (2012 estimate of Sembalun district)
How to get there:              Flights into international airport at Mataram, and car rental to Sembalun
What to bring:   Hat, sunscreen, insect repellent, hiking shoes, dry bag, backpack. Cash for transactions – draw cash in Mataram, no ATMs in Sembalun.
                  Ask tour operator for sleeping bags, tent, and cooking equipment rental.