What makes a great Monday morning? Sleeping in? Not wearing any clothes until lunch? How about summiting one of the world's most active volcanoes via a treacherous three-hour trek through dense jungle at night with only a torch as your eyes, followed by a one-kilometre climb at a 70-degree angle atop loose rocks? If you fancy the last option you are either blissfully insane or fully prepared to climb Mt. Merapi in Central Java, which also requires the aforementioned insanity.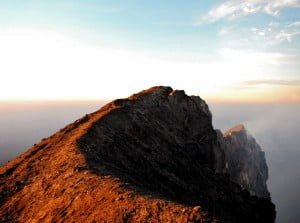 Mt. Merapi, literally known as the mountain of fire, towers over the Jogjakarta region at about 2,930m, and although it is not one of the highest mountains in the area (that being Mt. Slamet at 3,428m or Mt. Semeru in Eastern Java at 3,676m), Mt. Merapi masterfully remains the most active volcano, especially in relation to the dense populations surrounding it. As one of the 16 Decade Volcanoes, Mt. Merapi holds eruption parties every three to five years, the last major eruption occurring in 2010, which tragically resulted in 353 deaths. However, Mt. Merapi is certainly not such a brooding terror when it comes to a pleasant hike, as people with literally no climbing experience, much less mountaineering experience, are able to take the three hour trek up adequate dirt paths through picturesque jungle foliage, ending their journey at a plateau named pasar bubrah, just short of the menacing climb to the summit. This final leg of the journey up Merapi is reserved only for the brave who do have prior climbing experience, adequate muscular performance, and the artful ability to not panic insufferably. Reaching the summit is one of those rare achievements where you are able to peek inside the smoking crater of an active volcano on one side, while in the other direction there is a lovely hypnotic view that overlooks central Java as far as the horizon holds, with the lower clouds softly rolling over the lesser peaks below. Strong winds may be blowing along the summit, and the ground is certainly unstable and is always shifting, but what matters most atop Mt. Merapi is the entirety of the Jogjakarta regional landscape that just seems to go on forever in an endless dream.
Whatever climbing skill and experience one may have, it is always highly recommended to hire an experienced guide, someone who can not only show the way but also alert hikers to any present dangers and hazards. This is especially important for those willing to fully summit the mountain, as Merapi has claimed several lives in the past, including naïve photographers who lost their footing on the loose rock and seasonal climbers who unfortunately were destined to rolling boulders screaming down the mountainside. So remember, although jump pictures are fairly cool, it's just important to keep them on stable ground and not at the top of a volcano. The intense view from the summit of Merapi is not for everyone, but sometimes the most phenomenal things in life require a little danger, and climbing Mt. Merapi certainly is one of them.
Making a Merapi expedition extraordinary can also be budget-friendly as well. In Jogjakarta there are numerous little travel shacks that offer hiking packages to Merapi. On Jl. Prawirotaman, across from the popular Ministry of Coffee, a incredibly friendly travel business will offer everything a group of friends would need to begin a Merapi adventure, costing a mere 600,000 IDR for three people. Different agents can be found on Jalan Sosrowidjian in Jogjakarta as well, all for a very reasonable price. Without venturing into Jogjakarta, the easiest place for a base camp at Mt. Merapi can be found at New Selo, where guides can also be hired at friendly prices. There is one catch/advantage to starting a Merapi adventure with the travel agents, as most of their Mt. Merapi packages offer a climb that starts around 1am, where hikers arrive at the plateau of pasar bubrah or the mountain summit just as the eye of the day (the poetic translation of 'sun' in bahasa) is beginning to peak over the horizon, encapsulating the entire landscape in a surreal morning beauty that will be engraved in one's mind forever to come. However, climbing at night does require a torch and, more importantly, warm clothes; it will get very, very cold. Also, as the day progresses Mt. Merapi is known to secrete certain gases, making the morning climb much safer in terms of not inhaling hot and toxic volcanic gasses like sulphur dioxide.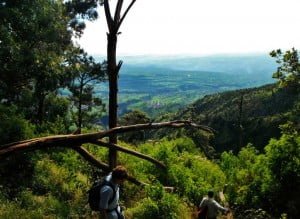 Going through an agent has a lot of advantages as well. A private car will pick hikers up from their hotel, take them to the village of New Selo at the base of the mountain, where a friendly (and quite skilled in English) guide will escort the hikers as far as they want to go, even to the summit if they wish and the guide agrees, which is based upon strength and stamina. The guide will be as courteous as possible to the hikers speed and stamina, willing to take a break whenever one would need it. From the large New Selo sign at the base of the mountain, it takes hikers around three to four hours to reach the plateau of pasar bubrah. The plateau is certainly enough in terms of catching that ethereal sunrise.
The final summit of Merapi will loom in the near distance, tormenting and tempting climbers, but those with famished legs will be fully surprised and fulfilled by the plateau's exquisite demeanour during the sunrise. For some, pasar bubrah will not be enough to call it a day's work, especially with the peak of Mt. Merapi hysterically laughing in their stern and determined faces. The climb from pasar bubrah to the summit takes between an hour and an hour and a half, depending on skill and speed. However, despite the skill, a slow and comfortable speed is highly recommended, as the entire climb is based on balancing across loose volcanic sand, climbing loose rock, and never looking down the steep slope. There are stories of climbers making it halfway up the climb and panicking after looking down, freezing and clutching the nearest rock for dear life, unable to move. A wrong step can turn into a deadly disaster, so climbers must be wary of their footing and hand placements: check the rocks before using them. Making it to the summit is something that the writer of this article refuses to detail, as what a terrible injustice that would be to the feelings of standing on top of one of the worlds most active volcanoes.
Descending the summit is also another task that must be handled with extreme care, as gravity is now working with the climbers. Nonetheless, at the section of heavy volcanic sand that was so frightening on the way up (right after the pasar bubrah plateau), I personally was given the treat of running, yes, literally running, down the steep slope of the mountain as fast as I could with the guide. Sand flew in every direction, and as we ran both our backs were arched as far back as possible to avoid falling. It was one of those short experiences that will throw endorphin shrapnel through one's entire body. Every aspect about summiting Mt. Merapi is nothing short of incredibly astounding.
After the climb down in the early morning, passing farmers hard at work and the warungs opening at the New Solo base camp, the hikers are treated to breakfast and a sleepy ride back to wherever it was they came from. By utilizing one of the many travel companies in Jogjakarta, the entire climb will be organized and tailored to the hikers ability and wishes, making the entire journey a fantastic experience. Additionally, since Mt. Merapi is only about 28 km from Jogjakarta, a Mt. Merapi expedition can be perfectly supplemented by a trip to the famous Borobudur temple, where hikers can then learn about how they had already reached nirvana that cold and unforgettable morning; the one where the entire region was under a silhouette of the golden morning sun and the clouds rolled lazily over the lesser peaks below, where they were standing above the origins of fire.