Never again. That's the last time I ever scale one of these bloody volcanoes. Those were my pitiful sentiments after the long and gruelling climb of Gunung Lawu, Java's third-highest peak as measured by prominence. And yet here I am, little more than a month on, and facing the prospect of another climb: this time Java's second-highest peak, Gunung Slamet.
The pre-climb notes I have at hand make it clear that this 3,428-metre volcano is not one to be taken lightly as "many hikers have died up on its slopes." A little bit of research confirms this to be true. Back in 2001, Gunung Slamet unleashed its terrifying wrath on a group of seven Indonesian hikers. Only two survived after the souls of the five others were taken one after the other, like in some sort of B grade horror movie. Blimey. What have I let myself in for?
All volcanoes are potentially dangerous but Gunung Slamet particularly so.
Its weather is entirely unpredictable and on its exposed upper slopes above the vegetation line – where a bitterly cold wind often howls – the visibility can drop to just a couple of meters if a storm moves in. Finding your way back to the main path then becomes a serious problem – as the hapless group of seven Indonesian hikers found to their cost that fateful day.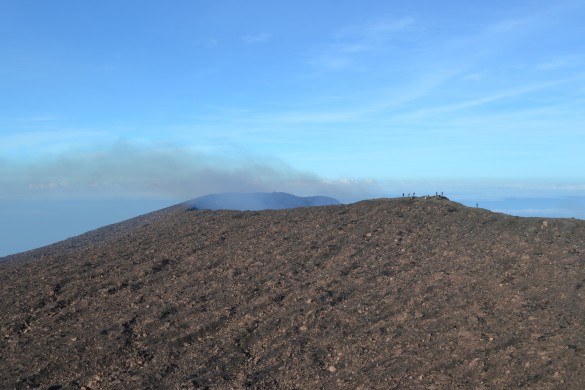 Gunung Slamet is located in a fairly isolated region of Central Java, around a two-hour drive from Tegal, a pleasant enough town which is well-served by train services along the north coast of Java. In the old days, hawkers would board the trains at stations along the way to flog snacks like tahu, drinking water and, of course, cigarettes. But times have since moved on and following a total revamp of PT Kereta Api Indonesia (KAI) by the organization's former chief Ignasius Jonan, travelling by Indonesian trains is often now a far more comfortable experience than flying. Coffee is sold in Starbucks-looking paper cups, the plush airline-style seats can be reclined and – best of all – pungent plumes of kretek cigarette smoke no longer waft down the carriage before engulfing you.
For some reason or another, though, the train station announcements are still preceded by that famous five musical note sequence from Spielberg's classic movie "Close Encounters of the Third Kind" – you know the notes: Re, Mi, Do, Do, So. Incongruous to say the least. It seems unlikely that KAI ever envisaged the need to communicate with aliens. Perhaps it was the unfathomable tourists they had in mind?
The most popular trailhead up Gunung Slamet starts to the east of the volcano at a nondescript village named Bambangan. Nearby, there is a low-key tourist spot centred on some unique bat caves called Gua Lawa, which were created by ancient lava flows and therefore have no stalactites or stalagmites. This tourist attraction is enjoyable in that typically kitsch way that Indonesia does so well and features multi-coloured railings, cow statues, inflatable dolls, and more. But the extensive caves are nonetheless quite impressive and well worth a look. A local warung sells the hallowed bir Bintang but it's only after you've had a few bottles that they tell you the price: Rp.60,000 (US$4.50) each. Need somewhere to stay? There is some cheap and cheerful accommodation just around the corner.
The hike up the volcano begins easily enough through fertile farmland but after an hour or so, the going gets tougher as the track starts to ascend through a lush forest. Fortunately, there are several posts along the way where you can take a breather and consume much-needed refreshments. A good number of hours of strenuous hiking later, and assuming you haven't crumbled into the ground due to fatigue, you will finally arrive at what first seems like the long-awaited gates to paradise and 72 virgins (post 7 @ 3,032 metres). But upon closer inspection, it turns out to be a rather rudimentary and somewhat squalid campsite, which some wisecrack in our group dubbed "the jungle" – whatever he meant by that.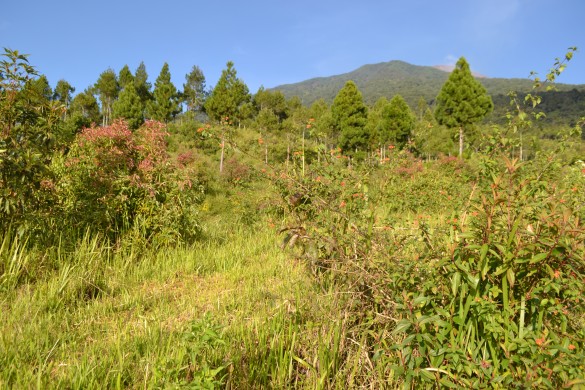 The following morning at some ungodly-hour pre-dawn, the fun and games truly begin: the summit attack. The trek begins innocuously enough but on the volcano's exposed upper reaches, the wind gets very strong. At post 9 (3,182 metres), the vegetation line ends – the so-called "point of no return" after which you are truly at the mercy of the elements with no prospect of finding shelter anymore if you need it.
Now for the toughest part of the hike: the long and exhausting scramble up loose scree to the summit. At this stage, great care is needed to avoid losing your footing or you can literally end up biting the proverbial Java volcano dust. And that doesn't taste good at all. In clear weather, though, the views are fantastic and the distant peaks of Sindoro, Sumbing and Merbabu are easily visible. From the crater's ridge, it's only a short walk to where you can gaze down into the gaseous belly of this slumbering beast. Watch the time, however, as the weather can quickly turn. And you don't want to be up here if that happens.