It is not uncommon for Bali tourists to use motorcycles to experience the scenic landscape of Bali. Here are five other reasons why you should rent a bike in Bali.
1. Biking is all about you
There's no better feeling than to hop on your bike and navigate your own way. It provides a lot of freedom and you can go drive everywhere and stop everywhere you want. With Bali Bike Rental, you will be provided with the necessary resources to support your journey.
This rental provider offers not only bikes, but also scooters that come with sanitized helmets and a medical kit. And that's not all. Imagine having Wi-Fi access everywhere you turn, and a phone holder so you can use your own phone as GPS navigation. And in case you are wondering if Bali Bike Rental provides insurance, indeed it does.
2. It allows you to bond with nature
Why would you sit in a car with a driver when you can reach the rice fields, that trendy beach bar or amazing coffee plantations on your own, and experience the authentic spirit of Bali? Riding a motorcycle is all about interacting with your surroundings and getting the feel of the places you travel to. This is the moment when you can truly take in the island's most beautiful features. There is just no way to replicate the experience in a car, as you would most likely be stuck in traffic jams most of your time.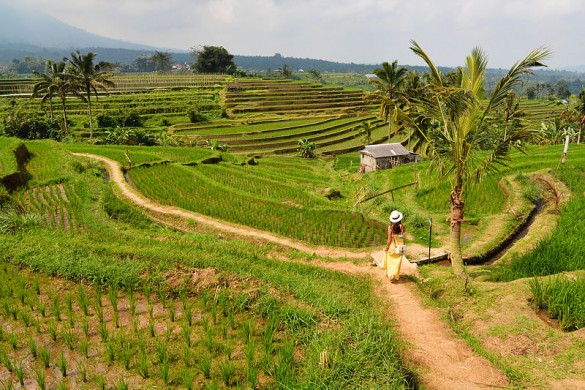 3. It is the cheapest mode of transportation
Taking four-wheeled vehicles to get around Bali is not exactly cheap. In Ubud, this is especially expensive as the archipelago's most successful taxi company Blue Bird and ride-hailing apps Uber and Grab are restricted from entering certain area. Tourists have no choice but to take local cabs that can cost up to Rp.100,000 for each ride within Ubud, and up to Rp. 300.000 outside of Ubud.
Biking is a better option for those who would rather save money for shopping and other activities. Bali Bike Rental offers three packages that will suit your preference. The street smart package costs US$19.95 per day with a Yamaha R15 bike; while the guys package costs US$17.95 with a gear bike. Those who are on a budget can go for the customer's favorite premium select package with a Honda Scoopy or Vario for only US$8.95.
4. It is faster
Some areas in Bali are particularly crowded and this is often the reason why tourists opt to use motorcycles instead of cars to explore the island. The majority of them, especially foreigners, know how much time they would save if they get on motorcycles. For those who wish to explore every inch of the island, biking is definitely something you should consider.
5. It brings out your adventurous side
Biking gives you a thrilling sensation, as you figure out different ways of traveling that permit you to go where the wind blows and make unplanned stops if you feel like it. Besides, you are on the Island of the Gods. Why on Earth would you lock yourself in an air-conditioned four-wheel vehicle, while you are here to have some fun and excitement?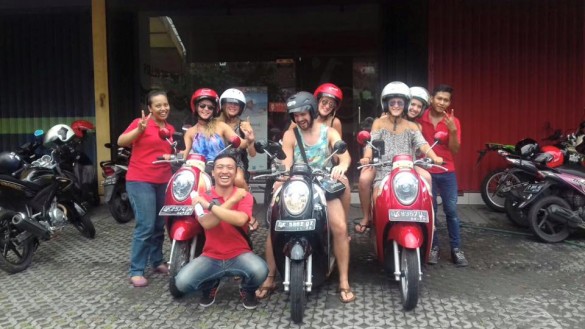 Bali Bike Rental was established in 2014 and has since aimed to promote the island's motorbike rental industry. Aside from motorcycles and scooters, the rental offers various kinds of facilities, which include pocket Wi-Fi, selfie sticks, rain ponchos, first aid kits, power bank and insurance. All of the staffers speak English and are ready to serve customers anytime they need. For more information please visit www.balibikerental.com  or  www.bali-big-bike.com
Featured Image via Haydenggg