"Bandung offers various impressions for the visitor almost everywhere, such as architectural buildings, nature parks, and greenery.
You can enjoy your time in the outdoor area acquainted with Bandung's cool weather. Aside from nature, Bandung also presents you with various events and activities that are consistently developing and evolving compared to the previous years, that cannot be missed," enthused Pascal Caubo, the General Manager of InterContinental Bandung Dago Pakar.
Who is Pascal Caubo?
I come from the Netherlands. I really love to travel around different cities and countries to explore each uniqueness of each destination that feeds my desire to explore new things. I also like to play golf and explore culinary delights wherever I am. My hobbies help me see and compare whether what I do already provides the best service or still needs some improvement. 
You've been in Bandung for over six years. What would you like expats to know about the "kota kembang" (Flower City)?
As the third largest city in Indonesia, Bandung is surrounded by the lush and beautiful mountains that make the climate mild and pleasant. Nowadays, Bandung has become a very popular weekend escape, especially for urban dwellers seeking culinary experiences and relaxing in the breathtaking landscape.
There are a lot of new tourist destinations in the north of Bandung developing nowadays. The south of Bandung is no less exciting as visitors can enjoy either for leisure or for business. People in Bandung are extremely humble, we can travel worry-free here.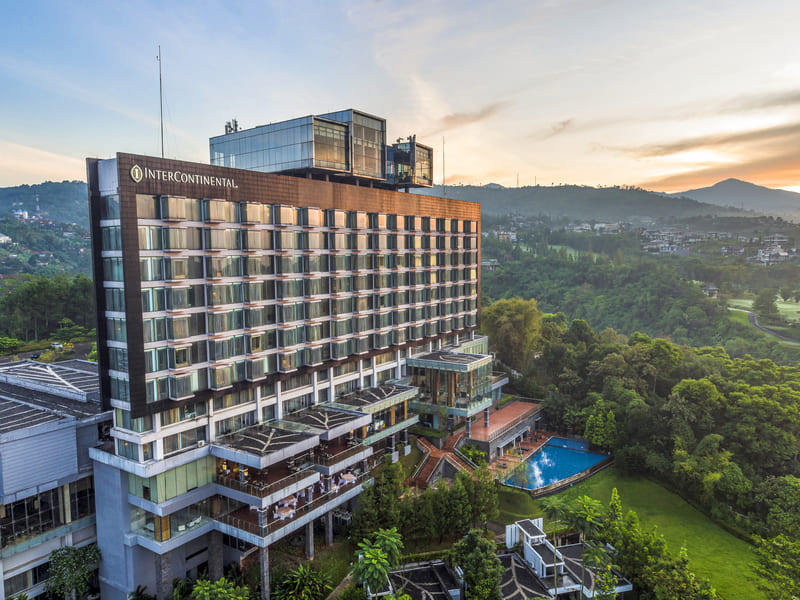 Tell us more about InterContinental Bandung Dago Pakar.
InterContinental Bandung Dago Pakar is a place where serenity meets luxury and business meets indulgence. Surrounded by the Mountain View Golf Course, guests can utilise a spacious state-of-the-art meeting space, choose the most romantic location for their weddings, or even have a joyful family getaway amidst the lush greenery and fresh air. The hotel itself is a combination of the business, wedding, and resort-style hotel. Weekends are normally occupied by social events and leisure guests, whereas during the weekdays, more MICE guests are seen roaming around.
This hotel was built as a perfect hotel, business-wise. For business facilities, our Grand Ballroom is one of the biggest ballrooms in Bandung with giant LED screens, a flying gondola, and a hydraulic stage.
Meanwhile, we have a romantic semi-outdoor wedding venue with a chapel called The Diamond for weddings. We tailor new offers to keep our wedding packages for indoor and outdoor venues up to date based on the market's needs in order to be able to cater for all requirements to celebrate their holy and happy day.
Being in Dago Pakar, what do you think is its standout feature? What do you personally adore about the area?
The main uncompromised difference that I can feel being in this north Bandung area with 700 m elevation above sea level is the cool climate. Here, I can lay my eyes on Bandung's skyline and mountains day and night. Not only that, there is a golf course at Mountain View Golf within the same perimeters of this hotel – it has become a favourite view of our guests. Located in nature, guests have an opportunity to explore several activities during their stays.
Please complete this sentence: The perfect leisure itinerary at InterContinental®️ Bandung Dago Pakar is…..meanwhile, for business is……
For leisure, families can start their days with varied breakfast choices. The adults hit the golf course at Mountain View Golf, which's located around 800 m from the hotel, while the kids can be occupied by the various kids' activities in the hotel, such as swimming in our heated infinity pool, playing at the kids club, jumping around the bouncing castle at the outdoor playground, driving the ATV, as well as taking the e-bike and go-kart for a ride. Families can also experience more culinary delicacies with the buffet dinner at Damai Restaurant, overlooking a scenic view of Bandung with city lights.
Meanwhile, for business, our team offers you a tailored package that suits the needs of any business event – whether it's for an outbound, yoga event, or lunch/dinner gathering.
The hotel accommodates dreamy weddings. Please share what's in store.
InterContinental Bandung Dago Pakar has plentiful venues for indoor and outdoor preferences that can cater for 50 to 3,000 people. Soon-to-be married couples are able to opt for an indoor event at the Grand Ballroom or Wedding Hall. They can also choose to have an outdoor event at The Diamond with the magnificent chapel or have a garden wedding soiree at the green yard. We specialise in providing a tailored-made wedding package for international, traditional, and Indian wedding events.
Congratulations to InterContinental®️ Bandung Dago Pakar for being awarded "Indonesia's Leading Hotel" in the World Travel Awards 2023. What does this award signify?
On 7th September 2023, InterContinental®️ Bandung Dago Pakar was awarded as the winner of the "Indonesia's Leading Hotel" category in the prestigious World Travel Awards 2023.
We are proud to convey that for the third time in a row, InterContinental®️ Bandung Dago Pakar managed to win this award category. It has been a long journey for us to be re-awarded from the World Travel Awards. The awards are a testament to our commitment to always maintain and improve our facilities and services. This recognition is only possible with our team's exceptional dedication to delivering a seamless and excellent service to our guests. We would like to thank our owners and guests for their continuous support towards our property through these eight wonderful years. And we appreciate everybody's votes – thank you to all of our guests, partners, and clients who made this happen for us.
"Lead and influence through your team. If your team is happy they will deliver great service to guests." Has this quote inspired your journey with IHG hotels for the last 18 years? 
I do believe that when we treat our colleagues appropriately and when they feel convenience and comfort, they will deliver extraordinary service to guests. I am training the team to be ready to provide the excellent service that our guests expect; whether it revolves around business, leisure, or families, we need to take care of all of them to the highest degree. Do not give up and always consistently train people to deliver great service and exceed guest expectations are the keys to success.
What's next for InterContinental®️ Bandung Dago Pakar and you, Pascal?
Together with the whole team, we are evolving to create more facilities for our guests to ooze more comfort during their stays at InterContinental®️ Bandung Dago Pakar. The new facilities that are in progress are the new outdoor playground area for the little ones – since our recreational activities have been very well-received by our guests – and we would like to provide more options to engage more with the family market. Besides that, we are also in the process of establishing new wedding package offers to keep providing fresh ideas.
How can our readers get in touch?
You can contact me through my LinkedIn profile or drop an email to [email protected].