Nyepi Day, or Day of Silence, is a Hindu holiday celebrated in Bali, Indonesia.
It's a New Year's Day when the Balinese Hindus devote their entire lives to connecting more deeply with God through prayer, fasting, and meditation, as well as cleansing the island of the previous year's misdeeds and bad omens, thus establishing a pure and positive year ahead. 
Starting from 22nd March at 6am to 23rd March 2023 at 6am, the island comes to a complete standstill and activities on the island come to a halt, including no lights and electricity, no traffic on the roads, no TV or radio, all shopping centres are closed, no tours or excursions, and no flights in or out of Bali on this day. This is also celebrated as a period of introspection and self-reflection. The Balinese and other residents avoid loud noises and the island becomes mysteriously quiet.
Don't overthink about spending a day in silence. Hotels, villas, and resorts on the island urge anyone looking for a way to disconnect and find inner peace with special offers on the table. Here are Bali's best places to spend Nyepi Day in 2023.
NUSA DUA, BALI
The Apurva Kempinski Bali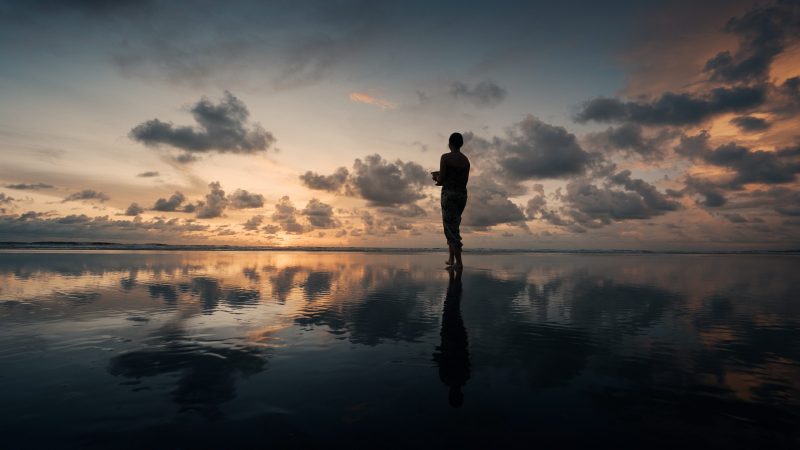 Join The Apurva Kempinski Bali in cherishing diversity in the five-star resort's pursuit of serenity. Renew the body, mind, and soul through a two-night experience in a Grand Deluxe or Iconic Suite room, inclusive of complimentary Nyepi wellness programmes, daily breakfast for two, a one-time lunch at Pala Restaurant on 22nd March for two, and a one-time dinner at Candi Ballroom on 22 March for two. The rate starts from Rp4.1 million++ per room per night in the Grand Deluxe and Rp6 million++ per room per night in the Iconic Suite.
Hilton Bali Resort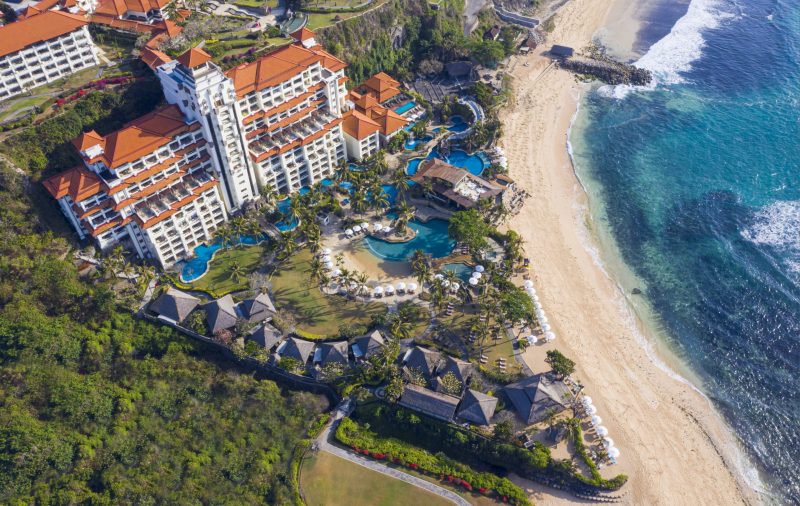 The dates 21st-23rd March 2023 are idyllic for anyone to experience serenity at Hilton Bali Resort. Hilton Bali Resort, perched on a 40-metre cliff overlooking the Indian Ocean, is known for its fantastic views, lush gardens, and charming hidden beach. The resort has 408 modern rooms, suites, and villas equipped with large balconies facing the Indian Ocean, pools, or gardens for business and pleasure seekers. 
The ideal blend of a tranquil Balinese vacation and all the resort-style amenities one comes to expect from Hilton Bali Resort includes four interconnecting swimming pools and a waterslide. This package includes daily breakfast for two adults and two children under the age of 12, as well as one dinner for two adults and two children under the age of 12 or options of a picnic box for in-room dining.
Sofitel Bali Nusa Dua Beach Resort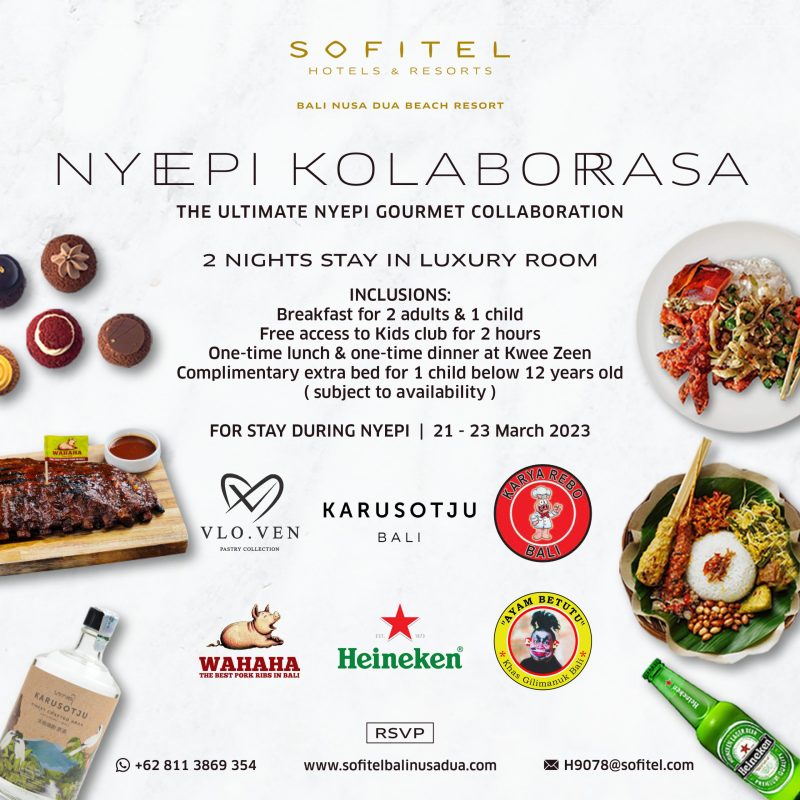 Sofitel Bali Nusa Dua Beach Resort is celebrating Nyepi with an unforgettable stay, complete with an array of delicacies. For two nights in a Luxury Room, enjoy breakfast for two adults and one child, free access to the Kids' Club for two hours, and a complimentary extra bed for a child below 12 years old (subject to availability). Prices start from Rp3.1 million nett per room per night.
Guests are entitled to a one-time lunch and a one-time dinner at Kwee Zeen. Satisfy your appetite with Ayam Beututu Khas Gilimanuk, Babi Guling Karya Rebo, Wahaha Pork Ribs, and Vloven Patisserie, complete with Heineken Beer.
Nyepi Day at this exquisite resort will be more appealing with a bar takeover by Karusotju providing its finest selection of signature cocktails for a special price at L'OH Bar from the 21st to the 22nd of March.
The Ritz-Carlton, Bali
Embrace the ancient local tradition and immerse yourself in the celebrations to welcome the Balinese New Year – Bali's Day of Silence. Escape to Tranquility at The Ritz-Carlton, Bali is valid from 21st-23rd March. Reserve by the 21st for a two-night stay in a Sawangan Junior Suite with pool access, daily breakfast for two, a three-course lunch on the 22nd March for two people in a restaurant of your choice, a Nyepi buffet dinner for two people at Senses, an Afternoon Delight with choices of Indonesian and international savoury snacks per stay at The Beach Grill for two, complimentary resort activities, and access to Ritz-Kids.
The St. Regis Bali Nusa Dua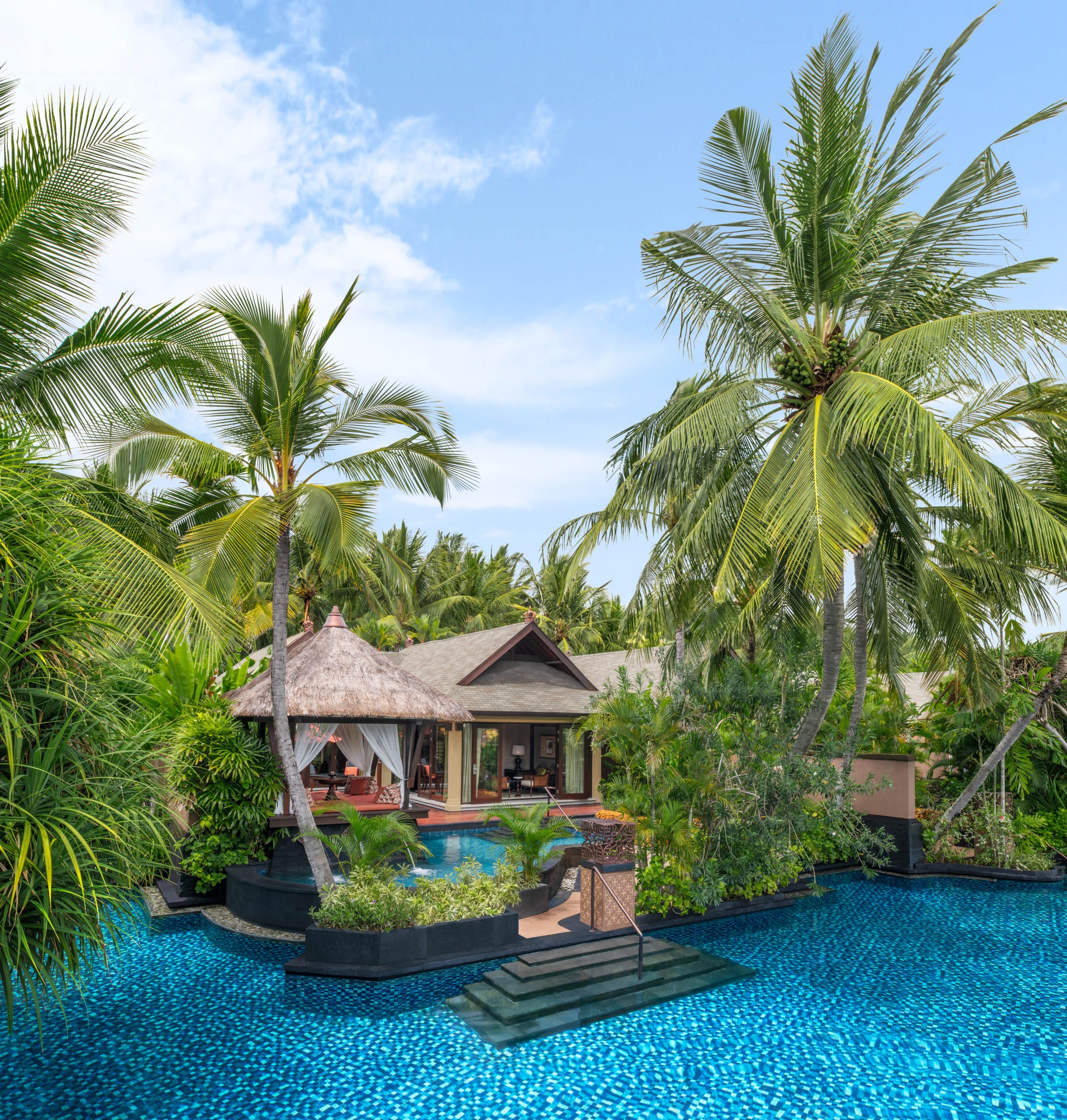 Elevate and enjoy the Day of Silence at The St. Regis Bali Nusa Dua. Experience the magic of Nyepi by star-gazing from Bali's finest address. The lush gardens and crystal blue lagoon take on a mystical quality in the darkness, and the scene is enhanced by the cool breeze from the Indian Ocean. It's the perfect time to indulge in understated Balinese-inspired living.
Merusaka Nusa Dua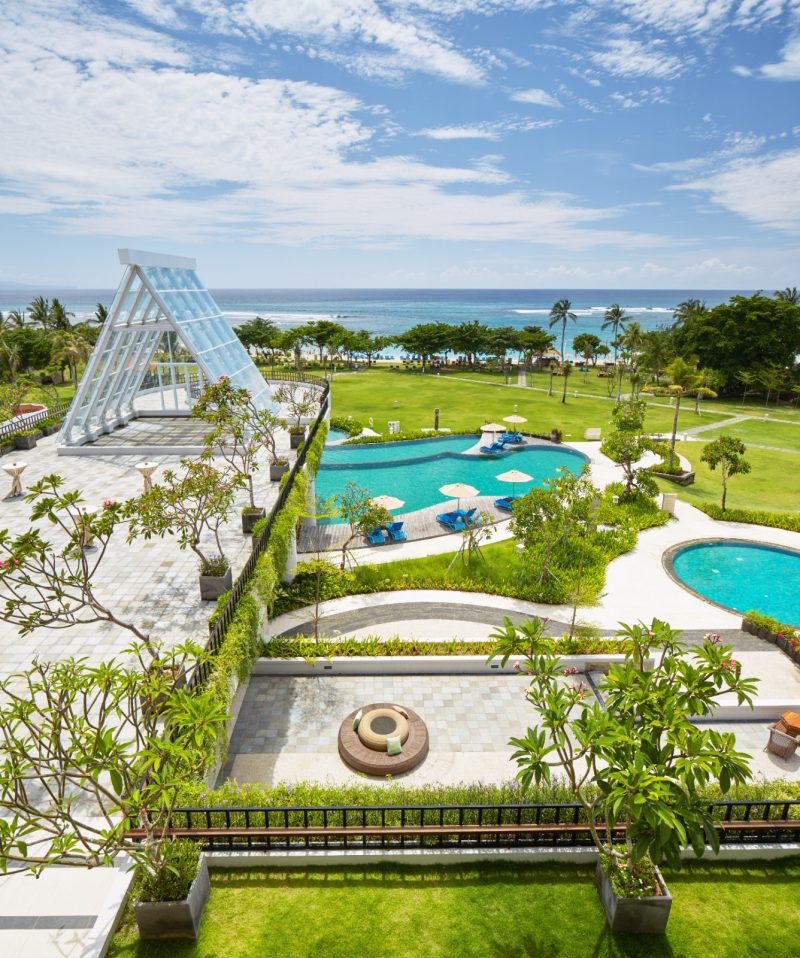 Merusaka Nusa Dua is strategically located in the exclusive, secure, gated compound of the Nusa Dua area, comprising 455 well-appointed contemporary style rooms, suites, and villas that exude a refined Balinese charm with architecture inspired by the seven Hindu goddesses and Penglipuran Village. Immerse in the Nyepi Package — a peaceful, silent day escape in this five-star resort's spacious Deluxe Rooms and enjoy the facilities to relax and recharge the body and mind. 
Stay for two nights in a Deluxe Room with rates that start from Rp2.9 million nett per package. Relish in the complimentary daily breakfast for two adults and two children under six, a one-time dinner on 22nd March for two, 25 percent off on any spa treatments, 10 percent off on food and beverage (excluding in-room dining), and complimentary late checkout until 2pm (subject to availability).
The Laguna
,
a Luxury Collection Resort & Spa, Nusa Dua, Bali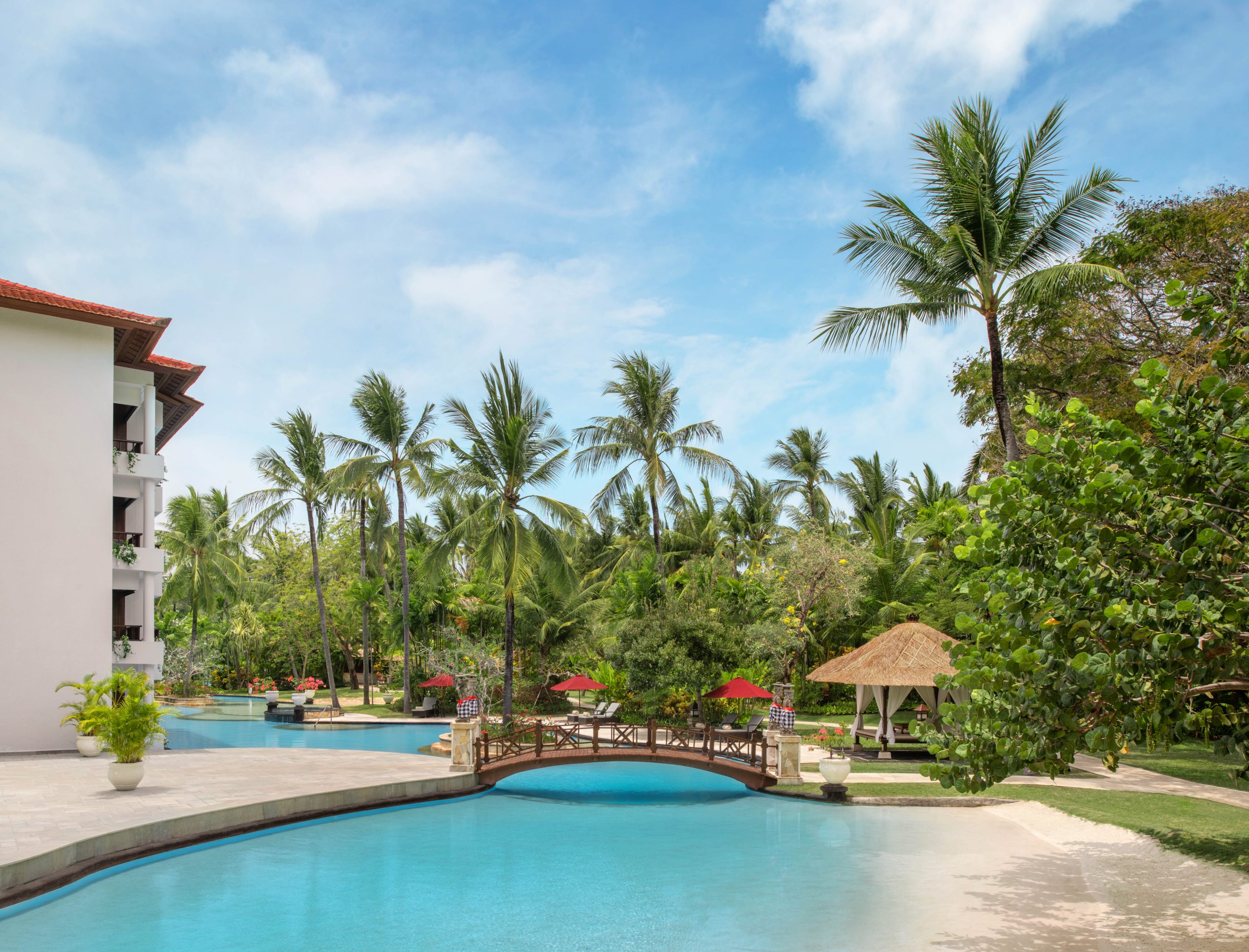 Experience a majestic Nyepi escape where indigenous Balinese heritage and seven crystalline lagoons converge into the perfect paradise at The Laguna Bali. Let this serene escape be an immersive experience to the peaceful sounds of the quietest night in Bali.
ULUWATU, BALI
Six Senses Uluwatu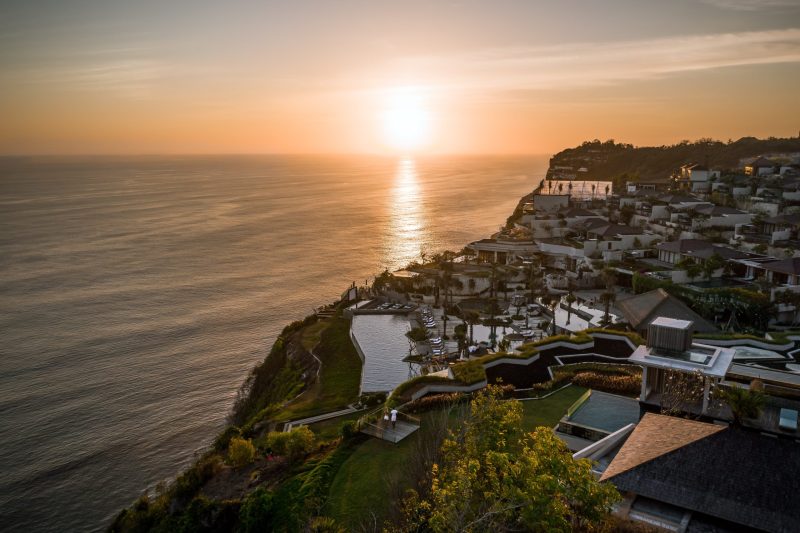 Nyepi Escape, The Day of Silence, at Six Senses Uluwatu includes extensive complimentary benefits; daily buffet breakfast, one-time set menu lunch with panoramic views of the Indian Ocean at Rocka Restaurant, one-time international buffet dinner on the day of Nyepi, access to the kid's club, access to the fitness centre and spa facilities, and other in-house activities. Pets are also welcome, with conditions. This package starts from Rp11.7 million nett per night stay at Sky Suite, valid for a stay from 21st-23rd March 2023 for a minimum of a two-night stay. 
JIMBARAN, BALI
InterContinental Bali Resort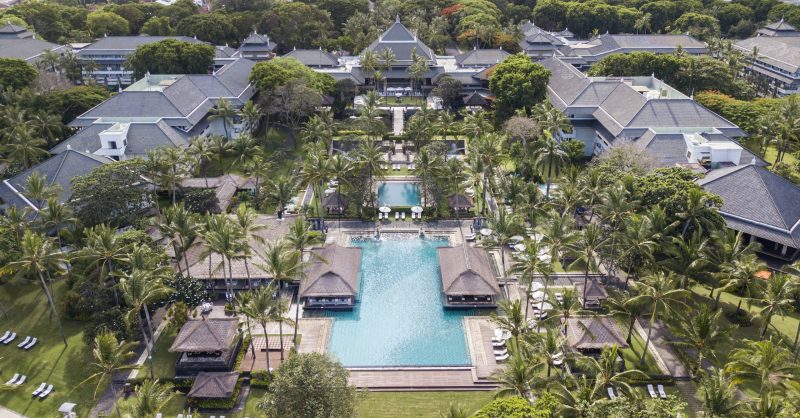 InterContinental Bali Resort invites guests to indulge in the serenity of Bali's celebration of Nyepi. The newly-renovated resort offers a special rate for its rooms during the Nyepi season, with a two-night minimum stay. The stay is complimentary with daily breakfast and a one-time buffet dinner for two adults. During the stay, guests can enjoy 20 percent off all food and beverages – both for dine-in and room service – as well as 25 percent off all spa treatments.
UBUD, BALI
Blue Karma Dijiwa Ubud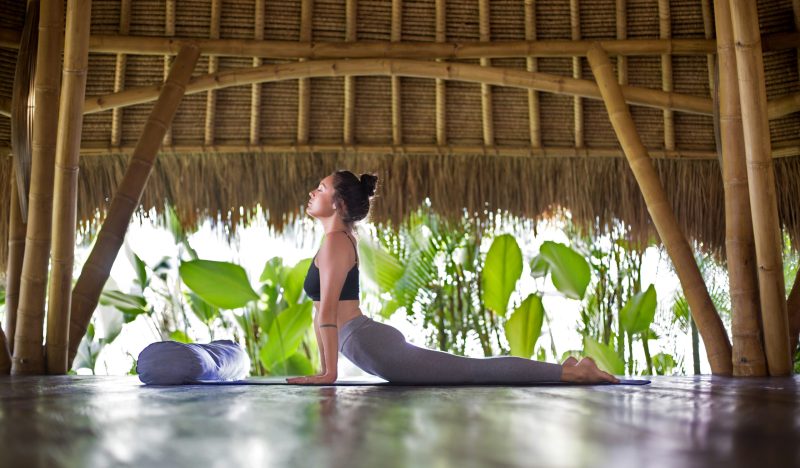 Silent retreats at Blue Karma Dijiwa Ubud offer a unique, holistic escape from the world's noise to fully embrace the tranquillity of the island and reconnect with one's inner self. This is especially relevant as to how Bali has peaceful landscapes and cultural richness.
During the retreat, guests will be guided through meditation and yoga sessions to quiet the mind and rejuvenate the body. Blue Karma Dijiwa Ubud's expert instructors will help guests to adopt the power of silence. Moreover, excursions to nearby temples, markets, and natural landmarks will be available for guests to explore Bali's rich culture.
MANGGIS, BALI
Alila Manggis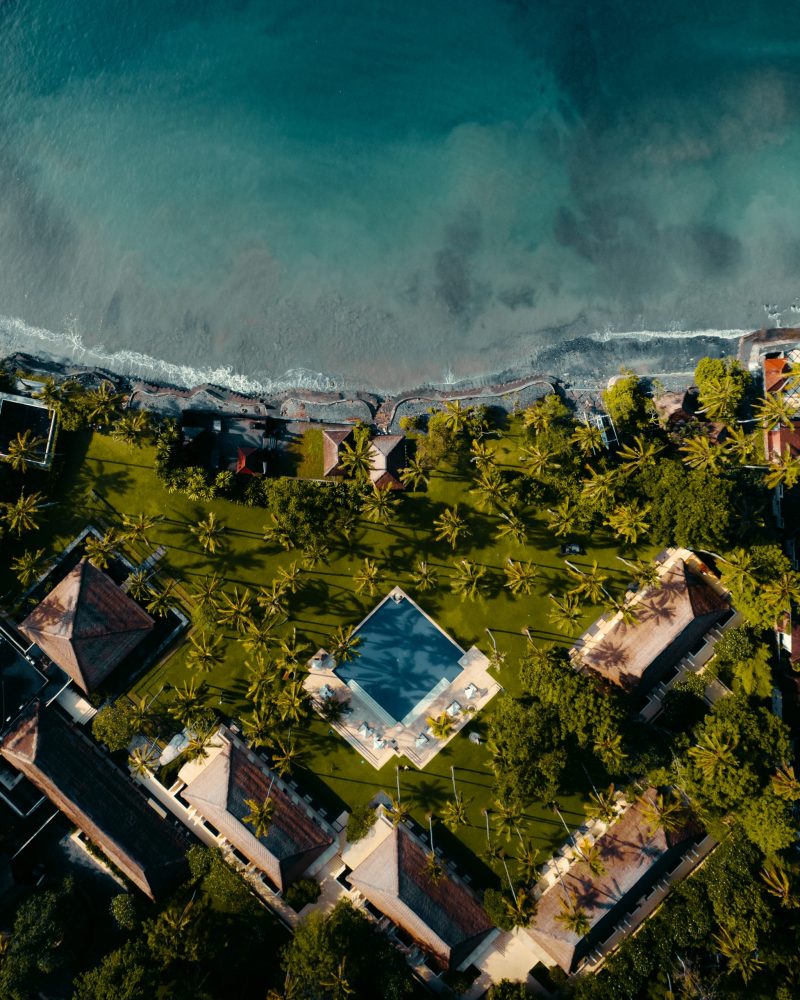 At Alila Manggis, guests can celebrate Nyepi Day while enjoying the breathtaking view of Bali's east coast. The resort offers a range of wellness activities, including yoga and meditation classes, as well as spa treatments to encourage guests to relax and unwind. Traditional Balinese delicacies at Seasalt Restaurant are not to be missed. The restaurant serves a variety of dishes that highlight the unique flavours and spices of Balinese cuisine, using locally sourced ingredients to ensure freshness and quality.
Immerse in a wellness journey in the resort with complimentary morning tai-chi or hatha yoga under the coconut groves over a breathtaking view. Imagine the tranquillity of the silent day while rejuvenating oneself with signature treatments at the Alila Manggis SPA. Set in a traditional Balinese hut by the sea, the SPA Bale offers an undisrupted view while one loosens up with the well-talented therapists at Alila Manggis.
SEMINYAK, BALI
Hotel Indigo Bali Seminyak Beach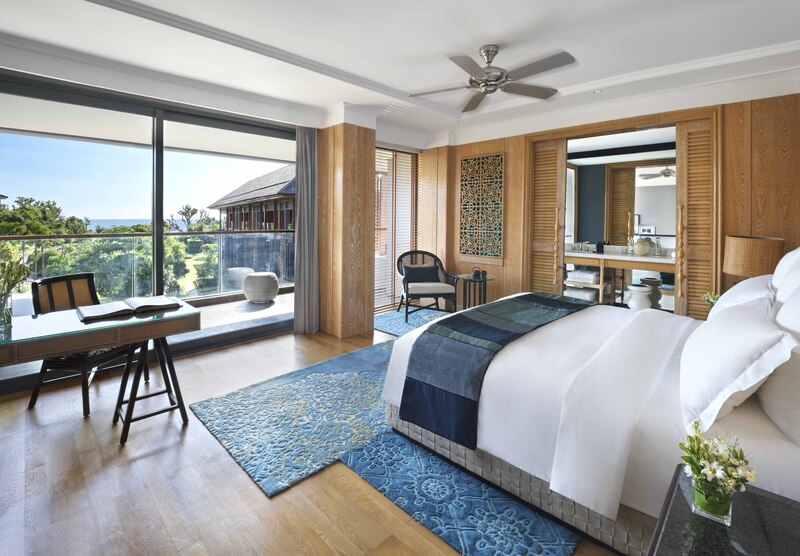 Comfortably settled on an expansive 4.7 hectares of landscaped grounds, Hotel Indigo Bali Seminyak Beach is the perfect haven to experience the day of silence, with the finest comfort and solemnity. 
As the first five-star Hotel Indigo in the world, this resort is a place where a tranquil ambience meets the vibrant contemporary Balinese sophistication. Discover the neighbourhood-inspired resort activities, pamper yourself at the award-winning Sava Spa, or savour the enticing Nyepi buffet at the all-day dining restaurant, Makase.
Anantara Seminyak Bali Resort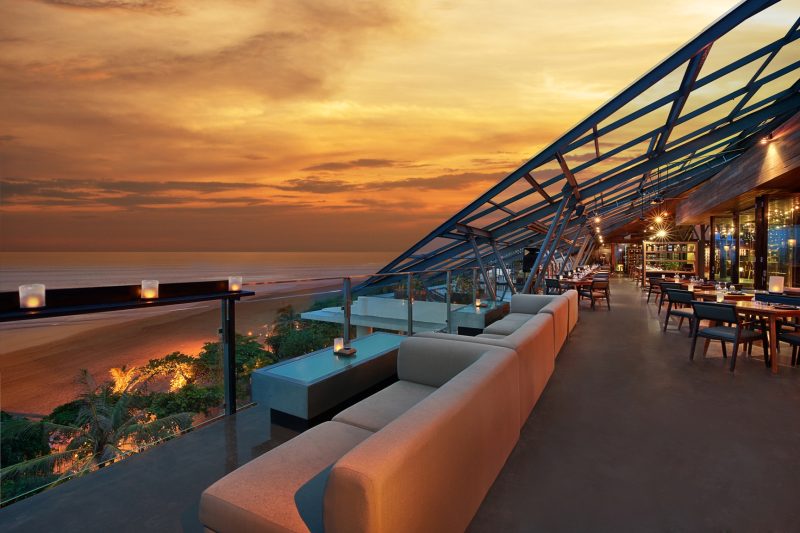 Anantara Seminyak has a luxurious Nyepi Day staycation package that starts from Rp4.6 million++ per room per night and includes a two-night stay for two in a Seminyak Suite with a complimentary upgrade to a Seminyak Ocean Suite (subject to availability). Enjoy daily breakfast, a three-course set lunch or dinner for two, 40 percent savings on dining and spa treatments, and a complimentary airport dropoff in a private SUV.
The real highlight of this package is the range of activities that Anantara Seminyak has prepared. Experience the vibrant and colourful Ogoh Ogoh parade at the beach area on the eve of Nyepi Day, followed by a tantalising Nyepi eve buffet dinner with Balinese traditional dance at sunset. On Nyepi Day itself, an array of complimentary activities such as learning how to make traditional Balinese food in a cooking class, a Balinese offering-making activity, a towel art-making activity with professional housekeepers, and a movie night with the relaxing sound from Seminyak Beach at the rooftop restaurant, Moonlite Kitchen & Bar are all available. Those looking to elevate their culinary skills can participate in the Spice Spoon three-course cooking class for a maximum of two couples – an additional Rp999,000 per couple – at Moonlite Kitchen & Bar.
Peppers Seminyak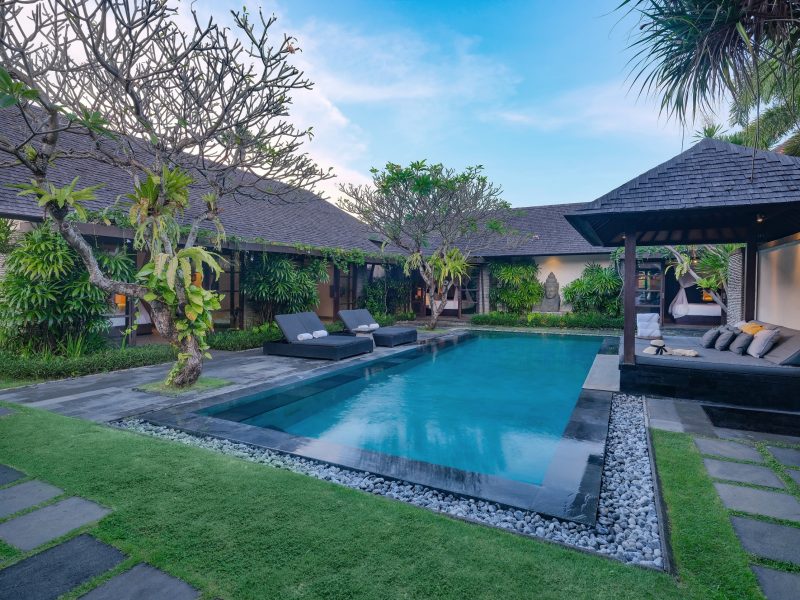 Peppers Seminyak offers a stillness where one can maximise relaxation and revitalisation, leaving the sense of taking on the world in future endeavours. The resort is only a few minutes walk from Seminyak's bustling nightlife and popular restaurants, but it is far enough away from the crowds to give you a sense of solitude considering its magical gardens, tranquil atmosphere, and luxurious amenities.
Each villa at Peppers Seminyak is stylish and elegant, exemplifying the essence of style. The resort features a total of 52 villas across five different types of accommodation. All villas are designed to make the most of the stunning tropical surroundings and feature modern facilities; generous living spaces, fully-equipped kitchens, and a private pool. The resort also features a dining venue, a bar, 24/7 in-villa dining, a day spa, a fitness centre, a kid's club, and a spectacular pool area.
CANGGU, BALI
Hotel Tugu Bali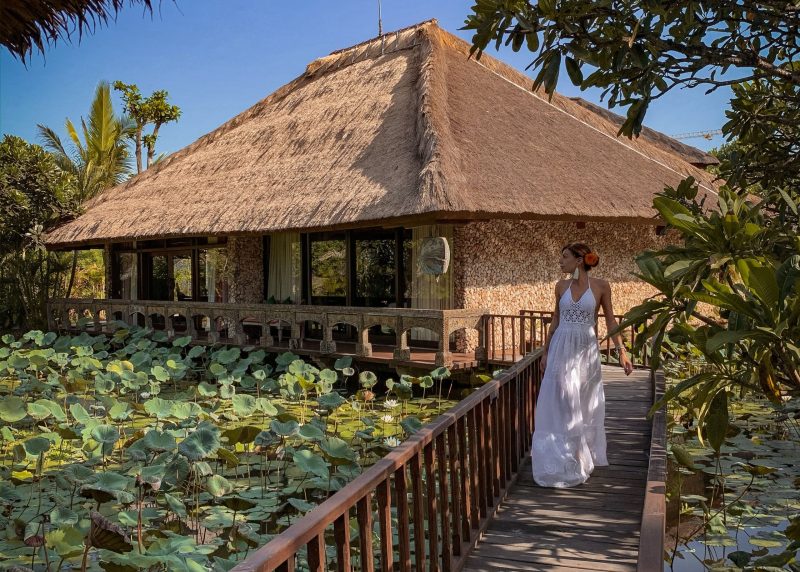 Hotel Tugu Bali sheds light on the romantic past and rich culture of the Island of the Gods. Spend the day exploring the hotel like a time traveller and take in the priceless artworks that adorn its walls as a break from your routine and be culturally inspired. Walk through the tropical lotus pond that floats out of the Puri Le Mayeur Villa – dedicated to the passionate love story between a Belgian painter, Le Mayeur, and his muse, a beautiful and famous Legong dancer, Ni Polok. Admire arts and antiques from the 19th century as well as some antiques related to the local historical war-Bale Puputan room. Visit a 300-year-old authentic Kang Xi period temple at Ji Bale Sutra.
Discover the delicious array of Balinese, Javanese, and Peranakan cuisine at IWA Restaurant, located beneath the lofty and spectacular dome of a 15-metre-tall majestic Balinese hall decorated with mythological Balinese statues that are guardians of the Balinese Gods and guard against the evil spirits.
The Nyepi Day Retreat at Hotel Tugu Bali package includes a daily lavish breakfast, 30 percent off at Waroeng Djamoe Spa, a one-time dinner for two, a signature afternoon tea, free kids' activity on Nyepi Day, and free extra bed and breakfast for one child under 10 years old. Stay for two nights with prices starting from Rp 6,530,000++.
LOMBOK
Hotel Tugu Lombok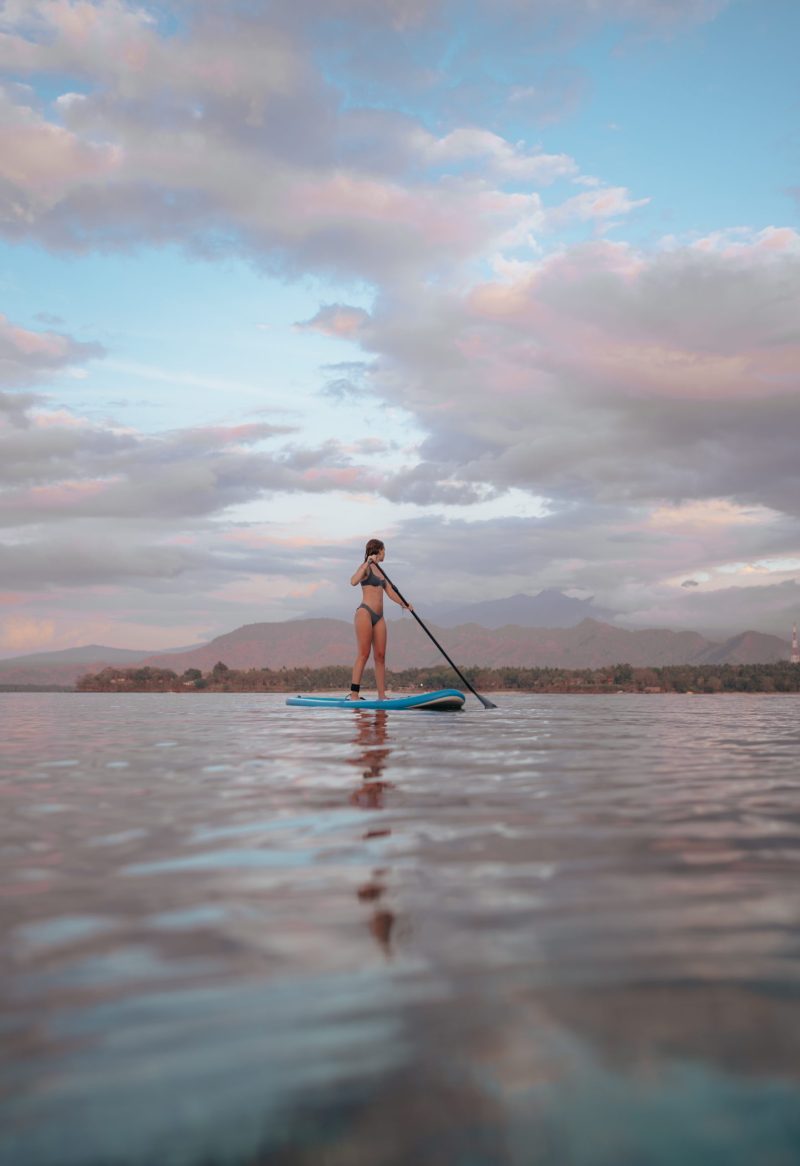 Experience something different this Nyepi Day at Hotel Tugu Lombok, a secluded paradise on earth bordered by kilometres of pristine white sand beaches and turquoise waters where turtles play among the corals. Enjoy a serene haven at the award-winning Hening Swarga spa to unwind with wonderful treatments that stay true to the Indonesian secrets of longevity and beauty practised for centuries. With its spectacular vista of the sea and a green tropical palm tree paradise, the temple's rooftop is an ideal location for a yoga or meditation session, while the temple tower features exquisite Singhasari and Majapahit sculptures.
Sip afternoon tea on the beach, then snorkel, paddleboard, and swim in the clear, warm water of the sea. After lengthy walks on the white sand beach and a romantic dinner beneath the stars, cap off the day in the outdoor rainforest tub while listening to the sounds of dancing waves. For a truly unforgettable experience, book a trip on one of the majestic boats, Naga Mesem or Dewa Ruci, out for a journey through the epic dawn and sunset rides.
The Nyepi Day Getaway at Hotel Tugu Lombok stay package starts from Rp2.2 million nett per night. It includes a daily lavish breakfast, 30 percent off at Hening Swarga Spa, signature afternoon tea, free beach activities, and free extra bed and breakfast for one child under 10 years old.
Hotel Ombak Sunset Gili Trawangan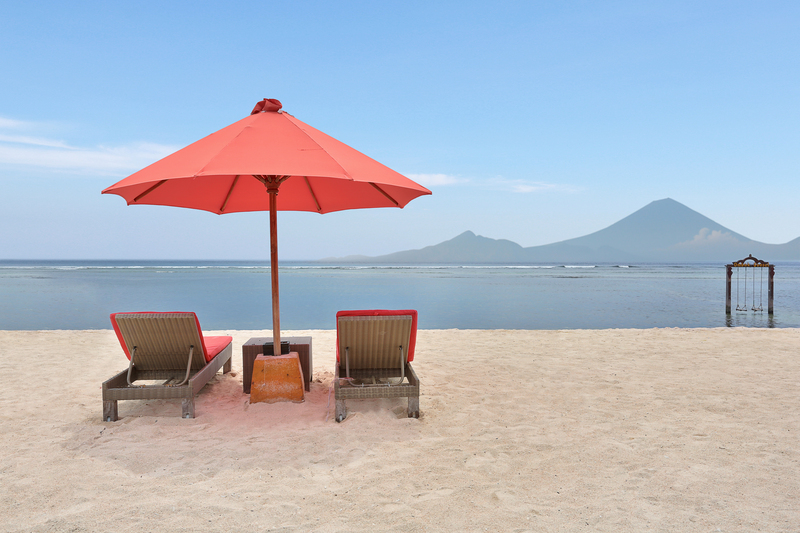 Escape the silence to Hotel Ombak Sunset, on the tropical island of Gili Trawangan.
Hotel Ombak Sunset, located on the secluded west coast of Gili Trawangan Island, is fast becoming a favourite for island getaways.
The beginning of Nyepi, 21st March, Hotel Ombak Sunset along with their new parter Island Leisure Indonesia is set to launch their new activities including Archery, Paintball, Pètanque and other field activities.
Our Nyepi Escape packages include a 2 night stay, including welcome drink, daily buffet breakfast for 2, one Nyepi lunch and dinner for 2 and transfer from Gili Trawangan Harbour to Hotel Ombak Sunset. Island Leisure Activity Prices start from Rp.300k for Archery with use of the competition sized archery field, 350k per person for Archery Battle, Rp.450k per person for paintball.
Tel: +62 811 3900 5999
Email: [email protected]
Whatsapp: +62 811 3900 5999