Taman Doa Hati Tersuci Maria marks the building of places of worship, followed by Ecopark PIK2 features Masjid Agung and more worship houses from various religions.
The Pantai Indah Kapuk (PIK) area is famous not only as a culinary and travel destination but also as a township with offices, retail centres, residential, entertainment hubs, and more. Moreover, Agung Sedayu Group (ASG) also brings in places of worship, such as Taman Doa Hati Tersuci Maria (Maria's Sacred Heart Prayer Garden) and Ecopark PIK2, as a symbol of tolerance for diversity.
Inaugurated on 5th May 2023, by the Archbishop of Jakarta, Ignatius Cardinal Suharyo, Taman Doa Hati Tersuci Maria is a destination for Catholics and those who are looking for a relaxing place to rest from their busy life. Located at La Riviera PIK2, this prayer garden pairs natural stones with arches and pillars, recalling the continental design found in Europe. Onwards, Regina Caeli will manage and maintain the prayer garden.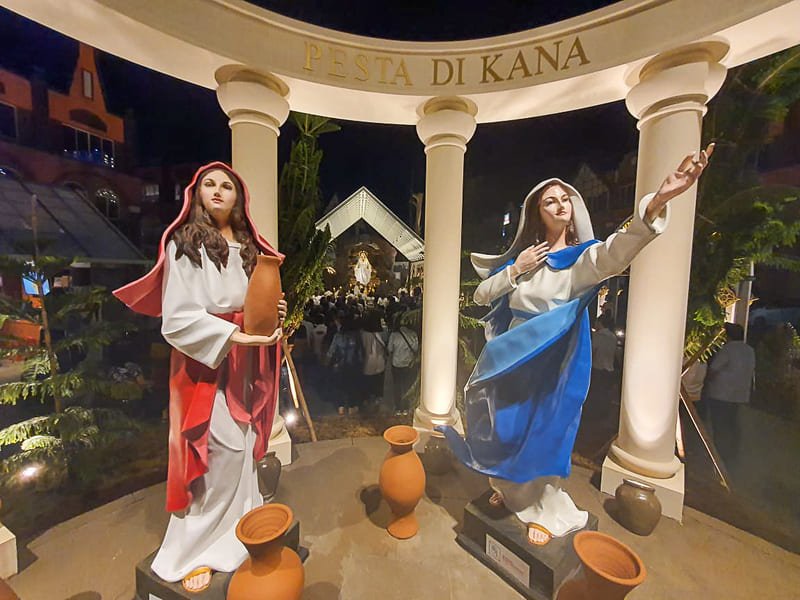 Taman Doa Hati Tersuci Maria sits across Tokyo Riverside Apartment, nearby residential clusters, and restaurants like Food Street, Karnivor, and Nanny's Pavilion. Other facilities around it include the Central Business District (CBD) area, Educity, Indonesia Design District (IDD), Erajaya Digital Complex (EDC), Centre Point, Greenbelt, and Community Park PIK2.
Sawitri Setiawan, Director of Leasing & Commercial Amantara, Agung Sedayu Group, said: "Taman Doa Hati Tersuci Maria is an inclusive space for everyone, especially Catholics, as a worship and pilgrimage destination. We invite visitors to come to the prayer garden any day of the week between 7am to 10pm."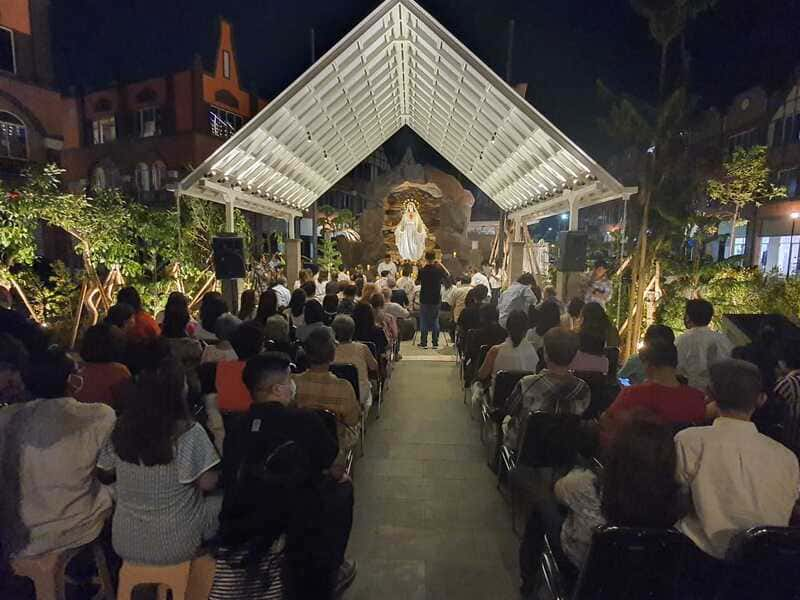 Nearby the entrance, the statues of St Gregory the Great and St Emma welcome all to Taman Doa Hati Tersuci Maria. In the middle lies a pond with a statue of Jesus walking on water and, on its bank, a sculpture shaped like a palm to depict the miracle of feeding 5,000 people with five loaves of bread and two fish. On one end stands a pillared platform to picture Jesus' first miracle of turning water into wine at a wedding in Cana.
Taman Doa Hati Tersuci Maria also features prayer areas with the statues of Jesus and Mother Mary, in which visitors can reflect in devotions alongside offerings of flowers and candles. A small on-site store provides these items, souvenirs, and related paraphernalia created by the differently abled community from Deus Caritas Est to enhance the reverential experience at the serene prayer garden.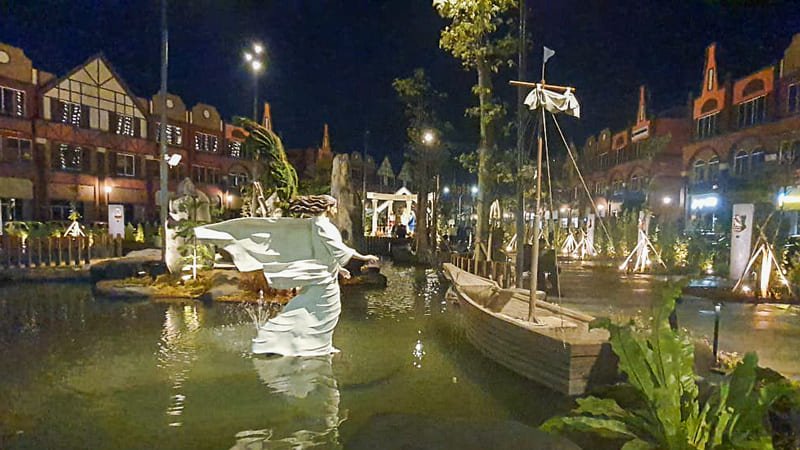 At the heart of the garden, visitors can journey through a winding pathway following the procession in Stations of the Cross. This series of fourteen carvings narrate Jesus' path (Prophet Isa) to crucifixion on the cross, following the traditional Via Dolorosa route in Jerusalem. This story teaches us the importance of loving one another as an equal.
Natalia Kusumo, CEO of Commercial & Hotels Division 2, Agung Sedayu Group (Amantara), said: "We focus on harmony between cultures, religions, and nature to appreciate the diversity in Indonesia and around the world. As such, Taman Doa Hati Tersuci maria at la Riviera PIK2 completes the destinations and facilities for local and international visitors to work, live, and play."
Taman Doa Hati Tersuci Maria is not the only place of worship in the PIK area. Currently in the pipeline is Ecopark PIK2 to sprawl across a 54-hectare land with a 23.5-hectare lake at its heart. Ecopark PIK2 consists of eight zones for places of worship supported by nine thematic retail areas, all connected with pedestrian walkways and water taxis.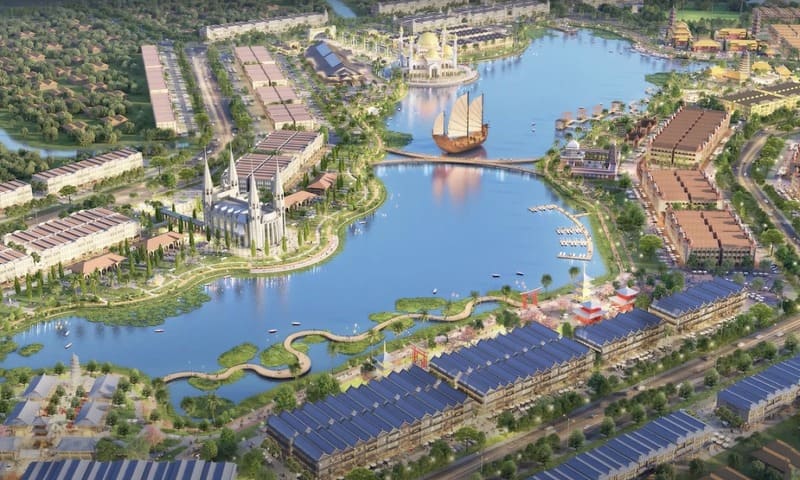 Designed by DP Architects Singapore, Zone 1, the Halal District, sees Morocco and Xinjiang for its architectural references; meanwhile, Zones 2 to 8 refer to architectures in China, Japan, Korea, Vietnam, India, Thailand, and Italy with nine thematic retail areas that are interconnected through walking areas and water taxi facilities.
Zone 1 houses the eight-hectare Masjid Agung (Grand Mosque) PIK2 with a capacity for 6,000 pilgrims, located right by the lake with beautiful lighting and majestic domes. Around the mosque will be the Geylang Serai Market and a halal food street akin to Haji Lane in Singapore. More places of worship include a Cathedral and a Grotto of Mary in Zone 2, a three-hectare Thai-style temple with a four-faced Buddha statue (Si Mian Fo) in Zone 3, and more temples from India, China, Vietnam, Japan, and Korea throughout five other zones.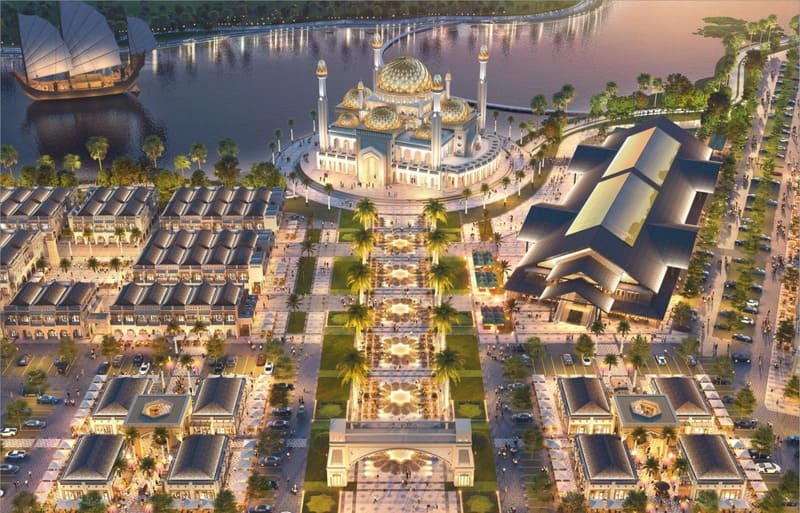 Steven Kusumo, the Executive Director of PIK2, said: "Ecopark PIK2 is the first multicultural and multi-religion area in Indonesia, integrating culinary centres, places of worship, and shopping areas. With the spirit of 'Bhineka Tunggal Ika' or unity in diversity, PIK2 collaborates with various stakeholders to complete this megaproject."
Adorned with beautiful landscapes, thematic architecture, and various places of worship, Ecopark PIK2 welcomes all religions and faiths into one destination. Hopefully, everyone could learn to appreciate the diversity of cultures in Indonesia and globally.