First published on Alterity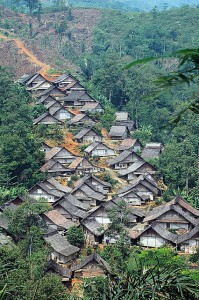 Incredible as it may seem, but just 120km (75 miles) from the bustling metropolis of Jakarta live an ancient tribe of people who eschew the modern world entirely. They are the Amish of Indonesia and are known as the Badui (although they call themselves Kanekes). They number only around 6,000 and live in villages in the Leuwidamar Sub district, Lebak Regency.
The Badui are divided into two sub-groups; the Badui Dalam (Inner Badui) and the Badui Luar (Outer Badui). Members from each group are easily distinguishable since the Outer Badui wear only dark colours while the Inner Badui wear rough white cloth that they weave themselves.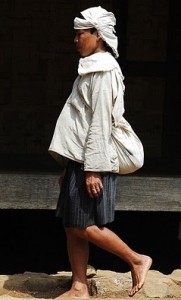 A member of the Inner Badui
What are the taboos in Badui land? Well virtually anything you can imagine. No vehicles of any type are permitted and neither is machinery nor electronics. There is no electricity and farming must be done without using irrigation. Houses have no water and bathing is done in the nearby stream (without soap naturally). There is no education, no healthcare and no government. There is also no alcohol. In fact about the only thing that does seem to be allowed here is smoking – and sex of course (although the Badui may not be having too much of that either as there aren't too many of them left).
Smoking is one of the few things allowed in Badui land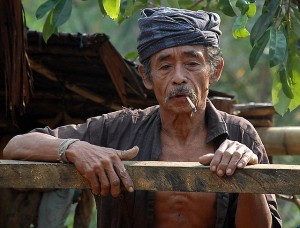 Nonetheless, a visit to the Badui is a truly rewarding experience. It's as if time really does stand still. There is only here and now; the future and the past and the outside world have simply ceased to exist. Welcome to the forest.
For all their apparent aloofness and complete indifference (the Badui won't speak to you), the Badui do seem to find foreigners as curious as we find them (they will often watch you from a distance for example).
But what could these strange people of the forest – with their ultra simplistic ways – ever find unusual about us? Don't they realize that the only thing that matters is money and that it's fun to spend precious time in a traffic jam and that we're obviously going to live forever – aren't we?
The practicalities of a visit
You can visit the Outer Badui villages after obtaining a permit and provided you go with a guide, but no foreigners are allowed to enter Inner Baduy, a sacred place, and home to a mountain which, if not looked after, the Badui say will mean the end of the world…
Getting there
By car
To get there takes about four hours from Jakarta. Get on the Jakarta-Merak Toll Road and later take the Serang exit. From Serang you'll have to put your map reading skills to good use to get to Rangkasbitung. Then from here follow a very scenic road to the small border town of Ciboleger which is the entrance point into the wonderful Badui forest. At Ciboleger there are plenty of guides hanging around willing to help you. You'll need one to get you the requisite travel permit and to take you into the Badui forest. The permit is usually ready in less than an hour or so. It's also worth hiring a porter to carry your stuff. If you plan to stay the night(s) tell the guide and ask him the price of renting a simple house in one of the villages (should be around Rp.150,000/night and can sleep around 10 or more) in addition to how much his fee will be.
By train
Yes, it is possible to get there by train (if you have masochistic tendencies of course). The train departs from Tanah Abang station in central Jakarta (heading for Merak). Get off at Rangkasbitung. This will take about 1.5 hours. From Rangkasbitung use public transportation to get to Ciboleger. This may take some time – but probably not more than three hours.
An easy and enjoyable trek is to follow the path to Gajeboh Village where you can see Badui women weaving clothes. Cross the wobbly Ciujung River bamboo bridge (made without any nails) and feel your heart beat like crazy. After a couple of hours you'll arrive at Cicakal Village where you can spend the night.
The Map of Badui land (click on it for full size image)
Stuff to bring
• Backpack
• Enough food AND drinking water
• Small stove to cook
• Hiking shoes/trainers
• Raincoat
• Jacket or sweater
• Enough clothes to wear
• Sleeping mat (plus sleeping bag for additional comfort)
• Basic medicines
• Sunglasses
Things to leave behind
The attitudes of an ignorant and selfish city dweller.
Things to buy
There are no supermarkets and there aren't even any shops but you can buy some of the best natural honey this side of the equator.