Bali is a one-size-fits-all destination; various parts of the island offer different scenes that can cater to your different needs.
Away from the more crowded party scene that is Seminyak or Canggu, Ubud offers a more tranquil environment. Instead of pretty beaches in the scorching heat, be more in touch with nature through the breeze of the majestic green jungle. Ubud is for those of you who seek a deeper dive into Balinese culture and philosophy, or simply a more active tropical getaway.
Ubud is known to have a rich spiritual origin. An 8th Century legend tells the story of Rsi Markendya, a Javanese priest who was drawn to meditate in the location where the two branches of the river Wos converged, known as Campuhan. Later on, he and his followers settled on the spiritually potent location.
They found that various kinds of plants with strong healing qualities grew along the river banks, so they christened the land Ubad, which is a Balinese word that translates to the healing place or medicine. With that being said, Ubud is the perfect place to slow down, unwind, and have your healing experience reconnect with your body and soul.
Start your morning in Kanto Lampo Waterfall
Kanto Lampo is a very popular waterfall located not too far from central Ubud, with an entrance fee of Rp20,000. It usually gets extra crowded in the afternoon, which makes it best to be visited in the morning. There is almost always a queue for people who want to have their pictures taken in the waterfall located in its centre but the queue gets significantly longer later in the day.
At its centre is a large, scenic waterfall with its water gushing down the terraced rock formation; giving it a dynamic look disparate to the conventional waterfalls that only have a singular water stream.
There is only one waterfall but Kanto Lampo itself is a large area where you are free to venture out. Certain areas can be harder to reach due to the large and slippery rocks, but as long as you are careful and move with a steady pace, it bears the reward of a stunning jungle view, gorgeous spots for pictures, and a serene atmosphere to swim and relax.
Kanto Lampo is great for those who are not too experienced in exploring waterfalls as it has easier access with paved pathways and stairs so you are not required to go through miles of hiking or trekking to reach it. There are many beautiful waterfalls that are worth visiting in Ubud, some other honourable mentions are Suwat and Tibumana.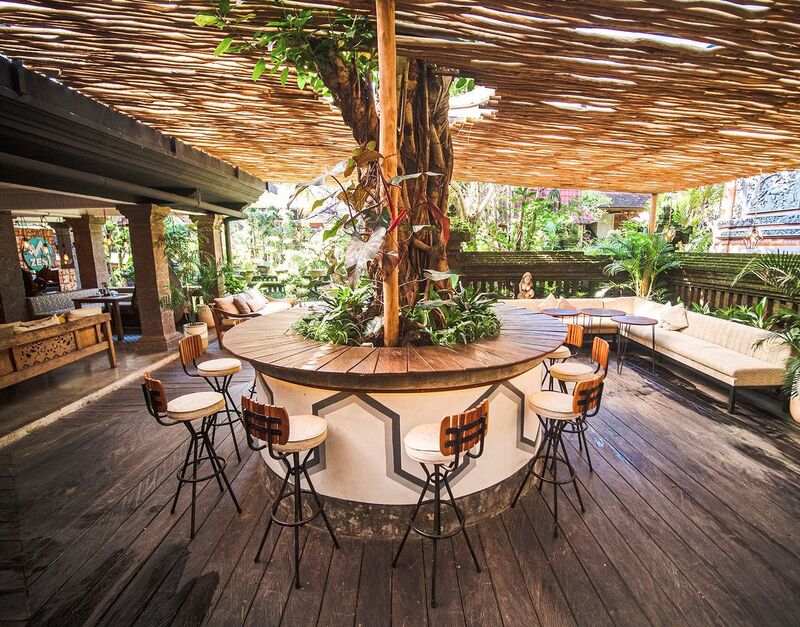 Vegan lunch at Zest
Zest is located in a beautiful spot overlooking the majestic Campuhan Ridge jungle with stunning architecture and décor. The venue was renovated from a traditional Balinese building where they kept the original structure and added their own distinctive touches. A native frangipani tree stands in the heart of the restaurant, bringing an earthy ambience to the restaurant and certain walls are plastered with murals by ArtxPan.
Moving to the menu, everything is vegan-friendly, intricately designed by Chef Simon Jongenotter to highlight elements of Balinese cuisine where all the ingredients are locally sourced. Upon entering, you are required to leave your footwear at the entrance so you can just kick your feet up and enjoy the dining experience in the comfort of their couches.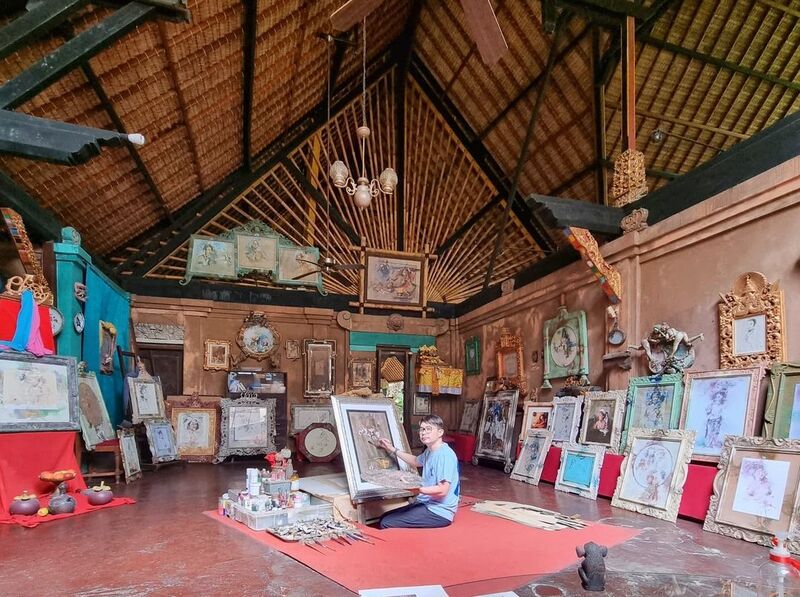 Stroll around the Blanco Renaissance Museum
After a morning of outdoor activities, slow down and head to the Blanco Renaissance Museum for some relaxing art viewing for a change. Ubud is not short of great art museums, but the Blanco Renaissance Museum is truly unlike any other. The museum showcases the works of Antonio Blanco, a Spanish-American artist who lived in Ubud in the 1950s, from different periods of his career. Women were the focal point of his works and he went on to create sensual paintings of Balinese women.
The architecture style is a blend of Spanish and Indonesian cultural influences that has a unique flamboyance to it. The land was a gift to Blanco by the King of Ubud, Tjokorda Gde Agung Sukawati, where Blanco built his home and studio in Ubud. Before his death, the Blanco Renaissance Museum was opened in 1998 in his beautiful hilltop home.
Visitors can experience a more immersive experience by basking in the works of an artist in the home where he conceived them.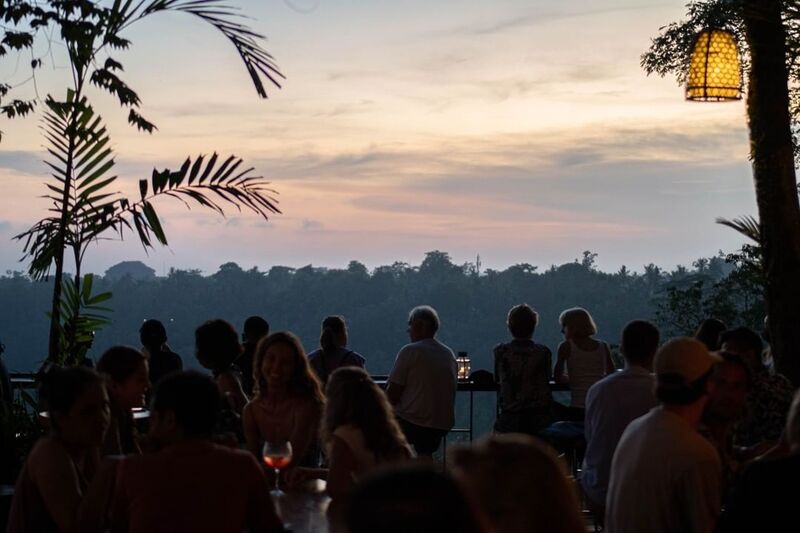 Sunset dinner and drinks at The Sayan House
The Sayan House is the place to enjoy refreshing cocktails and Japanese-Latin fusion cuisine while basking in the beautiful sunset by the canyon of the Ayung River. You can choose to dine or solely drink at the sunset bar as they are placed in separate areas. Every Tuesday, you can enjoy a live music performance as you watch the sunset.
Their signature cocktails menu does indeed live up to their name, especially their arak cocktails. Arak is a strong traditional Balinese liquor. The ingredients for making pure Balinese arak can vary, depending on the natural resources and characteristics of the village of arak artisans.
As arak is known to possess quite a strong level of alcohol, its taste might be overwhelming for first-timers. So enjoying an arak for the first time would be preferable in a cocktail and luckily, the Sayan House serves fantastic original arak cocktails. Looking at their food menu, they go out of the box with their fusion twists. It is ambitious yet well-executed, as well as both vegan- and vegetarian-friendly.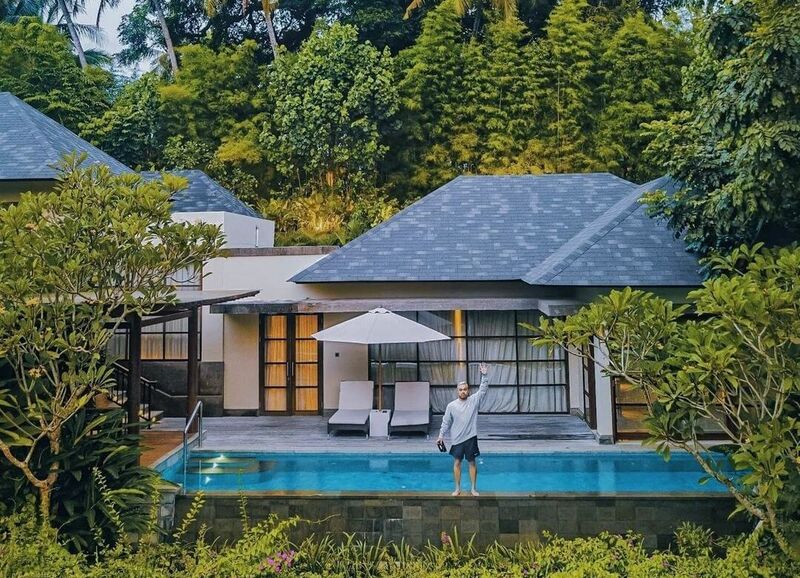 Final rest at The Westin Resort & Spa Ubud
End the day with a relaxing sleep at The Westin Resort & Spa Ubud. The beautiful hotel offers every option from standard rooms to villas, all of which feature a relaxing private terrace where you can wake up to the beautiful Ubud jungle view. You can rest easy knowing that you are provided with the comfort of lavish bedding and high-quality bath amenities. Guests are granted complimentary 24-hour access to the Westin Workout fitness studio as well as the refreshing infinity pool.
Much like the core healing philosophy that encompasses Ubud, this resort is devoted to all-around wellness values. Channeling Ubud's healing energy, The Heavenly Spa by Westin focuses on rejuvenating your mind and body with its signature spa packages, body massages, exfoliating scrub, and facials using local fresh ingredients that are prepared daily. The resort also offers you a chance to give back to nature by participating in their environmental protection program as a collaboration with Trash Hero Ubud Chapter.
A day in Ubud is barely enough to enjoy all the richness it has to offer. This guide simply points out the formula for how to embark on an immersive experience in Ubud, with everything in balance. Therefore, remember to balance both the physical and mental stimulations, indulge yourself in the simple pleasures, and don't forget a good night's sleep. You'll get sucked into Ubud's magic in no time.