Although some Indonesian transvestites are involved in minor scams, much greater evil comes from bigots who incite intolerance by preaching that cross-dressing is a threat to the nation.
Male transvestism, which has long been a part of Indonesian culture, involves men putting on women's clothes and adopting female mannerisms. Few of the country's transvestites get their testicles cut off and their penis spliced and inverted, as gender reassignment surgery is costly and not a tradition, although many get silicone breast implants.
Some Indonesians believe homosexuality is a dangerous disease that can infect school children. While we shouldn't be forcing same-sex relations down anyone's throats, neither should we be alarmed by private acts between consenting adults.
Local newspapers revel in reporting scams perpetrated by transvestites, who are known locally as waria – a combination of wanita (woman) and pria (man). But cross-dressers are more likely to be the victims of crimes.
In late December, Suhendi (31) alias Vanesa, who worked at a beauty salon in the West Java town of Purwakarta, was almost killed by a take-home customer named Andi Ramdhani (27). The two had met for sex at Suhendi's rented room, having agreed on a price of Rp.50,000. But when Andi was finished, he paid only Rp.20,000. Suhendi demanded Andi's ID card and motorcycle registration card, pending payment of the remaining amount. Andi flew into rage and slashed Suhendi's head and body with a machete. He was detained by local residents and handed over to police.
A commonly reported 'scam' is that waria, posing as beautiful women online, trick straight male philanderers into making advance payments for sex. Twitter and Facebook are rife with Indonesians selling sexual services, often promoted through lewd photos. Some of the 'women' seem to be men, while many of the accounts appear to be fake, using photos of models or from adult websites. There is a dedicated Twitter account of complaints from men who transferred money to prostitutes, only to find the woman never turned up or turned out to be a man.
Some people think transvestites are synonymous with skimpy outfits and over-the-top camp voices, but that's not always the case. After all, it's easier to fool some men if they think you really are female.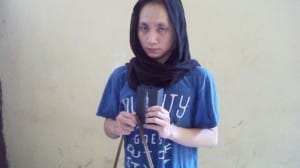 In the North Sumatra capital of Medan, a man named Jamot Tulus Yopi Sihite dressed as a respectable Muslim woman and gave himself the shorter name of Agatha Syahfitri. Donning a headscarf for his profile picture, Jamot targeted men through Line, a popular social messaging application.
A couple of months ago, he snared a man named Teguh Putra (25). After chatting online for a few weeks, they began dating. Jamot wore the headscarf and a long-sleeved shirt and long skirt for their meetings. On January 22, they were on a date at Sun Plaza, when 'Agatha' asked Teguh to drive to Center Point mall so they could meet her parents. Upon arrival, Agatha borrowed Teguh's iPhone 6 on the pretext of calling and locating the parents. Teguh waited in his car for a few hours, but Agatha never returned. He eventually tried calling his number from another phone and discovered it was no longer active. Suspecting his girlfriend may be a thief, he went to the police.
The following day, police arrested Jamot, still disguised as a woman, at the same mall. He had already sold the stolen phone. Teguh was shocked to learn Agatha was actually a man. Police said Jamot had committed similar crimes. Officers seized a bra, purse, headscarf and other "female accessories" as evidence.
Facebook
In the Central Kalimantan town of Muara Teweh, a transvestite using the name Jen Ahmad Lestari befriended men on Facebook. Last year, she caught the attention of a mining engineer named Rangga, who fell in love and agreed to her suggestion of marriage. He also transferred Rp.10 million to her bank account, but then became suspicious when his fiancée kept making excuses not to meet.
Rangga eventually reported the matter to police and Jen was arrested at a beauty salon. He was soon released and is now back on Facebook, using a slightly different name.
Foreigners
Prostitutes of all sexual persuasions have been known to rob their clients, especially foreign tourists. On the resort island of Bali last year, a waria named Eka (31) approached a drunk 25-year-old Swedish tourist, canoodled with him and later managed to remove his gold necklace and his money.
The Swede complained to police, who located and arrested the thief outside Hard Rock Hotel. Eka said he stole to pay for his food, rent and other living expenses. He denied he was planning to have breast augmentation surgery.
Bait & Switch
In the East Java capital of Surabaya, a man named Wawan paid a transvestite for sex, only to then report the sex worker to police for extortion.
Wawan had initially booked a session of sex with a female prostitute named Fitria (28). Upon arrival at Hotel Sulawesi-Gorontalo on January 23, he went to Room 514 and discovered that Fitria had brought along four transvestites, who were hiding in the bathroom. Rather than leave, Wawan had sex with one of the men, Ahmad Donny alias Yustika (23).
After he finished, Wawan paid Rp.300,000 but the transvestites demanded Rp.500,000. They took some of his possessions as collateral and told him to find an ATM and come back with the rest of the money. Instead, Wawan went to police and complained he had been tricked, forced to have sex and extorted.
Police went to the hotel room, where they found Fitria and the four men allegedly smoking crystal methamphetamine. Donny denied committing any extortion or theft. He said the higher tariff was charged because Wawan had "played rough". Police said the five would not be charged with extortion, but they would face narcotics offenses carrying a maximum penalty of 12 years in jail.
'Dangerous Teletubbies Virus'
Worst of all is the virulent hatred directed toward transvestites by elements of mainstream society, including some religious leaders and educators.
The Islam-oriented news portal hidayatullah.com last week carried a homophobic screed headlined "Children and the Dangerous Teletubbies Virus". Written by a lecturer in communications, the article starts out praising the Republika daily newspaper for warning of dangerous sexual disorders that can be transmitted to children. It then notes that other major religions have also voiced hostility against "neo-sodomists", before claiming that a British television show, Teletubbies (which originally aired over 1997-2001), is a malicious virus that must be fought because it can lure children into engaging in sexual deviation when they become teens or adults.
The worst part of this nonsense states: "Actually, Republika is not the first mass media to be targeted by offense from people with sexual disorders. Nearly two decades ago, Time also angered the US neo-sodomists. The reason, its October 12, 1998 issue … reported the results of its analysis that there is propaganda to normalize deviant sex, especially homosexuality to pre-school children in the TV series Teletubbies."
Time magazine's issue of that date mentions no such thing. There was in June 2001 a Time article on the Teletubbies, but the only sex mentioned involved the giant rabbits on the set. The same magazine also carried an article headlined "Trans Across America", which contained the line: "Even Teletubbies, a show for toddlers, features Tinky Winky, a boy who carries a red patent-leather purse." That's all.
Rather than interfering in people's private lives and trying to incite hatred and intolerance, so-called educators would be doing the country greater service by preaching against bigotry, corruption and environmental destruction.