Beware of sharing a nude selfie in Indonesia. You could be extorted or even criminalized.
There's an old internet joke that goes like this: "Warning! If a man comes to your front door and says he is conducting a survey and asks you to show him your breasts, do not show him your breasts! This is a scam – he only wants to see your breasts. I wish I'd gotten this yesterday. I feel so stupid and cheap now."
Although just a silly joke, it's a valuable reminder to be on your guard when a stranger makes requests. It can also serve as a cautionary tale to children with social media accounts to beware of friend requests from unknown people, no matter how friendly they seem.
Popularity in school now extends far beyond the playground. It's all about how many followers you have on Instagram, how many cool stickers you have on Line and your 'score' (ranking among friends) on Snapchat. Kids are taking more photos of themselves than ever before to assert their individuality and coolness, all in the hope of being accepted.
Such shallow narcissism is hardly surprising in a world that worships untalented halfwits for having a big butt and matching boobs – and a proclivity for displaying them to the smut-obsessed media. Seriously, a Google search for 'Kardashian' yields 211 million results, whereas a search for 'intellect' yields only 36.5 million results. Then again, you could fiddle with Google data to justify just about any argument.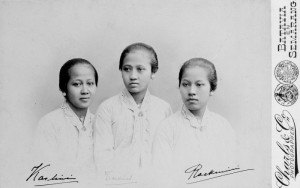 Even in Indonesia, the national day in celebration of pioneering feminist Kartini (1879–1904) is more about fashion, makeup and cooking competitions, rather than smiting patriarchal Javanese culture. How many Indonesians have actually sat down and read Kartini's collected letters? They might be surprised to learn the young aristocrat preferred "clothes [that] were simple," and that she and her sisters felt stupid "as though we had been dolls" when paraded before guests. She also wrote, "it would be so wearisome to dress in court costume."
And don't expect to find Kartini's following assertion in any local textbooks: "The most serious fault of our people is idleness. It is a great drawback to the prosperity of Java."
Idleness helps to make kids slaves to their smartphones, squandering time on games and social media apps.
Sadly, scammers are exploiting the insecurities of narcissistic teenage girls and their desire for popularity. Some girls who feel bullied at school are also likely to turn to the internet and online apps in search of friendship.
In Bengkulu province on the western coast of Sumatra, a 20-year-old man posed as a sexy young woman on Instagram and befriended numerous girls on the popular photo-sharing service. After gaining their trust, he promised he could help them to achieve stardom and wealth. All they had to do was send him nude photos, which he claimed that producers needed to see for casting purposes. Often, he gave them instructions for explicit poses.
Girls who sent him their nude photos were subsequently blackmailed. The man threatened to publicly release the private images unless the girls transferred money to his bank account or bought credit for his phone number. Most of the victims were afraid to report the extortion to their parents, let alone to police. Finally, a victim from East Java province went to the police, who identified the perpetrator and put his name on a wanted list.
On May 1, the scammer was arrested at his house by a joint team of police from Bengkulu and East Java. Officers said the man, identified only by his initials as IF, had mainly targeted underage females living in East Java, about 1,500 kilometres away from Bengkulu. He is now detained and facing extortion charges.
A more sinister scam was perpetrated last year in Central Java by a 24-year-old man named Surya Risdianto. Posing as a casting agent, he set up an Instagram account and contacted young aspiring models. He offered to help them enter prestigious modelling competitions, so they could start earning Rp.1.5 million (US$112) to Rp.5 million (US$375) per shoot. He requested nude photos, promising he would not share them. Next, he invited the girls to meetings, at which he threatened to publicize their photos unless they consented to sex. He was arrested on January 3, 2017. Police said he had received photos from at least 48 schoolgirls and had sex with ten of them.
'Research'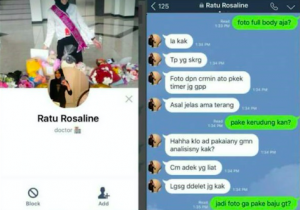 Ratu Rosaline, an Indonesian user of chatting app Line, in late May discovered someone had set up a fake Line account using her name and photo, and was sending requests to females for nude photos, for the sake of 'medical research.'
The scammer, posing as a medicine student, claimed nude images were required for a nutritional analysis of the 'shape and colour' of women who have been pregnant and those without children. 'She' promised the photos would be deleted after viewing.
Criminal Charges
In Indonesia, if you share a nude selfie on social media, even through a private messaging application, you can now potentially face criminal charges.
That's the fate of Firza Husein, who was on May 16 was charged with distributing pornography because she allegedly sent nude photos of herself in a private WhatsApp chat with firebrand cleric Rizieq Shihab, leader of the Islamic Defenders Front (FPI). Rizieq is also wanted for questioning over the case but has left Indonesia.
If police do want to criminalise Rizieq – who has already been jailed twice in the past for inciting violence – there ought to be better avenues than charging him over nude photos of a consenting adult in a private chat. He and Firza could face up to six years behind bars under the 2008 Pornography Law.
In a related development, police on May 23 arrested a man in South Jakarta for allegedly disseminating a fake WhatsApp chat between National Police chief Tito Karnavian and Jakarta Police spokesperson Argo Yuwono concerning the Rizieq and Firza case.
The man, identified only as HP, used an Instagram account in the name of @muslim_cyber1 to upload screenshots of the bogus chat, which suggested that Firza was being intimidated by police and the controversial chat between her and Rizieq was faked.
As social media apps have become a way of life and as opportunistic Indonesian politicians continue to exploit conservative religious values, netizens would be wise to keep it clean online. Meanwhile, children should be reminded that anything posted privately online could end up in the public domain.
Featured Image via Pixabay