Indonesian law carries a six-year jail term for negligent drivers who cause fatal accidents. But rich kids in costly cars are usually above the law.
Among the tenants of my Jakarta apartment complex was the owner of a Ferrari. He was fond of revving it loudly outside the main lobby, especially late at night. When I complained about the noise to the building's security guards, one of them smiled at me benignly, as if I were a slow-witted child, and explained: "A rich person owns that car, mister."
I remonstrated that such a vehicle was more likely to be owned by a man with a miniscule penis, desperate for attention, and that I would submit a formal complaint to building management if the guards couldn't curtail the needlessly noisy revving. Thankfully, the man later moved out, taking his costly toy with him.
The fawning, reverential attitude toward rich people in expensive cars in Indonesia is pathetic. I have a lingering memory of Tommy Suharto beaming proudly alongside his new Rolls Royce during the onset of the 1997-98 Asian financial crisis, as millions of his fellow Indonesians were plunging below the poverty line. Tommy had amassed fabulous wealth through nepotism and corruption, enabling him to buy a controlling stake in sports car manufacturer Lamborghini, which produces the noisy machines so beloved by men who yearn for respect.
When stuck in chronic traffic congestion in Jakarta and outlying toll roads, we can routinely observe police motorcycles with sirens blaring and blooping as they close off lanes and clear a path for top government officials. Often they are escorting private cars or little convoys of Harley Davison riders. In genuine democracies, police combat traffic congestion, rather than inconveniencing commuters so the rich and powerful can travel more swiftly.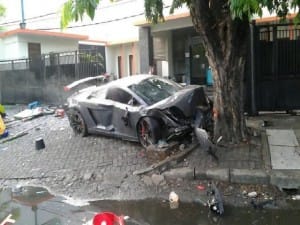 A few of the very rich and their spoiled children act as if the roads are their exclusive playground. Consequences are sometimes fatal, but justice is not always served.
On November 29, Wiyang Lautner (24) was racing his Lamborghini Gallardo against a red Ferrari in the East Java capital of Surabaya at about 5.20am when he smashed into a drinks stall operated by Mujianto (44), who was serving milk to two customers: Kuswanto (41) and his wife Srikanti (41). Kuswanto was killed, dragged along by the car, which stopped only when it hit a tree. Mujianto and Srikanti were seriously injured.
Wiyang survived the crash, extricated himself from his costly toy, helped to carry one of the victims, and was then taken to hospital.
His family responded to the crash not with a public apology or contrition, but with threats. Their six-member legal team, led by one Amoz H.Z. Taka, placed a quarter-page advertisement in the print media, declaring that although the "incident" was unfortunate, there had been "reconciliation" because the victims had received compensation and agreed not to pursue legal action.
The ad claimed the crash occurred because the street, Jalan Manyar Kertoarjo, was slippery due to rain, causing the car to skid and hit the pavement, whereupon its right rear wheel locked and "sped beyond the control of our client".
The lawyers denied Wiyang was under the influence of drugs, or that he was speeding or racing. Their ad concluded by threatening legal action against anyone who writes negative news, including on social media, about Wiyang. The lawyers also thanked local police for handling the case "professionally and proportionately".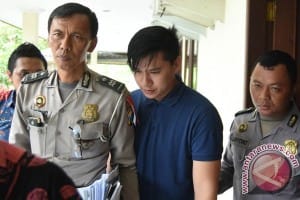 Netizens were unfazed by the threat. They poured scorn on the notion that an imported sports car worth about US$300,000 would skid in a puddle and suffer a wheel-lock if travelling at a safe speed in wet weather.
If the lawyers are telling the truth, they must sue Lamborghini for allegedly making an unsafe vehicle. But if the lawyers are lying, then Lamborghini should sue them for implying that it makes dangerous cars.
The Indonesian Journalists Association (PWI) condemned the lawyers' ad as an arrogant attack on press freedom. PWI East Java chairman Akhmad Munir said it is usually politicians who threaten the media but now it is the rich, even though journalism is not illegal. Unlike reckless driving. Akhmad said journalists must not fear the threats, provided they write accurately and fairly.
After a public outcry, police arrested him on December 4. He could be detained for up to 20 days, pending questioning. Police can extend his detention, should they deem such action necessary. His lawyers on December 10 said they were considering applying for a suspension of detention.
Wiyang is in a special cell for traffic accident suspects. He has received visits from his family, who brought him his favourite meals, and three priests to offer him encouragement.
Accidents Happen
There are times when accidents are pure accidents – not the fault of the car driver, but the fault of an errant pedestrian or motorcyclist. But the prevailing style of justice in Indonesia is that the wealthier of any two people involved in an accident must pay compensation to avoid trouble.
Last year, celebrity lawyer Hotman Paris Hutapea sustained minor injuries when he crashed his Lamborghini into the back of a small pickup van on a Jakarta toll road, killing the 31-year-old driver. Police were quick to declare the accident was not the lawyer's fault because the truck had suffered a blowout, causing it to spin out of control.
Many years ago, a British friend of mine in Jakarta was driving under the influence of alcohol and killed a schoolgirl, who had walked onto the street. He was offered a solution: give money, not only to his victim's family, and avoid prosecution. Instead, he chose to go through the legal process and ended up in Cipinang jail. He said he could not have lived with himself if he had tried to bribe his way out of such a serious crime.
So, what sort of punishment can Wiyang expect? Well, here's a look at some other cases. In January 2015, Christopher Daniel Sjarief, the son of a tycoon, was driving his friend's Mitsubishi Outlander at 131 kilometres per hour (km/h) in Pondok Indah, South Jakarta, when he crashed into several motorbikes and cars, killing four people. His lawyer initially claimed Christopher was under the influence of LSD. Police then insisted there were no drugs involved and South Jakarta District Court gave him a one-and-a-half year suspended prison sentence. So, zero jail time.
In September 2013, the 13-year-old son of rock star Ahmad Dhani drove his Mitsubishi Lancer at 176 km/h on Jagorawi toll road and smashed into a Daihatsu minivan, killing seven people and injuring eight others. East Jakarta District Court decided he should not be punished. Police refused to press charges against Ahmad Dhani for being so stupidly irresponsible to give a car to a child. Dhani blamed the toll road company for the crash.
In January 2013, Rasyid Rajasa, the son of then-chief economics minister Hatta Rajasa, smashed his car into a minivan parked on the side of a toll road, killing two people. East Jakarta District Court sentenced him to six months' probation. So, zero jail time.
The message is clear. If you're filthy rich, or if your daddy is filthy rich and wields political influence, you won't be spending years behind bars for reckless driving that kills people.
The 2009 Law on Road Traffic and Transportation states that anyone who drives negligently, resulting in a fatal accident, shall be sentenced to a maximum of six years in jail or a fine of Rp.12 million. Then there is Article 359 of the Indonesian Penal Code, which states: "Any person whose negligence causes the death of another person shall be punished by a maximum of five years' imprisonment or a minimum of one year's imprisonment."
Police, prosecutors and judges often fail to uphold the law fairly. Afriani Susanti, whose father is not a tycoon, politician or rock star, was in August 2012 sentenced to 15 years for crashing her car into nine pedestrians after drinking alcohol and taking ecstasy at Jakarta's Stadium nightclub. Then in December 2012 she received another four years for drug use.
Wiyang deserves a fair trial, but his family won't win any support for threatening the media. An errant sports car driver should be treated no differently than a reckless minibus driver. If Indonesia is truly a nation based on law.