Let's be honest. A handbag is just something in which to carry makeup, car keys, tampons, sunglasses, perfume and a purse.
It should be durable and practical, even stylish, but it should not cost upward of US$1,000 just because it sports the brand name of a high-end fashion house.
Top fashion houses deliberately limit production and increase prices to make their items scarce and therefore even more desired by insecure people who need to flaunt their wealth. Truly secure individuals don't have to show off; although people spending US$10,000 or more on a mere bag aren't bothered by the sour grapes of impecunious plebeians.
Some women feel something is missing in their lives until they experience the adrenaline rush of browsing bags and buying one. Purchasing these exorbitantly priced status symbols provides a hit of dopamine, the brain chemical that regulates pleasure. It may help to alleviate the excruciating emptiness of shallow existence or a failing marriage, but as with any drug, the high soon subsides and can lead to cravings and addiction.
Where did the mania for bags start? Handbags were initially a symbol of feminine independence, but high-end ones are now either a fashion statement or a badge of financial snobbery. I asked some Indonesian high school girls why they desire such bags. "The more expensive accessories you have, the more popular you are," said one girl. "You're less likely to get bullied if you have a designer bag. The bullies are the girls with the expensive bags. They're part of the popular group that looks down on people with less money. I think they learn it from their parents and Instagram."
One Jakarta businesswoman, who has a collection of imported bags ranging in price from Rp80 million (US$5,800) to Rp250 million (US$18,000), claims her accessories are essential to ensure she looks professional when meeting with clients. Sure, a quality shoulder bag will look better than a tattered shopping bag, but blowing US$18,000 on a bag seems dumb. Then again, it may be a sound investment if demand remains high.
Bagging a big debt
An Indonesian Instagram celebrity (selebgram in the local parlance) named Angela Charlie (31) became so obsessed with importing designer bags that she accumulated a debt of almost US$2 million, prompting her to turn to fraud.
Angela, who goes by the online names Angela Lee and Barbie Jowo, seemed to have a perfect life. She had a handsome husband and a cute son. Her fashion-oriented Instagram account had over 700,000 followers, enabling her to be paid to endorse various products. She was also a gamer and enjoyed cosplay. But behind the costumes and smiling photos, her addiction to expensive bags brought only misfortune.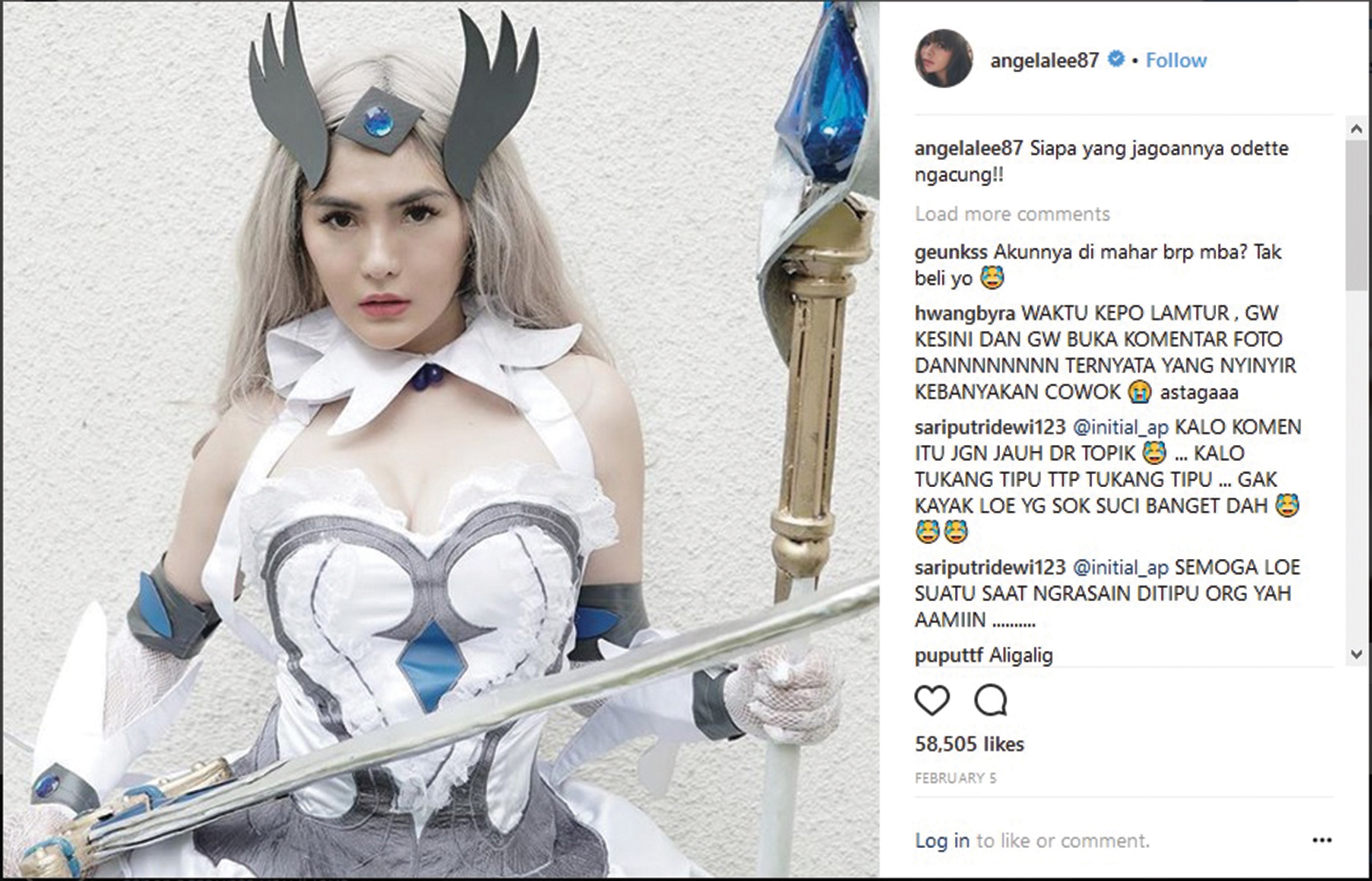 Back in 2013, Angela decided to import designer bags and sell them for a profit to Indonesian socialites. Among the brands she imported were Chanel, Hermès, Louis Vuitton and Gucci. Working with a supplier, she was able to import an unlimited number of luxury bags on credit with monthly interest of 20 percent. For example, if in one month she imported 10 bags each worth Rp50 million, she would subsequently have to pay interest of Rp100 million.
Angela thought she would make a fortune. But by 2017, her debt had ballooned to Rp25 billion (US$1.8 million). She started taking loans to service her debt. She says her husband, David Hardian Sugito (36), repeatedly suggested they and their young son should commit suicide. Instead, the couple decided to engage in fraud.
In February 2017, they approached a businessman named Santoso Tandyo. Angela proposed she and David would use his money to purchase luxury cars and resell them, splitting the profits 60 percent for the couple and 40 percent for Santoso.  He agreed to fund the scheme, unaware his money was being used to settle part of Angela's designer bags debt. In September 2017, Santoso complained to police he had incurred losses of Rp12.1 billion (US$879,000) and accused Angela of embezzlement and money laundering. In November, David filed for divorce, wanting to distance himself from the debt.
Angela and David were detained by police in Sleman, Yogyakarta, on February 5, 2018, on suspicion of investment fraud and money laundering. A few weeks later, they were paraded in orange clothes and black balaclavas at a media conference. Charged with money laundering, they could face up to 20 years in jail or a fine of Rp10 billion. Angela has admitted her actions were "wrong and stupid."
Nothing to sell here
Angela might have had better luck if she had dealt in non-existent bags. Wulanita Asmarani, known as Rani (28), created an Instagram account under the handle Azzura Baby Boutique to sell European designer bags, each worth tens of millions of rupiah. The only problem was she had no stock. Customers paid deposits by bank transfer and received nothing. By mid-2017, Rani had made more than Rp1 billion. Police received a slew of complaints and arrested her at her house in Bogor, West Java.
Hermès hustles
One of the biggest crimes against Hermès, the French firm that started out making equestrian harnesses before switching to handbags, is that people can't pronounce the name correctly. It's French, so the H is silent.
In Indonesia, imitation Hermès bags can be found online and in certain markets for as little as Rp300,000 (US$22). Such stuff is obviously fake and no one buying it for low prices is being conned. Scammers make money by marking up the cost of bogus bags or by offering genuine bags online and then failing to deliver them. In 2015, a father and son in Jakarta set up a website selling Hermès bags with a usual retail price of Rp400 million for just Rp150 million. Victims were instructed to transfer a Rp77.5 million deposit and received nothing. The pair pulled the same stunt in Bali.
Ussy Sulistiawaty, an actress and singer, was at her son's school last year when she received a WhatsApp message from someone posing as her friend, Indah. She did not recognise the number but assumed Indah was using a different number. Claiming to be desperate for money, Indah offered to sell a Hermes Blue Paon Epsom Birkin 30cm bag for Rp117 million, well below the usual price of around US$15,000. Ussy transferred a deposit of Rp40 million and Indah promised to send the bag by courier that afternoon. The bag never arrived. Anxious, Ussy tried to call her "friend," only to find the number was no longer active. She then tried the actual number for Indah, who explained she knew nothing about the bag. Ussy reported the fraud to police, who four months later arrested the scammer in Probolinggo, East Java.
There are many other cases of designer bag scams in Indonesia. Some fraudsters land in jail, only to be replaced by the next person preying on those who think an expensive accessory can buy happiness and popularity.
Feature photo courtesy of bovary.gr