Back in 2013, we interviewed a man brave – and some might even say crazy – enough to run from Bali to Jakarta on a mission to raise money and awareness for children's cancer charity, Mary's Cancer Kiddies. This year, Thompson plans to ride, and sometimes pull, a becak from Banda Aceh in north-west Sumatra all the way to Indonesia's capital city of Jakarta.
If you haven't met Scott Thompson, I can only describe him as a humble and altruistic Scottsman with a fire inside him
to help others. We met to discuss his upcoming physical and mental challenge, which plans to commence at the end of the month: a rickshaw ride that will take him from Banda Aceh to North Sumatra, through Riau, Jambi, South Sumatra, Lampung, and finally across the Sunda Straits to Java and into Jakarta via Banten.
The journey is estimated to take approximately 18 days and hopes to be in the Guinness Book of World Records with the longest rickshaw ride ever taken. The previous record was set by fellow UK citizen, Tim Moss, who completed a 1,000-mile (1,609.34km) ride across the length and breadth of Great Britain.
Thompson's Banda Aceh- to Jakarta-ride of 2,600km – which is the distance from London to Rome – will not be a smooth one, by any stretch of the imagination.
Between the Riau border and Palembang is what Thompson calls "the valley of a thousand hills", which speaks for itself, really. To conquer the many large hills he's soon to face, Thompson has built a special harness, which he will use to pull his 80kg becak. According to his calculations, the elevation climb will be equivalent to starting at sea level, climbing to the top of Mount Everest, returning back to the sun-lounger on the beach, and then repeating the summit climb three more times.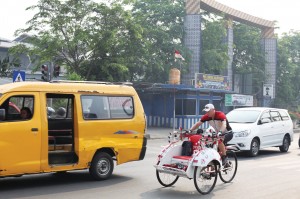 Thompson's becak is certainly out of the ordinary – it's been souped-up to ensure stability and longevity. With a Sram groupset and a specially-designed frame in place, including disc brakes set in parallel and a Volkswagen steering damper, this becak has been carefully prepared for the long journey it's about to take. Other additions include water holder, music station, GPS, sandwich box, and, representing Indonesia, the vehicle has been painted red and white and flies the nation's flag.
After Thompson's triumphant run from Bali to Jakarta in 2012, rumours circulated about a shift in his internal organs. "It's not true," Thompson says, reassuring that he's in tip-top shape. "In order to make it in time on this trip, I'll  probably be riding 12 hours a day," he explains. "The most dangerous thing to avoid is dehydration."
Thompson will be followed the whole stretch of the way by a support car, which may double-up as a bed if there are no losmen in certain areas where he will stop for rest. This will also help to deter any trouble-makers in the area from getting in the way, which has been a concern in this area.
The recent forest fires and haze enveloping Sumatra is also a worry for Thompson and his team, not to mention his loving wife, Laura. Thompson's mentality is to just tackle it day by day and see what happens. "If the mind is strong, the body will follow," he says, determined to ride until the end.
So, what drives a man to take on such physically exerting and dangerous challenges? In Thompson's case, it's helping others, as well as inspiring athletes to come up with ways of raising money for worthy causes. "Hopefully I can inspire younger athletes to do whatever they can to help build a bridge and reach out," he says.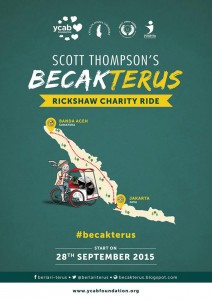 With a multitude of sponsors behind him, Thompson has already raised Rp.3 billion which will go to children's charities Yayasan Cinta Anak Bangsa (YCAB), Mary's Cancer Kiddies (MCK) and Puspita Foundation, and residential, vocational training programme for adult men and women with mobility disabilities, Wisma Cheshire.
There is probably no man better prepared to take on the job. With his rigorous training schedule, planning and determination, it looks as though Thompson will be riding his rickshaw into BSD City three weeks after he embarks from Aceh, and he will have helped many Indonesian people in need at the same time. Becak terus!
Fans can keep up-to-date with Thompson's journey at www.becakterus.com , where his GPS will track his exact whereabouts on the map. If you would like to help him raise more money than his previous run from Bali to Jakarta for charities, please visit: kitabisa.com/becakterus