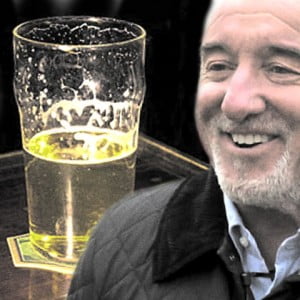 London was not a good place to be selling real estate in the late 80s. It was hard to sell anything in the ongoing financial crisis and even harder to get paid by anyone when you did. We had recently sold six houses in London, but the owner had refused to pay us our commission (see Revenge Served Hot in a previous issue), so my partner Dave and I were literally running on fumes when we got offered the chance to sell the English football club, Sheffield, Wednesday. After some research we put together a deal which leveraged a large parcel of land adjacent to the club that was included in the deal. The idea was that the buyer could buy the football club and the stadium for a certain amount and then sell the adjacent land for development to recover a large part of the investment. A good deal on paper and we managed to get interest from English football legend, Terry Venables. We arranged to meet him one afternoon at the Rivoli Bar at The Ritz Hotel in London for a drink to discuss the deal – a drink we could ill afford in a place we most certainly could not afford. We came up with a cunning plan.
We waited in the lobby and Terry arrived precisely on time with one of his business partners. We watched from behind newspapers as they made their way to the bar, then we followed and lingered by the door pretending to talk on our mobile phones. When we saw Terry ordering drinks, we "hung up" and approached our target at the bar, hands outstretched to introduce ourselves. The plan worked perfectly – Terry introduced us to his partner Nigel and then immediately asked us what we wanted to drink. We looked surprised and said, "Oh that's very kind", before asking for a pint of beer each.
Straight away we told Terry and Nigel that we unfortunately had another meeting to go to in 30 minutes, so we would have to keep it short, and Terry suggested we move to a table close-by where we could talk privately. As we sat down, he started to make small talk and our plan immediately began to go off the rails. Terry Venables is a really nice, down to earth, friendly man and so engaging in conversation that for a while we forgot where we were and why, and, more importantly, we soon forgot our circumstances. In no time we were chatting about life, the universe, and everything, and gulping down Ritz beer like we could afford it. After only 10 minutes I noticed that all four of us had about an inch of beer left and I was struck by panic – we hadn't said anything about the deal yet and they were going to expect us to buy the next round. I shot Dave a look that brought him down to earth and he looked anxiously at the four pint glasses on the table. The conversation faded into the background as my heart started beating noisily in my head. This was going to be very embarrassing. Then, a stroke of luck – Nigel stood up suddenly and said, "Same again, lads?" We were off the hook.
When Nigel came back from the bar I quickly pulled the conversation back on track and we managed to convey our sales pitch. They took their time asking questions and going over the details (as they should), so much so that before we knew it, another 20 minutes had gone by. Terry and his partner carried on gulping down their beer, but Dave and I hardly touched ours. In no time they were left with an inch of beer each in their glasses while ours were still almost full. There was no avoiding the next round. I put our Plan B into action. In mid-sentence I suddenly stopped and fumbled to get my Motorola Brick (Google it) from my briefcase, pretending I had heard it ring. I excused myself and walked away from the table, pretending to have a conversation and making apologetic noises while looking at my watch. I went back to the table. "Dave, we're going to have to go. They're waiting for us in the board room." Dave looked at his watch. "Damn is that the time?" We made our excuses, gulped down our beers and promised a follow up meeting as soon as possible before leaving in a flurry for our "meeting".
We talked to Terry several times after that, but he didn't buy Sheffield United. At least he bought us a drink.