In August, children from Soul Surf Project Bali proudly presented an exhibition at eco-friendly Little Tree, Sunset Road. They teamed up with orphans from Widhya Asih orphanage in Dalung and the Bali Life orphanage in Ungasan after they showed interest in collaborating. The exhibition displayed REformed pieces of art, and was supervised by Dutch artist Tamanisha Macalonie, with help from Belgium artist Alex Fabry and Indonesian/English artist Wahyu Kelsall. An interesting and exciting cultural mix for the kids who attended the workshops.
Children worked hard on their concept, which was based upon the famous 3Rs (Reduce, Reuse, Recycle), and titled REform! The exhibition showcased creative works made from reused and recyclable waste materials, obtained during beach clean-ups and supplied by Bali's great trash and recycle pick up service Eco Bali; resulting in an astonishing blend of waste, transformed into art.
REform is an initiative of Soul Surf Project Bali, which was created six years ago to protect the environment and to support underprivileged kids in Bali. With the combination of lessons about nature and surfing as a reward, kids at Soul Surf Project Bali understand the importance of respecting nature's elements. I caught up with Soul Surf Project Founder, Rodney Westerlaken MA, BEd, to discover more about their environmental awareness programs and turning waste into compelling, beautiful and sometimes challenging works of art.
"We will start our environmental awareness program next month, in addition to our existing program to reach out to orphanages situated further away. Together with Bali Kids orphanage, we wrote a special book for this purpose. Because we teach Indonesian children about the effects of global warming, the results of trash in the oceans, the consequence of trash in waterways, their awareness on these issues is improved and kids are happy to care for their environment."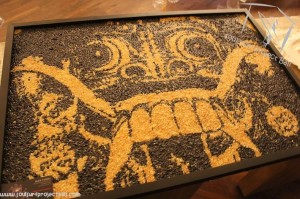 Dutch artist Tamanisha Macalonie is a socially engaged artist from the Netherlands who, according to Westerlaken, was inspired by the work of Soul Surf Project Bali and saw a connection between making art and the children.
"I hope that young children see themselves as global citizens and therefore find it natural to contribute to a better environment for everyone so that they have a worldview and they can make a difference," says Tamanisha. "I think art and sports are eminently suitable means to achieve this because they fit into the world of children and are international."
Tamanisha commenced the first art workshop in a series of ten given to the children of orphanages. She did not want to use chemicals, so chose techniques of ironing, cutting and knotting, thus creating a painting by weaving with several layers of plastic or natural materials, such as leaves.
"In the first workshop, we started making a painting from plastic. We will create a big artwork, which consists of many individual artworks of the children," says Tamanisha. "After showing the children some examples, through teamwork we make one large painting and children with their supervisors, start to create."
The paintings that were created have a complete new structure without adding anything extra. The children use leaves or colourful plastic to add colour, bringing more depth by working with many layers. The kids got really creative and created the most beautiful pieces from the island's 'trash'. It was amazing to see kids become so creative in finding pieces of plastic to make their artwork.
"I've never seen the kids work with so much concentration. A little music, a giant amount of plastic, laughter and lots of creativity! Some kids worked figuratively, searching for recognizable images to use in their work. Others designed their own images by combining plastic shapes and forms in original ways."
Belgium artist Alex Fabry is a long-time volunteer for the foundation and residing in Bali, where he designs jewellery and makes art from mainly organic materials. Alex is sometimes a guest at Soul Surf Project Bali's workshops that are part of their environmental program Lingkungan Bersih. In his lecture he tells children about his work and his vision about recycling.  It was very inspirational for the children to see how his work is created, and how he uses his materials.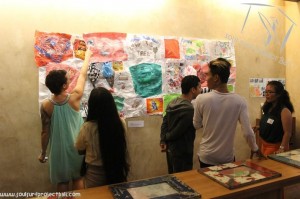 "My work is about the unawareness of mankind and pollution is a part of that," explains Alex. "The children were involved in making their own artwork made from rubbish they personally collected. Children are the future, and with every small effort of many, we can do big things. Bali is a beautiful island and together we must keep it that way. But there is a long way to go before we change mentality regarding plastic, rubbish in the streets and ocean, and burning of plastic."
Yanti, a trainee of SSPB, presented the program in Indonesian to the group of 18 boys and girls at Little Tree. Yanti did a great job of introducing and explaining the topic of organic and inorganic waste to the kids. Everybody had a lot of fun playing a waste-sorting game from the program. One of the important things the kids learned was that by protecting nature you are also protecting your health.
The kids did a great job in highlighting the problems of pollution and they had an opportunity to create their own 'waste superhero' out of rubbish. The results were awesome, as you can tell from the artwork by Mus, Putra, Martha and Ayu!
"Pinocchiooo was a bad guy in the past. He threw his rubbish into nature and he was lying about it, so his nose grew very long. Now he knows that this behaviour was wrong and he is trying to do the opposite. Now he is taking care of rubbish. He also really wants to have a shorter nose again. When he reaches his goal, he will get a 'Super Cape' with which he can fly. Then he will turn into a really great superhero."
For more information about the environmental program 'Lingkungan Bersih', email Rodney Westerlaken: [email protected]