"Carry original documents with you."
At 3am on the Sunday morning of June 5, the South Jakarta Immigration Office held another raid on the popular entertainment street of Blok M.
A total of 19 expats were arrested and taken to the Immigration office at Jl. Mampang/Buncit in South Jakarta. Among them were a few that possessed a copy of their KITAP and a KTP. So, what did these expats actually do wrong? Nothing, really!
They were only precautious and instead of carrying the original KITAP, used a laminated copy, as many expats do.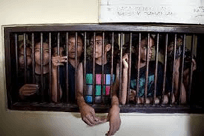 Nevertheless they were all arrested (because of not processing an original KITAP) and forced to complete a joyful evening in a depressing room at the Immigration Office – together with 18 others! As it was in the middle of the night and many were more or less in some state of lesser awareness, many fell asleep on the floor. An experience any expat will not forget easily.
The expats were asked to arrange someone to bring in their original KITAP. They did so the same morning after which they were allowed to go, but only under the strict notice that they had to present their passports the next (Monday) morning. As law abiding citizens, they did, but the ordeal was not over yet. They were interrogated and sent home to come back on Tuesday again. They were ordered to sign a police investigation report (BAP) and to come back again on Wednesday to discuss the fine.
The intriguing question pops up: Why did Immigration arrest them in the first place? Were they allowed to do so?
Article 71 of the Immigration law no. 6 of 2011 is the basis on which the Immigration officers will justify their actions, in this case under section b).
Article 71
Each Foreigner residing in the Territory of Indonesia is required to:
a). (…) or
b). show (produce) and submit (hand over) his travel document (Passport) and Stay Permit (Kitas/Kitap) if requested by immigration officers on duty in order to supervise Immigration control.
This is very clear:
One is obliged to show his passport and KITAS/KITAP when asked by an Immigration Officer.
If you fail to do so article 116 is the next legislation that will be handled.
Article 116
Each Foreigner who is noncompliant with (does not perform their obligations as stipulated in) Article 71 will be convicted (or shall be punished) with a maximum confinement of 3 (three) months or a fine of up to Rp.25,000,000 (twenty five million rupiah).
Also very clear:
If you cannot show your passport or KITAS/KITAP you will be convicted. Maximum 3 months jail or maximum Rp.25,000,000.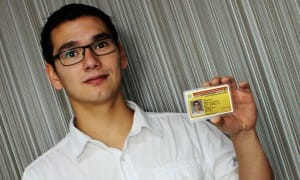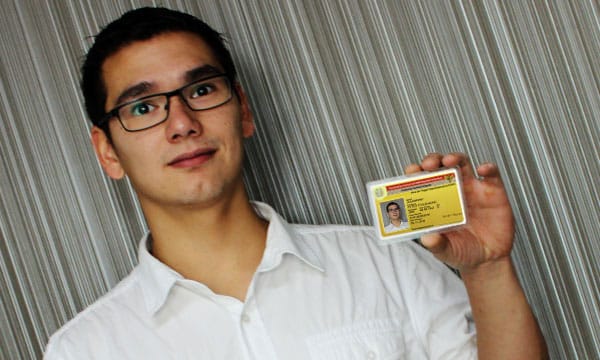 In the interpretation of these Immigration officers, not carrying your original passport and KITAS/KITAP is against the law and should be punished. This strict and one-sided explanation of the law isn't necessarily correct. Reading the law it says that the foreigner must show or produce his passport and stay permit. It is not written when you have to produce it and hand it over. Many expats will have experienced that if you don't have your original documents on you, you will be asked to show it later or the next day, which is common practice and very much acceptable. Many expats carry copies to prevent loss of the original and going through all the hassle and dazzle again to obtain those documents. Is this wrong? Yes and no, since the law doesn't stiplate that you must carry originals with you.
What to do?
That is where we stand. Now we have a few options and each expat should decide for him or herself which option best fits the situation. The best:
1. It is a ridiculous act and against the law. Hire a lawyer.
Enough stuff to discuss, and many lawyers (with knowledge of Immigration – don't go to a criminal lawyer as you didn't commit a crime!) will see an interesting case in this and bring it to the phase of complaining. First internally with the Ministry of Justice, the Department of Immigration, and if there is no success, further to an administrative court. One winner for sure, the lawyer handling the case, as his fees will surely raise to the heights of the maximum amount of 25 million.
2. Be smart, stay cool and relaxed. Do it yourself!
Handle it all yourself and stick to your point, mainly based on what is written above, regarding the use of a copy. Show and handover (which is producing!) the passport and KITAS/KITAP and await the fine which will be imposed on you. If you don't get angry, no jail time will be discussed, just a fine. You can try to reach an amicable settlement and probably pay less than the 25 million.

Be careful and don't consider to call this a bribe or extortion or seeking Lebaran money. No, the officer can give you a fine up to 25 million. If you ask him for all kinds of reports and proof of payment, the amount likely will be higher.
3. Be still smart. Go to a formalities agent.
An agent will immediately go for an amicable settlement. An agent most likely will try to grease the wheels of the system and see where more oil is needed. He may try to limit the irritation and inconvenience inflicted on you. Most agents have experience with these kinds of Immigration actions. Raids in bars and other entertainment places are not seldom practiced. Of course, the agent will ask a fee, but as a guide we mention that Rp.5 million for the agent is a fair price for cases like this. Just to give you an idea.

As some Immigration Offices are getting stricter on expats, we would suggest that you keep your original KITAS/KITAP with you to prevent issues. You can show your passport the next day. However, if you want to be sure to never face a situation like this one, take the passport with you as well.
Like always, we point out that the decision lies totally with the expat. This article is just to shed light on the sometimes undisclosed and sinister world of Immigration.