Navigating life abroad, whether embracing a new culture, discovering local treasures, or forging friendships, presents both joys and challenges. The ease of expat living varies depending on the destination.
Internations, the world's largest expat network, recently released its annual Expat Insider report, ranking countries based on 56 aspects of expat life, including the cost of living, housing, and internet access. More than 12,000 expats from 171 nationalities in 172 countries responded, creating a diverse and sometimes unexpected list.
To gain insight into what makes expats feel at home and allows them to thrive in these top-ranked countries, the list is based on the residents living there.
The Quality of Life Index encompasses five subcategories: Travel and Transit, Leisure Options, Healthcare, Environment and Climate, and Safety and Security. Expats rated 21 factors on a scale from one (very bad) to seven (very good). In 2023, 53 destinations with at least 50 respondents each were included in the ranking.
Here are the top 10 and bottom 10 countries:
Top 10:
Spain

Taiwan

Finland

UAE

Austria

Singapore

Portugal

Switzerland

Luxembourg

Denmark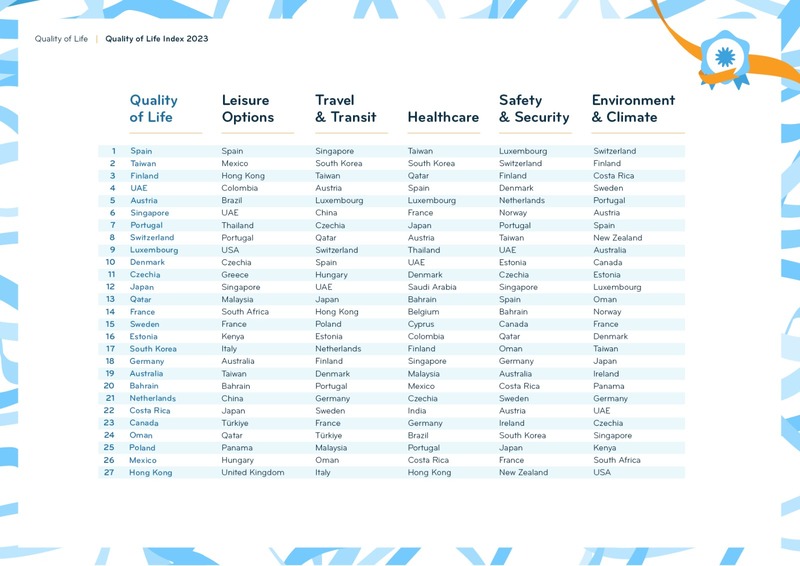 Bottom 10:
USA

Kenya

Ireland

Vietnam

Philippines

South Africa

Indonesia

Malta

India

Kuwait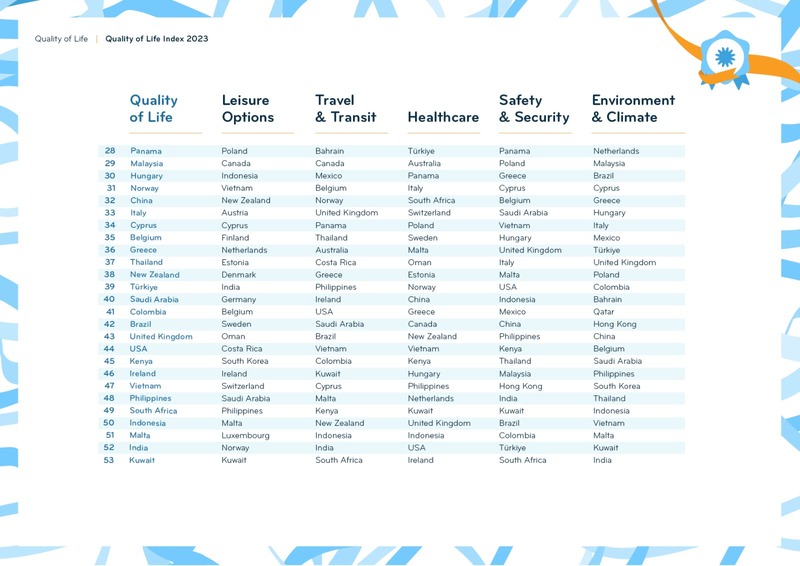 Four Asian countries (Indonesia, Philippines, Vietnam, and India) find themselves in the bottom 10, primarily due to environmental and climate issues. Here are the reasons why Indonesia is ranked 50th in the Quality of Life Index:
Environmental Challenges: Indonesia faces various environmental challenges, including air pollution, deforestation, and issues related to waste management. These factors can negatively impact the quality of life, especially for expats who may not be accustomed to such conditions.
Climate Issues

: Indonesia has a tropical climate, which can be hot and humid, and it is prone to natural disasters like earthquakes and volcanic eruptions. While some expats may enjoy this climate, others may find it uncomfortable or challenging.

Air Quality: Air pollution is a concern in many Indonesian cities, particularly in densely populated areas. Poor air quality can have health implications and affect the overall quality of life.
Infrastructure

: Infrastructure development, particularly in terms of transportation and waste management, can vary significantly across different regions of Indonesia. Expats living in areas with limited infrastructure may face challenges related to travel and services.

Natural Disasters: Indonesia is situated in the Pacific Ring of Fire, making it susceptible to earthquakes, tsunamis, and volcanic eruptions. These natural disasters can disrupt daily life and pose safety concerns.