Icha stands patiently, arm outstretched, hoping for a ride to Monas, Kota or another part of Jakarta with the hope that she will meet a generous person who will part with more than the 20,000 Rupiah she expects as a minimum fee.
At 27 Icha is a very young mother of two children. Having given birth at the age of thirteen, the eldest is 14 years of age and the other is eight. She divorced her husband two years ago after a very difficult marriage and now lives in Prapanca with her two daughters.
Icha did not attend high school, as her parents were too poor to support her so she is determined to continue to pay the fees so her eldest daughter has some hope for the future. Icha's dream is to get a job as a receptionist in a hotel but never gets to the interview stage due to her lack of skills and education – a huge barrier.
I got the feeling from talking to this honest woman that she would make a fantastic employee with a very positive attitude if only someone would give her that opportunity.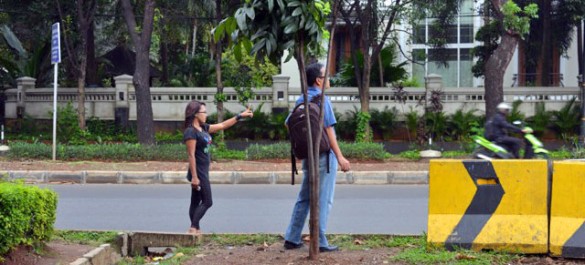 The Jockeys typically work five days a week from 7 – 10 am and 4.30 – 7 pm, however it is a very competitive pastime and some days they do not get a ride.
The income of around Rp.800,000 per month makes it very difficult for Icha to cover her rent and food bills, however, somehow she manages, which gives a good indication of her determination and resolve.
She feels vulnerable at times and has had some bad experiences in the past, but most of the time the people that pick her up are courteous and kind.
Occasionally the police do come around to check ID cards but generally leave them alone, even though this practice is illegal.
To me the Jockeys of Jakarta are a great example of entrepreneurial spirit, working on the edge of the law but providing a much-needed service to those commuters needing to get across the city in a timely fashion.