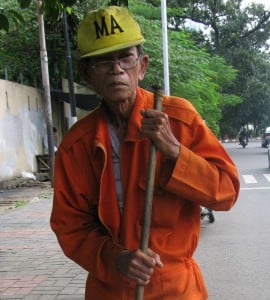 On a sunny Wednesday morning in Kebayoran, Edi Sukandi is going through the motions. His dark wiry arms work without thought. He looks off into the distance at the sound of a car horn before lowering his head and focusing on the road again. Then like a pendulum, his traditional broom swings and lifts withered yellow leaves and bright plastic juice cups into the same pile.
The intricate lines Pak Edi Sukandi makes in the dirt that collects along the gutters of Jalan Gunawarman look more like a single path drawn in a sand garden than the wake of a cracked wooden broom held together with a barrage of aging rubber bands.
For the last 26 years, the father of six has loyally hit the streets of Jakarta broom in-hand with one thing on his mind: keeping the city clean. Jokowi owes this guy a handshake.
Edi, who scratches his head and chews his lip before settling on being 58 years old, takes to the streets every morning, walking the same route, starting on Jalan Patal Senayan just before 6 am and ending his day along Jalan Gunawarman as the sun begins to set on Jakarta.
Meanwhile, Edi has seen plenty over the years. He's watched the city grow and change. For example, when he started working for the city he swept up more leaves than anything. But now as the city grows in leaps and bounds Edi finds himself cleaning up plastic wrappers and bottles rudely discarded by lazy drivers leaving Edi shaking his head at progress.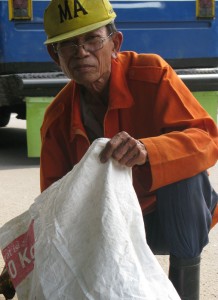 The Sukabumi native says he's never considered another profession because he sees himself as an everyday ambassador of Jakarta, working outside, keeping the Big Durian clean, helping the image of Jakarta with every sweeping motion.
"I'm never bored," he says. "Being out here gives me time to think and it makes me happy to know I'm making the city look nice so people can enjoy it."
Plus, Edi says with a smile, every motion of the broom in his hands means he's making money.
But we all know men like Edi aren't in it for the money. He takes pride in what he does. It means something to him that he keeps the city clean. It should mean the same thing to us.
So, if you see Edi along Jalan Gunawarman, give him the right-of-way. Better yet, roll down your window and thank him. He deserves it.