I met Yuningsih in the middle of Ramadan. Business had slowed down considerably for Ungingsih, due to the fasting month however, there was little sign of any concern as she went about her not-so-busy day with a smile on her face and a placid calmness. I got the impression this 37 year old lady really loved her work.
In a normal day Yuningsih makes 30-40 bowls of Bakso, a delicious (complete) meal that keeps the people in her kampung happy and content. Working seven days a week from 10 am to 8 pm there is little time for rest, but I could see she really enjoys and indulges in the social aspect of her job and takes delight in entertaining the many children who pass by on the way to school, including her 14 year old daughter who attends the local high school just 30 metres from her Bakso cart.
So what is in Bakso and why is it so delicious?
Firstly, Bakso is the Indonesian term for meatballs and was introduced to Indonesia by Chinese merchants many years ago. It is very popular throughout Southeast Asia, especially in Vietnam.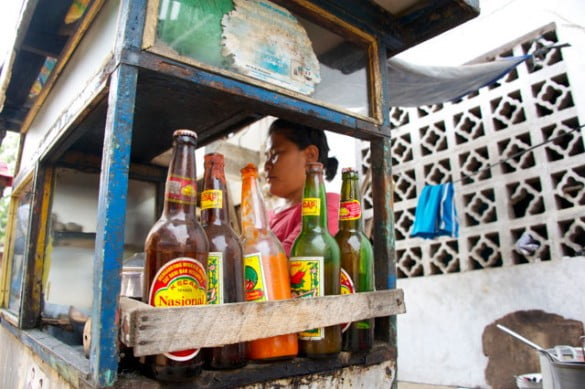 In Yuningsih's case her Bakso contains hot water, beef, tofu, various spices including garlic, pepper, seasoning (msg) and noodles. She sells her Bakso for Rp.5,000 per bowl and is very proud of her creations.
"I pay a little bit extra for my beef," Yuningsih explained, "I source the best places to get the best quality meat. It is very important."
Her husband, also born in the same kampung, helps out with selling Bakso and also works at a small store in Mangga Dua. They seemed to me to be a very contented and happy family, secure in their jobs and strong in their Muslim faith.