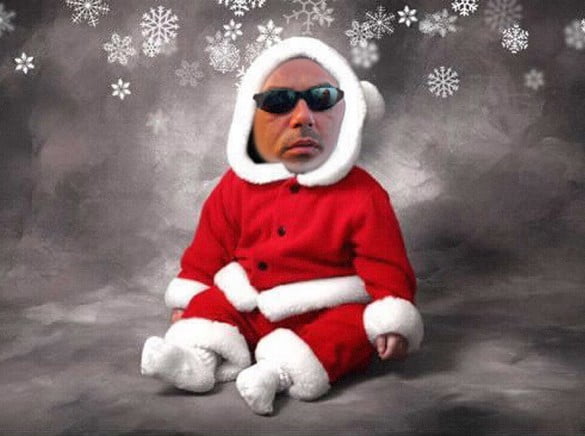 Guys, I am back to my grumpy old self. In the last article, "Solution to the Global Crisis", I tried to be serious and it was basically a disaster. So let's get back to my basics, which means making you laugh with my grouchiness.
Christmas is coming very soon. For many of you, it signifies family quality time surrounded by presents, happiness and relatives. But for me, I never really understood this mess. I always had the feeling that it was a big lie. Let me explain.
When I was four years old, when my mum started to make us build and decorate the Christmas tree, I had already some serious doubts about the existence of these guys (both Jesus and Santa Clause). First she told me that we were building the house of Jesus, this kind of fake plastic cave under the tree that we call "Christmas crib" and where all of Jesus' family is living half naked and surrounded by a mini zoo. First, I asked my mum why all these people inside the cave looked like Mohammed, Rachida and Ahmed and not like my sister and me. She told me that Bethlehem was situated in a very hot place where some Arabic people were living. Honestly, I was more and more confused. What was the connection between a guy in North Pole building my electric train and all these Arabs in this tiny cave under my Christmas tree? Finally the only answer I got until now was, "Seb, why the hell do you always ask so much questions? Just spray the fake snow on the tree and shut up."
So, at the age of five I was already not sure at all. Maybe I was already very intelligent or not easy to be tricked. So, for the 1977 Christmas, I decided to not sleep and to wait for this bloody old guy dressed in his red pajamas. I had some crucial questions for him. I remember that our big house was very quiet and I waited for my sister to fall asleep to escape from my bedroom and sit down next to the fireplace in our living room. Everybody was sleeping. I was sure that I would finally talk to this old guy and that he would explain to me clearly if he was a cousin, or the boss, or I don t know, of the Arabic tribe made of terracotta at the bottom of my tree. I was a young kid and of course I fell asleep, but in the middle of my sleep, I was woken up by some strange noises. My heartbeat went from 0 to 500 pulses a minute. He was coming! Finally I would be the one who had spoken to this guy. At first I was a bit surprised that the guy entered through the door and not though our giant chimney. Then I saw a very strange form or shape in the dark, walking in the direction of the tree. This guy didn't seem that old, but at least something was true; he was carrying tonnes of stuff in his arms. Until that moment, I was quite amazed and excited.
But then the guy went straight to the floor lamp and lit up the entire living room. I stood up and just jumped from being 5 to 35 years of age in a matter of seconds as I could see my dad in his underwear carrying a bunch of stuff. I just said, " Papa," and he fell down badly on the floor with all the presents. He looked at me and was furious. He just said, "What the hell are you doing here Seb?" And I replied, "Waiting for Santa Claus, Dad."  He suddenly went from being an angry man into a smooth middle age guy who had been caught with another woman by his wife. He came close and sat next to me. "Seb, Santa Clause is overly busy right now and couldn't deliver to everybody on time, so he asked me to help him a bit. He left the presents in front of the living room door."
My dad seemed very satisfied with his explanation. To be nice to him I said, "OK."
I left the room and that day I knew that I would never believe again my mum or my dad. The next morning we opened all the presents at around 7am. My sister was super excited, but not me. My parents looked at me the whole 'present opening time', their eyes saying: "If you say one word to your sister, you will be punished for the next 20 years!" So I shut up and I pretended to thanks Jesus, Santa Claus, the deer, the cows, the sheep, Maria, Joseph and all the tribe. But that day was certainly the beginning of my super grumpiness.
Every year, my lovely dad asks me if I will join with the entire family to celebrate Christmas and every year I reply with the same answer. "Sorry Dad, cannot. I have to help an old friend of mine here to carry some stuff under a tree!"
Merry Christmas!