If you've ever participated in a creative fundraiser in Jakarta, the chances are you've run into Scott Hanna. We meet the man himself to find out how he is able to juggle his busy work and family life with his passion of helping others.
The cacophony at the Hanna household usually kicks off at around 5.30 in the morning. Scott and his wife Irene are the proud parents of two beautiful girls, who have to be ready for school and out the door before 6.45am. Early morning conversations with his daughters include observations like, "How is it a see-saw if it is not from the sea and has no saw?"
Then it is off to the office forScott, while his wife heads to CrossFit, the high-intensity strength and conditioning programme that has swept Jakarta, and most of the world. The family's commitment to the gym means that the Hannas don't normally return home until 10pm. Irene runs the gym, with Hanna helping out where he can – and the last class ends at 9pm. For Hanna, who works in the mining industry, the last waking hours of the day are usually spent reading and responding to emails coming in from the US, and making sure homework is done and the girls are ready for school the next day.
And while it is not uncommon to find a corporate executive interested in philanthropy, Hanna's commitment to coming up with creative approaches to get people excited about supporting charitable causes stands out. From a founding role with Drive Books, Not Cars—Jakarta's only pre-loved
English book sale for charity—to taking a face-first leadership in Pies in the Face—a fundraiser where volunteers pay to throw pies in organisers' faces—his view is that, while standard donations are great, a more lasting way for raising funds is to give the participants an experience that makes them feel immediately satisfied. Even the more traditional Dylan "charity workout" at Bengkel Crossfit takes an innovative approach to broaden appeal by partnering with #BakeADifference, a bake sale featuring the city's finest sugary treats to entice a group that might not want to sign up for gruelling exercise.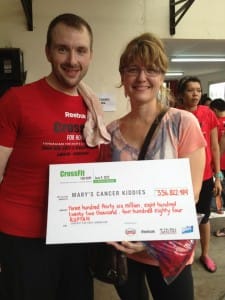 But how does Hanna balance charity work, the girls and his commitments at the gym?
"I think the first step is to accept you cannot do it all," says Hanna. "You realize you won't make every recital, because there are times when work matters require immediate attention. You concede that you won't destroy your career if you stop spending Sundays reviewing every analyst report on commodity futures in painstaking detail. And, while watching barbells bend is one of my greatest passions, I have to be disciplined that putting food on the table and quality time with my girls have to always come first."
Hanna, who hails from a small town in North Dakota, admits that 10 years ago he would have never imagined himself settling in Indonesia, let alone running around Jakarta, trying to get from the gym to a parent-teacher conference.
"I did my first graduate degree in public policy with the intention of working in Washington, D.C.," he says. "I didn't specifically study Southeast Asia or mining, however I sent off my resume to Freeport on a bit of a whim, wound up with a great job offer, and found myself on a plane to Papua only a few months later. For most of the world, and perhaps especially Americans, Indonesia is an unguarded but unexplored secret: a massive country with a huge, diverse population and incredible economic potential that almost no one pays attention to. Like most everyone else, I knew very little about Indonesia before I came here, but quickly fell in love—with the country and a woman—and decided to stay."
When Irene's younger sister tragically passed away, the couple decided to adopt her daughter Erica and start a family, blessed with the unexpected news of Irene's own pregnancy only days later. Romantic getaways, Hanna says, gave way to family holidays almost overnight. Second only to the office and school, Hanna explains that the family spends more waking time at Bengkel CrossFit than they do at home.
"While my wife has earned perhaps the world's most prestigious MBA along the way and I treasure my daughters' exposure to healthy, active lifestyles, we never planned to have such involvement," Hanna explains.
More broadly, Irene initially planned to support bringing CrossFit to Jakarta, until unexpected and challenging circumstances led to Irene becoming the majority investor, taking over management to preserve a project the family fell in love with.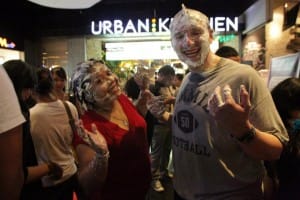 Beyond all the sweat and family hugs, Hanna is an avid community volunteer, opening the family establishment and his heart to a number of local fundraisers and charity initiatives.
"From coaching pee-wee football to AmeriCorps in an underserved inner-city elementary school, I've always been involved in volunteering to help kids," says Hanna, "but what has been really exciting is brewing up creative approaches to support these causes so that we all stay energized and ask ourselves 'what's next' after every event."
His next charity event is the third annual Dylan Tribute Workout, which is in memory of a young man taken before his time. In that spirit of sacrifice and in honour of Dylan's family's decision to Donate for Life to save the lives of other children, they named and completed a "Hero" workout in Dylan's name, which took place last June, and are committed to making it an annual tradition in his remembrance.
Bengkel CrossFit will be raising funds to help obtain birth certificates for underprivileged children in Indonesia, and raise awareness about this issue. The latest research shows that an estimated 60% of Indonesian children under the age of five don't have a birth certificate, perhaps as many as 24 million kids. Without birth certificates, these children are denied access to education and medical treatment, essentially being served a life sentence of being stuck in the poverty cycle.
In addition to the Dylan Tribute Workout and Pies in the Face for Charity, Hanna takes part in, if not runs, countless other creative volunteering activities. He is involved with Murph Challenge Workout of the Day, where participants run a mile, do 100 pull-ups, 200 push-ups, 300 squats and then run a mile again, with all the proceeds from the workout going to veterans and the Murph Foundation (in memory of a Navy SEAL); and he pioneered Jakarta Movember, a yearly event where moustaches grown to raise awareness of testicular cancer are auctioned and shaved off for cancer charities. Scott Hanna has also helped to raise funds for children's cancer charity, Mary's Cancer Kiddies, and Taman Bacaan Pelangi, which raises awareness for literacy and libraries in eastern Indonesia and serves as a sorting venue for Drive Books, Not Cars.
To get in touch with Scott Hanna, email [email protected]