American writer and social activist Helen Keller once said that "Life is either a daring adventure, or nothing at all."
And for six Red Nose Foundation students, all of whom are underprivileged kids living in Jakarta's urban slums, travelling to Europe to take part in an international arts festival is, by far, the most daring adventure they have ever had in their young lives.
After weeks of frenzied preparations, the six Red Nose kids, along with Red Nose's Artistic Director Dedi Purwadi, finally left Jakarta for Wroclaw in Poland on June 18. The six kids are Harisal (13 years old), Kristina (13), and Ida Laila (15) from Cilincing in North Jakarta, and Rizal Herdiansyah (12), Maulana Akbar (14), and Rizki Fauji (14) from Bintaro Lama in South Jakarta.
The kids took part in the Brave Kids International Arts Festival, which began on June 20 until July 13. The three-week festival was filled with kids teaching kids, building shows together, and performing for hundreds, if not thousands, of people across Poland. By the time the festival ends, it was truly a wonderful experience that these children will never forget.
"The trip so far has been wonderful," Dedi wrote from Poland. "We've met so many new friends from many foreign countries. They are all very friendly. We never feel like strangers in a strange land. Instead, we feel like really close friends meeting face-to-face for the first time."
The festival is mainly held in four cities across Poland. Dedi and the Red Nose kids stayed in Wroclaw with friends from other art troupes from Bosnia-Herzegovina, Ghana, Romania, and Russia. Three other cities across Poland, namely Warsaw, Pusczykowo and Walbrzych, hosted other arts-based groups from countries as diverse as Zimbabwe, India, Iran, Uganda, and Brazil. All in all, more than 100 children from 17 countries participated in the festival.
During the festival, the Red Nose kids performed juggling tricks, plate-spinning, and also some tricks using flower sticks, Chinese yo-yos and poi. Dedi said that for the kids, personally, these are more than just simple circus tools.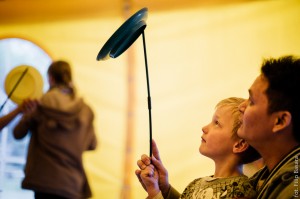 "By managing to execute particularly difficult circus skills using these tools, and gaining appreciation from their friends and the audience during performances, the children will be able to gain self-confidence and courage," he said.
According to him, the children would also learn about teamwork and how to gain complete trust from their friends through performing circus tricks that need more than one performer to execute.
"Now, imagine gaining all of that in front of an international audience in an event held in a faraway country. Each time the audience gives thunderous applause, the positive impact on the children's self-confidence will be tremendous. They will obtain a sense of achieving something that they previously thought was impossible," he explained.
However, Dedi acknowledged that travelling to a faraway land is not without its problems. One of the most visible issues the Red Nose kids are facing in Poland is the language barrier. However, this never hampered their high spirit and joyfulness.
"Of course, the language barrier is there. But the Red Nose kids are always making their best effort to communicate with the other children," Dedi explained. "When all of us are scratching our heads trying to find the English word we want to use, body language is always the best thing to go with!"
The Red Nose students also share Dedi's sentiment in finding a great time with their new friends.
"Travelling to Poland is really awesome," Kristina said. "Even though I miss my family back home, my host family in Poland is really nice. We play around together and laugh around all the time. They really make me feel comfortable being so far away from home."
"On our first days in Poland, our host families brought all six of us to a beautiful park on a hillside for a picnic," Maulana said. "It was so much fun. We played football and flying fox with the families' children. I even showed them my skills with the fire poi we brought from Indonesia. My Ghanaian friends brought their traditional drums and I tried to play them a little bit. Afterwards, we ate some grilled sausages and apples and, one our way home, we bought some ice cream."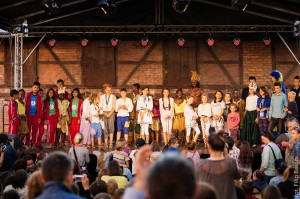 After spending two weeks in Wroclaw, the group moved to Krosnice, where all groups from the 17 participating countries will gather for the last week of the festival.
"We will hold a massive joint performance with all 17 participating countries in Krosnice. The kids are so excited because it will really be awesome. We will perform ball-juggling and ring-juggling in the joint performance," Dedi said. According to him, a similar joint performance was held in Wroclaw between Red Nose and the other arts groups who stayed there. "We mixed our circus performance with art performances from our Bosnian, Ghanaian, Romanian, and Russian friends and that alone was amazing. This is why I really can't wait to see the massive joint performance in Krosnice."
Brave Kids executive producer Charles Golaj said in a press statement that the final joint performance aims to show everyone that "We do not need to speak in one language and come from the same culture to be able to communicate. Brave Kids uses arts as a tool to facilitate the establishment of intercultural dialogue and understanding differences. It's also a chance to help children who are facing devastating limitations in the countries."