Each year, thousands of volunteers take to the streets of Jakarta to clean up the city in a mass effort to raise awareness of the importance of caring for our environment
On the morning of Sunday, October 8, Jakarta's citizens carried out the Indonesian tradition of gotong royong by picking up rubbish and cleaning up the capital together in the fifth annual 'Clean Up Jakarta Day'. The aim of the annual clean up is to educate people about the detrimental effects of littering, and groom responsible and environmentally concerned citizens.
Born in 2013, last year's Clean Up Jakarta Day gathered 20,000 volunteers at 53 locations around Jakarta. Volunteers showed up at the crack of dawn to get their hands dirty, showing that the spirit of teamwork (gotong royong) is still very much alive.
This year's clean-up was bigger, with an estimated 30,000 volunteers joining together at approximately 70 locations to raise awareness of Jakarta's rubbish and littering problems and the importance of recycling.
"Clean Up Jakarta Day plays the role of a platform for all the communities out there to join together on one special day," says Angela Richardson, Founder and Chief Coordinator of Clean Up Jakarta Day. "Many great organizations run their own clean-ups throughout the year and we call on all of them, including schools and companies, to join forces on one day, with one united voice for a cleaner capital."
The event is supported by the Ministry of Sanitation (Dinas Lingkungan DKI Jakarta), the Ministry of Education (Dinas Pendidikan DKI Jakarta), as well as by many ambassadors, including rock band Slank, news anchor and actress Marissa Anita, and presenter and actor Mike Lewis.
"Let's love our city together because when we love Jakarta, Jakarta will love us back," Anita urged the community.
Volunteers of all ages and nationalities, local and expatriate, are encouraged to join in efforts to clean up the city, and celebrities are no strangers to rolling up their sleeves. Last year, TV presenter Indra Herlambang volunteered to clean up at Gelora Bung Karno Stadium and learned a lot from his experience.
"In the space of two hours, I collected as many as 2 kilograms of plastic bottle caps! Such an interesting and valuable event," he said after finishing the clean up.
Another volunteer, Ratna Sivitri, expressed an eye-opening experience, which is shared by most people who take part.
"I never thought I would feel so much from doing something so little."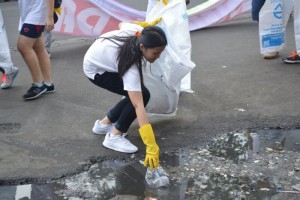 This year's event saw approximately 70 clean-up locations spread across the city, as well as the Thousand Islands. Locations are run by members of the public, from schools, companies to communities, each concerned about the environmental impact of litter and each with the desire to give back to the capital.
Dozens of schools and universities have already signed up for this year's event, and with the Ministry of Education, thousands of national school children will join to clean up the streets around their respective campuses. Businesses are also key players, and this year the likes of Adaro Energy and Grandkemang Hotel have registered their own clean-up sites open to members of the public to join in downtown Bundaran HI and entertainment favourite Jl. Kemang Raya.
Volunteers are educated prior to the big day to separate litter collected into bags of recyclable and non-recyclable material, and the recyclables will be donated to waste banks (bank sampah) across Jakarta via Dinas Lingkungan DKI Jakarta. Waste from sites in Tangerang will be collected by Santa Fe Relocators and taken to Abu&Co., a non-governmental waste management company, who will further sort, recycle, compost and incinerate the remaining waste.
Other cities have started their official Clean Up Days in conjunction with Clean Up Jakarta Day. Clean Up Bandung Day, Clean Up Tabalong Day and Clean Up Banjarmasin Day will also be held simultaneously this year. At the same time, volunteers from Trash Hero and Let's Do It Indonesia will join by running smaller clean-ups at approximately 30 other locations across Indonesia in preparation for a global clean up, set to take place in September 2018.
Clean Up Jakarta Day is made possible by Risco Energy Group and Atlantic, Gulf and Pacific Company (AG&P): a joint venture of AG&P, a global leader in infrastructure solutions and modularized products for the energy, resources and industrial sectors, and Risco Energy Group, an independent, privately owned energy investment company focusing on oil and gas in the Asia region.
Clean Up Jakarta Day is sponsored by PT Adaro Energy and PT Pinang Coal and is brought to you by Indonesia Expat, a free English language publication in circulation since 2009. To volunteer, please visit www.cleanupjakartaday.org For more information, please email [email protected].