Five local Indonesian wooden longline vessels enter Benoa harbour within the space of two hours. They have been fishing for yellowfin and bigeye tuna in the Indian Ocean for the past week and will offload today to a simple processing facility beside the quay, TFK, for export overnight to Tokyo, Japan. It is the third day of the New Year, and the world's biggest fish market, the Tsukiji wholesale market in Tokyo, Japan, will open again on Saturday, 5th of January 2013, two days time. The captain and crew of the boat know that this is jackpot day, the day the highest price will be paid for a bluefin tuna, and are hoping that their fish will also get a good price. And their surprise catch of this trip is a 150 kg Southern Bluefin tuna which, given its size, will have a high fat content and so be very valuable.
On any night of the year there is so much longline laid out by the world's tuna fishing fleets that it circumvents the world five times – that's 200,000 km of longline.
The last batch of fish from the latest vessel to unload this day comes ashore at 17.45. Each fish is inspected for freshness and toro (fat) content. Fish are rejected or approved at this stage, and if approved will be sent by plane to Tokyo tonight. Each fish which is approved is weighed and packed into standard-sized cardboard "coffins".  These are then transferred to a waiting refrigerated truck, which shortly after is speeding on its way to Ngurah Rai international airport where its cargo is set for loading onto the 00.35 Garuda flight to Tokyo, arriving in Narita at 08.45 the following morning.
During this day in Japan, the tuna shipment passes through customs and health checks, is then held in a large chilled storage room, which incidentally handles more tuna than any other facility in the world, before being transferred by road to the Tsukiji wholesale market, Tokyo's main wholesale market for fruit, vegetables and fish. The market opens every morning at 03.00, the trucks unload, and an hour before the auction starts the tuna fish are placed on the floor for inspection by the buyers. The auction gets under way at 05.20.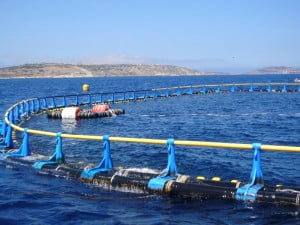 The fish being sold from Bali are now between three to 10 days since being hauled from the warm tropical waters of the Indian Ocean. Before this day is out, it will be on the lunchtime or evening plate of a customer at a Tokyo sushi or sashimi diner.
Back in Benoa, Bali, the crew are nearing the end of their two rest days and are  preparing to head out tomorrow early morning to search for and land fresh sashimi-quality tuna again in about seven to 10 days' time. There are over 850 such tuna longline vessels based at Benoa.
This is the height of the Southern Bluefin tuna breeding season with their spawning grounds located to the South of Java. Though these fish range between the southern half of the Atlantic, Indian and Pacific Oceans, this is their only known breeding ground.
Southern Bluefin tuna is one of three bluefin tuna species which span the oceans of the world. They are valuable, highly migratory pelagic fish. They are all long-lived, have a lengthy pre-maturity period of from 5 to 12 years and virtually life-long exposure to fishing pressure; each stock is slow to recover from depletion relative to other shorter-lived species, including most other species of tuna.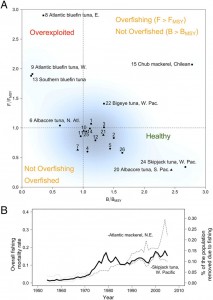 Japanese and Australian fishermen have targeted SBT commercially since the 1950s. In 1961, a peak catch of 81,000 tonnes of SBT was landed by these two nations. The species was initially sold to tuna canneries, but the development of the fresh tuna market for sashimi and sushi in Japan over the past four decades has seen a major shift in the fishing and marketing of SBT and today it is primarily sold into this market.
Despite the global catch of the SBT species being regulated since the mid-1980s, high levels of fishing have caused serious depletion of the adult stock. Scientific studies suggest that the spawning biomass may now be between 3% and 8% of its unfished level, and as a result the species is considered to be "critically endangered" by the International Union for the Conservation of Nature (IUCN).
In 2010, the body which manages only this resource, the Commission for the Conservation of SBT, for the first time in its twenty six year history, unanimously adopted a formal rebuilding strategy to allow SBT to recover to sustainable levels with its members committing themselves to recovering the SBT stock to an interim target of 20% of its unfished level by 2035, with new annual national allocations being adopted in 2011 for the fishing seasons 2012 through 2014. The increase in the global total allowable catch (TAC) was 2,000 tonnes over this three year period. The TAC for 2009 to 2011 at 9,449 tonnes was its lowest ever. Clearly, the managers of this valuable fish resource, primarily Australia, Japan and New Zealand, had consistently failed in their duty to conserve this resource for nearly 30 years. The global TAC for 2013 is 10,949 tonnes, of which Indonesia gets 707 tonnes (6.5%).
Tokyo's Tsukiji Market is the biggest wholesale fish and seafood market in the world and also one of the largest wholesale food markets of any kind. It has been called the fish market at the centre of the world given its importance in setting global prices for a range of fisheries products. Tsukiji market is listed as the number one attraction for foreign visitors to visit in Tokyo by Time Magazine.
This Tokyo market handles more than 400 different types of seafood, weighing more than 700,000 tonnes with a total value in excess of Yen 600 billion/year (US$ 7 billion/year) – equivalent to over $20 million/day. Registered employees varies from 60,000 to 65,000, including wholesalers, accountants, auctioneers, company officials, and distributors.
Tsukiji market holds the record for the most expensive fish sold. For each of the past five years, a bluefin tuna has sold for a new world record price on the first day the market opens after the New Year. 2013 was no exception. "Bluefin tuna sells for record £1 million" – British Newspaper The Telegraph's banner headline screamed.
On 5th of January this year, a Pacific bluefin tuna was sold for a record 155.4 million yen (£1.09 million or US$1.82 million equal to over US$10,600/kg of fillet) – nearly three times the previous high set last year.
The record sale comes as environmentalists warn that stocks of the majestic, speedy fish are being depleted worldwide amid strong demand for sushi.
Japanese eat 80 percent of the bluefin tuna caught worldwide, and much of the global catch is shipped to Japan for consumption. Stocks of all three bluefin species, Pacific, Southern and Atlantic bluefin, have fallen dramatically over the past 20 years amid widespread unreported, unregulated and illegal overfishing including fleets from EU countries and Japan.
"Everything we're hearing is that there's no good news for the Pacific Bluefin tuna also," said Amanda Nickson, Director of the Washington-based Pew Environmental Group's global tuna conservation campaign. "We're seeing a very high value fish continue to be overfished . . . these poor species are being hit from every angle."