Johar Market in Semarang, Central Java, gets through mountains of bawang putih (literally, 'white onion', known as garlic in English) every day. It is the largest market in Semarang city, and garlic is a major commodity there. So what happens to the soft, papery skins discarded from the sorting of so many garlic cloves at the end of each day?
Piles of skins were commonly left strewn on the floors of the market, surrounded by flies. The skins eventually get mixed with other waste, creating a pungent odour, unpleasant for shoppers and stallholders alike.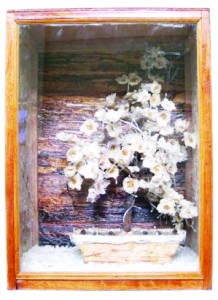 But recently, a team from PHBD UNAKI (Program Hibah Bina Desa Universitas AKI, a student outreach programme), led by 21-year-old Dian Fatmawati, tried to find a solution to the garlic waste problem in the market.
As it turns out, garlic skin texture is unique and quite beautiful. So, the team had the idea to turn it into works of art, calling their enterprise OSCAR (Garlic Sakura Craft): miniature cherry trees!
The skins are arranged into flower shapes and stuck onto dry stalks, creating what resembles a sakura plant. The 'plant' is then festooned with twinkling fairy lights, packed in a box similar to that of an aquarium, and decorated with waste paper, dried bananas, and dried flowers. The walls of the aquarium are made from leftover plywood, with added garlic skin patches arranged to resemble seashells.
These unique and eco-friendly artworks have gone from being waste to having a commercial value. The project creates employment for the housewives of Semarang who create the plants, and has generated interest from several bodies which have awarded grants to the team to keep up the good work, including Toyota's CSR department.
Sustainable, empowering and creative – what more could you ask for?