Celebrating its 3rd anniversary on last October 10th, 2019 Whiz Mate – the loyalty program by Intiwhiz Hospitality Management gives more benefits as a special treatment for the guest who joins to be a member and enjoying staycation experience in all hotel's brand of Intiwhiz:  Hospitality Management; Whiz Capsule Hotel, Whiz Hotel, Whiz Prime Hotel, Grand Whiz, Whiz Residence and Swift Inn.
It is the first time Intiwhiz will organize an event called "Whiz Mate Meet-Up" on Wednesday, 30 October 2019.
This event will invite 30 active Whiz Mate members in JABOTABEK area, media partners and vloggers to watch a movie together at Lotte Cinema. This event is also as an appreciation for the members who's been actively using Whiz Mate application to book the rooms and as a sharing moment of giving feedback for further development of Whiz Mate application.
The series of exciting events to celebrate Whiz Mate anniversary were started on 10 October 2019 with "Treasure Hunt", which invited people to find the hidden Whiz Mate balloon at some areas nearby the hotels. They took pictures with the balloon and upload it on social media to entitle special merchandise and exclusive vouchers by Intiwhiz Hospitality Management. Moreover, redeem points on WhizMate have just become an extra-privileges in October.
WhizMate is offering double points for guests who book the rooms through Whiz Mate application with additional benefits such as late check-out until 3 pm (based on location of the hotel's unit), discounted price for F&B purchase and special merchandise.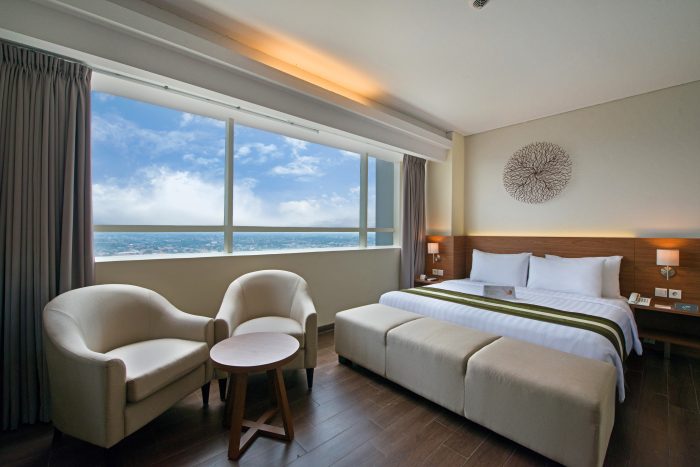 Whiz Mate is a membership program designed by Intiwhiz Hospitality Management to give loyal guests extra-privileges access on special benefits and offers. Whiz Mate can be simply downloaded on Apps Store or Play Store, register email and phone number, and automatically signed up as a member. More privileges after being a member such as F&B discounted price in hotel's outlet, laundry and spa, room upgrade and access to recreational destination that are entitled after stay in the hotels of Intiwhiz Hospitality Management and redeem points.
For more information and to join the membership, please download Whiz Mate application on Apps Store or Play Store or click www.intiwhiz.com and www.whiz-mate.id or contact Call Center on 021 – 571 0099.