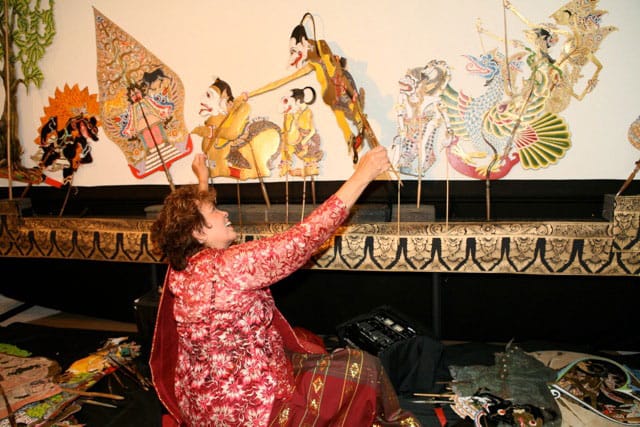 Tamara Fielding was born in 1934 in Cimahi, West Java, in the Dutch East Indies to a Dutch father and a mixed Indonesian and European mother. She grew up in a large house where four generations of her family lived together under one roof. Tamara's privileged and happy childhood came to an abrupt end when Japanese soldiers marched through the streets of Bandung on March 9th, 1942. After spending three and a half years in Japanese prison camps, she and her mother and sister escaped and fled to Holland where she continued her schooling. Tamara studied drama in Paris and appeared in American movies filmed in France. Following her childhood dream, she immigrated to the United States and performed her first wayang kulit show for friends in 1985. Since then she has staged shadow puppet theatre throughout the world. In 2011, Tamara wrote Shadow Princess, a book based on her childhood experiences.
What was your first exposure to wayang theatre?
I learned the art of the dalang, or puppeteer of wayang kulit, at an early age. It was on my family's rubber plantation that I first watched an all-night wayang kulit performance. This almost mystical childhood experience proved to be a great force in my future artistic development and was to ultimately take me onto the international stage.
Can you tell us about your wartime experiences?
With the advent of World War II, my family was torn from our idyllic life and imprisoned in several Japanese concentration camps in Bandung and Batavia. The Japanese were extremely cruel, especially to women whom they expected to be subservient to men, and we suffered horribly. We were sick and barely alive when the war ended on August 14, 1945. But if we thought that with Japan's surrender to the Allies the war was over, we were mistaken.
Did you gain your freedom after the war?
On August 17, 1945 Sukarno was proclaimed President of the new Republic of Indonesia, which signalled the beginning of a bloody revolution for Indonesia's independence from the Dutch. Without protection of the Allied forces who had yet to land troops on Java, the lives of Dutch citizens like ourselves were more endangered than ever. We managed to escape from the prison camp and found refuge on a Liberty troop transport ship leaving from Batavia for Holland. We lost everything.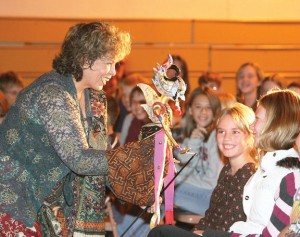 How did you cope with culture shock?
After adjusting to living in an unfamiliar country and assimilating into western society, I managed to finish school in Holland. Although uprooted and separated from my homeland, I never lost my love and passion for the art of puppetry. The magic and stories of wayang were locked inside me. Theatre was my first love. As a young adult, my passion for all things theatrical brought me to Paris where I studied acting and appeared in the American films Lust for Life and Trapeze.
When did you begin studying the art of the puppeteer?
It wasn't until several years later, after I had immigrated to the United States, settled in New York, married and had two beautiful children. Continuing my career as an actress, I realized I had a culture of my own that needed to be exposed to western audiences. I had inherited a few wayang kulit puppets that had been in the family, enough for a short play. Soon the sounds and visions from the wayang plays on the plantation returned to me. I remembered so vividly how the dalang made his puppets dance, love, fight and fly over the white cotton screen. Dalang means puppeteer, "master of shadows," a profession that has been dominated by men for centuries.
When was your fist performance?
I performed my first wayang show for friends at the Unitarian Church in New York. Since then I've returned to Indonesia several times, studying and collecting over 400 puppets. In 1999, I was invited by then President B.J. Habibie to perform at the Pekan Wayang Festival in Jakarta, the only Indonesian-born woman dalang among 50 male dalang.
Do you now make regular appearances performing as a dalang?
I formed my own theatre company TAMARA AND THE SHADOW THEATRE OF JAVA and have presented my show at schools, universities, museums and on cruise ships. I've performed at international festivals in Greece and Brazil. I also do speaking engagements for fundraising events. My hope is that I help people better understand each other through culture and art.
Are the wayang plots adapted to a western audience?
Yes, the stories and plots are the same as in Indonesia; they have the same endings, but I have scripted them in English and they are just a bit shorter to make them better suited for western audiences. I own a complete set of gamelan instruments to accompany my shows with musicians from the Indonesian consulate in New York.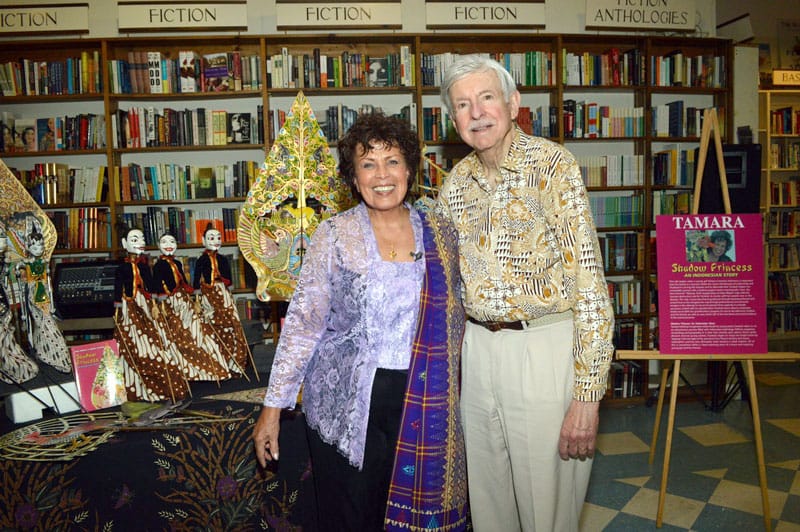 Could you tell us a little bit about your book Shadow Princess: An Indonesian Story?
I have always wanted to write a book. My co-author, Cindy Marvell, profiled me in The New York Times. That's how we met and the idea to write a fictional novel together was born. The book was published in 2011 and launched at the Ubud Writers & Readers Festival in 2012 in Bali. The story, some of which is drawn from my own life, is about a teenager who experiences life full-force during the Sumatra tsunami. Filled with Indonesian mythology, forest spirits and puppetry, this brave young girl makes an adventurous journey in search of her family. Guided by Mouse Deer "Kancil," a mischievous yet lovable character from Indonesian folklore, she is reunited with her grandmother and learns about a long-kept family secret.
What are your future plans?
I will continue pursuing the things I love – art, travel, writing and boating. I own and captain a 33-foot Sea Ray cabin cruiser called Born-to-be-Wild. I like to sit around my fishpond and entertain my grandchildren with Indonesian folktales my grandmother told me a long time ago. It would be exciting to turn my book into a screenplay and into a movie. I have also begun writing my memoirs about my life's experiences during WW II in Indonesia and how the war impacted the lives of all those who have survived in different ways.
How can you be contacted?
Email: [email protected]; website: www.Indonesianshadowplay.com. My book is available at Ganesha bookstores in Bali or from www.Amazon.com.