Charles Choi has a remarkable story in his hotelier career, advancing steadily from waiter and receptionist to the position of General Manager. A passionate leader, Charles shares his experiences of being the first Korean manager in Accor Hotels Indonesia, as well as managing the Novotel Lombok Resort and Villas, where he works today.
Please tell us how you ended up in Indonesia and what brought you over to Lombok?
I joined Accor Hotels in 2009 when I went back home to Korea after spending nearly 10 years in the US and UK and soon I realised that there were a great deal of opportunities in this region as Accor was operating around 100 hotels.
I took the job offer in Lombok without any hesitations as it had been a dream of mine to work as a resort General Manager.
When did the Novotel Lombok Resort & Villas open and can you tell us a bit about its concept? 
We opened in 1997 and the resort has been boasting Kuta's breathtaking nature with convenient and modern facilities. Continuous efforts on renovations and facility updates have managed to maintain the original charm of this unique property.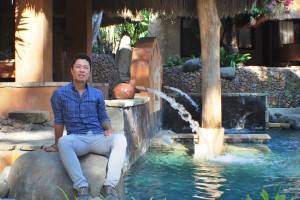 You are the first Korean general manager to be working at Accor Hotels Indonesia. How did this opportunity come to be?
Accor recognises the importance of talent management and developed various personnel development programmes for different levels of the management team. I took advantage of one of these courses called 'GM Pass'. Upon completing the program in 2012, I was searching for an opportunity in a top management position outside Korea and I joined Pullman Jakarta Central Park as Operations Manager in 2013.
 Where are your guests mainly from and what do they expect when they stay at your hotel?
Novotel Lombok's customers consist of a variety of nationalities: Indonesian, European, Australian, Singaporean, Japanese and so on. All of them visit us with the same expectations – quality time with family, friends and partners, and amazing views. Gorgeous white sand beaches and our genuine heartfelt service are all helping us exceed our guests' high expectations.
You've been in the hotel industry for around 15 years now, having worked in the US, London, Korea and Jakarta. What is it about this industry that you love?
In my opinion, happiness comes from a series of positive stimuli and great expectations for the future.
Like other hoteliers, I commenced my career as a waiter and receptionist and I have managed to develop to General Manager. It has been a very interesting journey thanks to these stimuli from continuous growth and achievement. To make it better, I still have great expectations for my future, which comes quite naturally from the accumulated confidence contributed from the all small successes in the past. This is why I believe life as an hotelier is fantastic!
What's been your most memorable moment working as an hotelier?
Having moved from country to country and hotel to hotel during my 15-year hotelier journey, I have been through many goodbyes. My last farewell with the Pullman Jakarta Central Park team was an extremely sad and unforgettable experience with a lot of genuine tears. This kind of experience inspires me to be a better leader and a better person.
What similarities and differences have you noticed between hospitality in Jakarta and in Lombok?
My Indonesian colleagues share a common strength – great smiles! The Jakarta team was full of passion and willingness to exceed guest expectations with very high motivation, while my Lombok colleagues are all hospitality experts fully equipped with enough experience and amazing talent. You might find the people in Lombok slightly rough but their service is 100 percent genuine with a very natural approach.
I've stayed at your hotel and really enjoyed it – I only found the child beach beggars on the beach to be a concern. Can you tell us more about this particular problem and how you have tried to tackle it?
Beach sellers have been one of the main issues of Novotel Lombok since the opening as our guests were not able to relax and enjoy their holidays due to consistent disturbances from the local people. After I joined Novotel Lombok in February 2015, we built a beach selling counter for them and made a mutual agreement beneficial for the both parties. As per the agreement, the hotel is to buy a certain number of handmade bracelets and fresh coconuts from the sellers on a daily basis, as long as they stay inside the counter and do not disturb any of our customers. This new programme has had an immediate impact on our guests' satisfaction as well as a significant increase on the beach sellers' daily income. The beach selling counter has become very popular among our guests.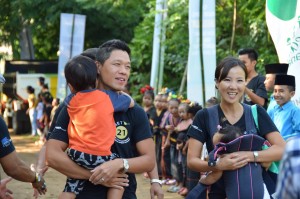 Please tell us some of the reasons to come and visit Kuta Lombok.
You will be surrounded by breathtaking settings tailored by nature and locals who still keep their original ways of life. You might not receive the most delicate service here but Lombok's hospitality comes from the bottom of its people's hearts.
Can you describe a typical day in your shoes?
I am a morning person, opening my office at around 7am and I always try to complete 50 percent of my daily tasks before 10am. Before the morning meeting, I always carry out a daily walkthrough with my PA, Executive Assistant Manager, Executive Housekeeper and Chief Engineer, where I distribute a lot of homework for the day to my colleagues. One thing I do differently from other General Managers is enjoying my own hotel as a guest whenever possible; I always try to have all meals at my restaurant and I try to make room service orders. I swim in my swimming pool
and I take a nap at our beach. I also join aqua aerobic exercises every Saturday and try all hotel activities together with my guests. For me, this is the best way to identify our guests' needs and the areas for improvement – doing is totally different from seeing.
Are there any difficulties you face running a hotel in South Lombok? 
Recruitment can be quite challenging. On the island, there are limited human resources available and it is also not easy to hire people from outside as Lombok is still quite unknown to other islands. Security and cleanliness have been an issue in South Lombok, but recent improvements have been remarkable and the situation is heading in the right direction.
Is there a Korean community in the area? 
There's a very small Korean community in Lombok, consisting of around 30 people.
What do you do to unwind?
I am married to another hotelier. I enjoy talking with my wife to discuss various hotel issues as she has a good understanding about hotel operations, especially in food and beverage. It is a great feeling to have someone to share your concerns and ideas with, especially when you are aware that this person will always be on your side.
Thank you, Charles. 
Update: After a few years in Lombok, Charles and his family moved to Malaysia. He is now back in Indonesia as General Manager of Novotel Bogor/Ibis Bogor.