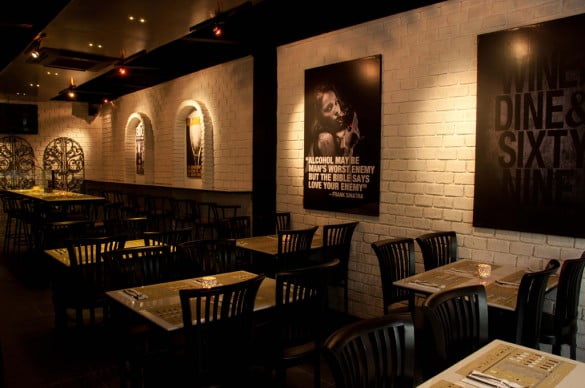 Alcoholics Bar & Grill
Jalan Kemang Raya no. 72N
Jakarta Selatan
021 7195675
[email protected]
If you're trying to wean yourself off the booze, maybe it's better you stay away from this extremely pro-alcohol spot in Kemang which just opened on the 28th of April, aptly named Alcoholics Bar & Grill. Run by duo, Chef Patrick and his wife Judith, they wanted to create something truly unique whereby every single thing served on the menu is cooked with alcohol. Their bi-line? "The only place where you can eat alcohol."
This venue may be small, but it's cozy, made up of two floors; downstairs the bar with a few tables for sitting and upstairs a dining area with a few booths, dining tables and bar-style seating. The interior is black and white with exposed white brick walls, black ceilings, black leather booths and large posters with alcohol slogans such as "Wine, Dine and Sixty-Nine" decorate the walls. The staff are friendly and speak English well.
"I love cooking and drinking," says Chef Patrick, "That's where the idea for Alcoholics Bar and Grill came from." Chef Patrick worked in F & B in Sydney for many years and he created the menu himself by trial and error at home. Judith supported him the whole way and looks after marketing, customers and much more.
So what's on the menu? Their signature Drunken Steak offers you the choice of Sirloin, Rib Eye, T-Bone, Tenderloin, Fillet Mignon and Lamb Chop and you can choose your poison, so to speak, of the infusion sauce: Bintang, Guinness, Red Wine, Brandy or Jack Daniels. Their signature chicken dish, Beer Can Chicken, is a whole rottiserrie chicken literally steamed on a beer can and served with chips, mushy peas and salad. This dish takes an hour to cook at exactly 175 degrees Celcius and a chef comes out to cut the chicken up for you. The menu is not vegetarian-friendly, but you can make requests and something like a Ratatouille can be whipped up for you.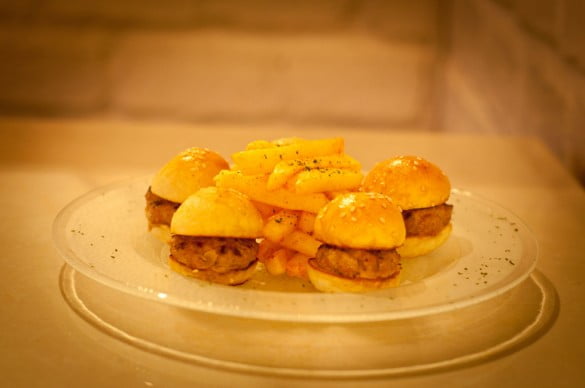 Other creative dishes on the menu include the Guinness Mini Burger which was a real juicy hit, Salmon Tartar with red wine dressing, Brandy Garlic Prawns and Nachos with a zesty tequila salsa. Even the desserts are all made with alcohol. Our favourites were homemade Baileys Ice Cream and the Kahlua Chocolate Mousse.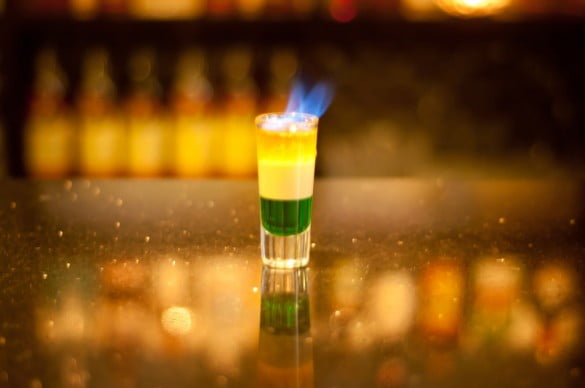 Ok, so you can't actually get drunk off of food that's been cooked with alcohol, but you certainly can off their cocktails and shooters which are seriously strong. I'm talking two sips and you feel it go to your head. We were given a Bob Marley shooter which was tricolored and a concoction of Rum, Peppermint Bols, Banana liquor and Strawberry syrup. Then Patrick's bartender created a new shooter made up of Bols Peppermint, Baileys and Grand Marnier which was named after us – the Flaming Expat!
During the weekends, space is cleared on the second floor by the DJ booth to have a boogie to house music. This is a perfect pre-clubbing joint. The promotional prices will carry on until May 13th and you can get an additional 10% off your bill during this period. Chef Patrick and Judith are keen on introducing their concept to expats, so do come if you're curious but just be careful not to trip on the stairs if you've had a few too many. Their take-away bags have "I'M NOT DRUNK" printed on them so be sure to show this to your significant other if you get in trouble for staggering through the door late.