Mamma Rosy is an Italian eatery in Jakarta with a homely and family feel, established and personally funded in 2013 by 'genuine Italian immigrants'.
Managing the kitchen is head chef and the reason for the restaurant's creation, Rosa Vignolo. We meet Rosa and her son and owner of Mamma Rosy, Daniel Vigone, in their little piece of Italy in Kemang, South Jakarta.
Where are you originally from?
I'm from Pietra Ligure in the Italian region of Liguria. It's a small town set in a beautiful landscape. All over Ligure you will see small towers and fortresses that take us back to a time when it was once conquered by Arabs.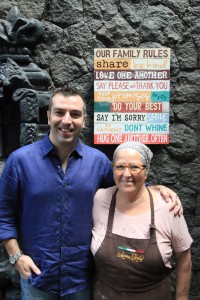 Is it true your Jakarta chapter started because of your son, Daniel?
Yes, initially I came because my son was living here and asked me to come and open a restaurant with him. We made the deal that if I didn't like it after three months, I could go back to Italy. But after I came I enjoyed it!
How long have you been cooking?
Since I was a child; my mum had a trattoria (a medium-class restaurant) in Italy and since I was young I knew how to make pizzas, pastas and farinata, a crepe of chickpea flour from my region. I was serving dishes since I wasn't even as tall as this table! I used to work in the restaurant after school hours.
How do family values play a part in your business?
If I had to work thinking that my sister, nephew, or son were in another part of the world, I might feel sad, but to know that we are all here, even if sometimes we fight or argue, I am grateful that we are all together. This was a priority for me even before we opened the business.
What is your favourite Italian dish?
Any kind of pasta with pesto sauce.
What ingredients are hard to find here?
Fresh basil is hard to find. Last week the basil arrived very fresh but this week it wasn't so good and I had to go through it one leaf at a time to select the good ones.
Tell us something about Italian cuisine that not many people know.
Italian cuisine should be about simplicity and freshness.
What I don't like is sometimes chefs in Italian restaurants now like to mix up the ingredients too much. Like pasta with pesto should be simple and people should be able to taste the authenticity of the dish. Sometimes people put bacon in a traditional recipe, which I don't agree with.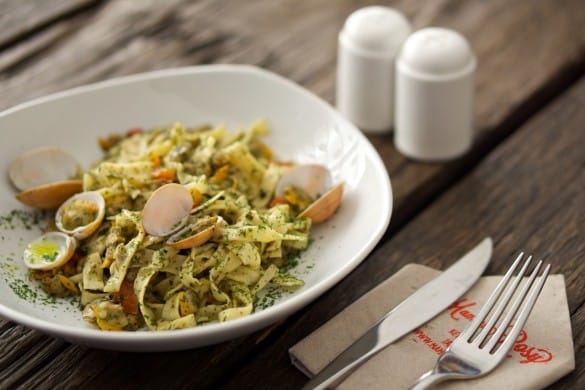 What is your day to day routine like?
I wake up at 7am and send my nephew Augusto to school, then I walk to the restaurant and start working at around 7.45am. The first things I prepare are the desserts because they can be made better when it's not too hot. Then I check what's missing from the day before and make what is needed, said Rosa Vignolo
I prepare all the sauces, the fresh pastas, the desserts, basically 70 percent of the menu except for pizzas and steaks. I work until around 4-5pm when everything is settled, then I'll go home for a swim and read, and maybe some knitting.
How do you manage in your kitchen with the language barrier?
Most of our staff have been the same since the beginning so they understand me. I remember a few words in Bahasa but I cannot build a phrase. We communicate through the language of food.
What is the first thing you do when you train a new restaurant staff?
The first thing is cleanliness; how to clean the kitchen and wash the ingredients. When you wash vegetables the water gets dirty and I will keep washing them until the water is clean.
I also teach them how to taste the ingredients to understand the difference in taste with and without herbs. They need to know what herbs go with what foods, like with mushrooms you always have to put garlic and parsley to properly complement their taste.
Can you share a funny story from your kitchen with us?
We have a common passion in the kitchen which is football. I'm a Sampdoria supporter and my staff support Inter Milan, Juventus or Barcelona, so we always like to tease each other in jest. During the World Cup and Champion's League, it's a big fight in the kitchen! 
Would you advise people to open a restaurant in Indonesia?
Yes, why not? But if you open a restaurant you have to be able to sacrifice. My mum taught me that the kitchen must always follow you. Our Indonesian staff didn't grow up in Italy and they are not used to the Italian tastes, so if you leave them alone for one month they will lose the taste. I enjoy my job and like coming to the restaurant, so I'm happy.
Are you planning to stay in Indonesia long?
Si. I'm happy to stay here.
Tell us about the gallery associated with your restaurant. What events are held there?
This is a concept in development so if anyone is interested to display paintings or art especially of young artists, we are very happy to cooperate.
What's your best selling item on your menu?
Ravioli is one of the best sellers, and our primo piatto dishes, which are the pastas. Gnocchi is also becoming more and more popular, as is pesto.
When coming up with the menu, what were you trying to achieve?
In the beginning, we were trying to make a menu to appeal to local tastes, but when we tested it, it didn't turn out good. We tried some typical regional dishes like a fish stew called buridda, which we found was more suitable for winter climates. In the end, we chose items that we thought would fit in here better. We struggled with salt, however, because in Italy we like a lot of salt but the customers here don't. In the end, we reduced the salt, which is OK as it's better for our health that way!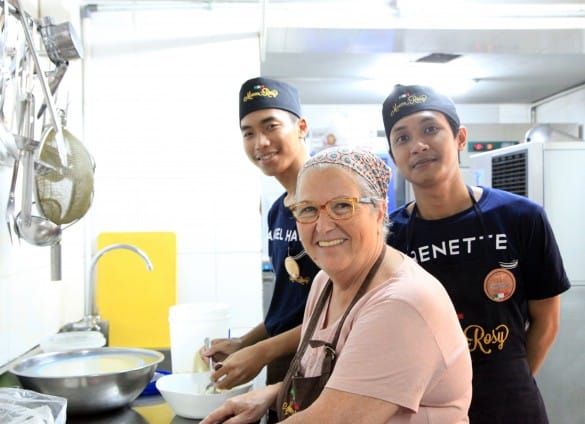 What is the ratio of imported to local produce and where do you source your local produce?
We source fresh vegetables from Bogor. Fish, vegetables and herbs are mostly local but the cheese, meat, ham, rice, and pasta are from Italy. Sixty percent is imported. 
How do you feel about the use of pesticides on the fruits and vegetables we eat?
It's a problem we also see in Italy. Sometimes the vegetables have the organic label but they are not organic, costing three times the price. It's a big issue which the government and officials should regulate. We source some organic produce here.
What do you miss about your hometown?
I miss the sea, mare. I miss the mountains and being under the sun because it's too hot for me to do so here. When I came back from Italy I was tanned! I also miss the fact that you can have long walks without being bothered by motorbikes. But other than that I don't miss it. In Italy, everybody is angry because of the economy and politics. Here people are happier; my kitchen staff are always laughing and joking with me.
What do you think is the most important thing in life?
To wake up and feel happy is the most important thing.
Thank you, Rosa Vignolo. To get in touch, email [email protected]